Why You Need a Content Audit (And How to Run One)

If you have a lot of content on your site, multiple authors, and no long-term governance plan, it's probably time for a content audit. In this comprehensive post we will cover several common reasons why you might need a content audit, then walk you through the process of executing one.
Content audits contain a list of all the URLs on your site and define important metrics, like who owns the content, how it performs, if the URL is going to be retired, where should it redirect to, and so on. They can help content teams assess content performance, identify trends, content gaps, and keep track of editorial changes. Content audits are especially useful in the process of a redesign (since they require that a certain amount of content already exists). They are also action-driven and help you make important governance decisions about your content, such as:
Remove: can you dump it?
Keep as is: don't touch it.
Improve: can you make it better? If so, how?
Consolidate: can it be merged with other content? If so, how?
Content audits can be incredibly helpful tools for managing a website and governing content with a mind towards sustainability. Yet so few organizations take advantage of them. Here's how they can help you achieve clarity, gain consensus, improve performance, and overall create more sustainable web content practices.
Unsustainable Content Practices
When online publishing is so easy, it can be tempting to put everything on your site. Company golf outing? Sure! Your trip to the latest industry conference? Of course. The new office kegerator? Why not? Problem is, these posts often serve no purpose other than to satisfy internal stakeholders. They do little to grow your business and are decidedly unhelpful to users and customers. You may think customers want to watch your CEO ride a dolphin, but the truth is, they don't.
Similarly, content marketing efforts are often (rightfully) experimental: you try some things, then do more of what works, less of what doesn't. Over time, you amass many pages of successful content experiments that hopefully help you meet organizational goals—but what about all that content that didn't work?
Plus, people tend to hold onto tradition, i.e. "But that's always been on our website." Again, this serves internal, not external, stakeholder needs. Analyze carefully the value each piece of content really brings to your business. In our post titled Seven Lessons from Website Redesign Projects, Marilou Jones of Forefront verified the importance of a ruthless content auditing process. "A collaboration is not a democracy," she says. "You get input from all staff, but that doesn't mean that all staff has decision-making power. It's critical to give people insight, but [also] to be clear that they are being consulted, not deciding."
"We had a spreadsheet of our 100 most viewed pages, and unless it was our annual report, if it wasn't on that list it was trashed," Marilou says. Forefront was able to remove so much content because they used data from Google Analytics to drive decisions during the content audit process. "If someone asked why a page was no longer on the site, we were able to tell them our research showed that people didn't visit that page."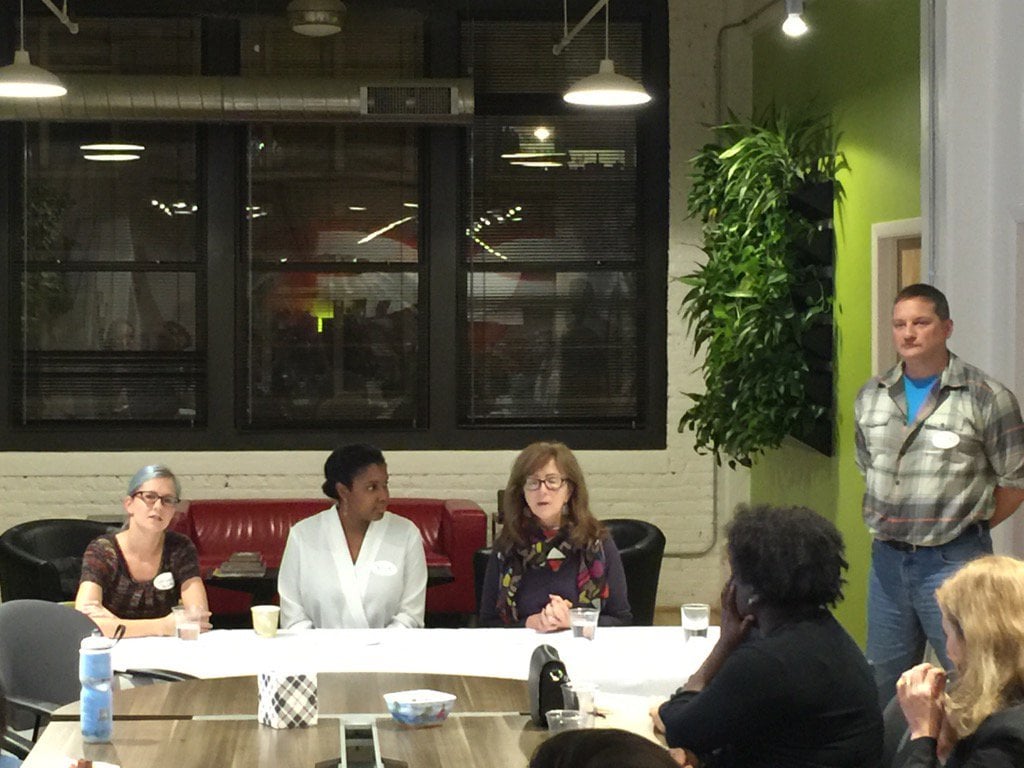 Keeping unnecessary content is wrong for many reasons: useless files take up server space, can cost you money, and waste electricity. Plus, it just makes the good stuff harder to find. "Imagine how much old stuff exists just sitting on servers that can be deleted," says LimeRed Studio's Emily Lonigro-Boylan in Designing for Sustainability: A Guide to Building Greener Digital Products and Services. "We did a site audit before a big project last year and we found pieces of the site on four different servers, old hidden pages, and loads of files in storage just taking up space. More people who maintain sites aren't developers, and this kind of waste needs to be stopped."
Your content is a direct reflection of your business. To keep it sustainable, useful, and fresh, make sure it provides real customer value and dump anything that doesn't. A content audit can help you better organize site content using clear taxonomies and figure out which pages to save, which to dump, and which might be better served when combined with other pages. It can also be a driving force for an overall content strategy, your blog strategy, or for making more informed digital marketing decisions, as we shall see.
But Won't That Hurt my SEO?
Many site content creators are driven by the credo that more content equals better search results. If that content doesn't provide any value, however, you could actually reduce rather than increase search engine visibility. Search engines base their algorithms on many things, but one thing they consistently recommend is that you create valuable content. If you're not creating high-quality content that is useful and informative, credible, unique, and engaging, you may be undermining your search rankings.
Creating redirects is a good strategy for maintaining both usability and search rankings during a redesign or when culling content as long as the content you redirect users to is semantically relevant. As author Cyrus Shepard says, "If you have a page about 'labrador,' then redirecting to a page about 'dogs' makes sense, but redirecting to a page about 'tacos' does not." During the content audit process, you can identify important page URLs that should be forwarded to similarly relevant site content. If there is no relevant site content, removing the URL won't typically affect search rankings. However, if a page has a large number of inbound links to it, just remember that by removing the URL you are producing a 404 error, which doesn't help users looking for your content. Content Management Systems like WordPress allow you to easily manage this process.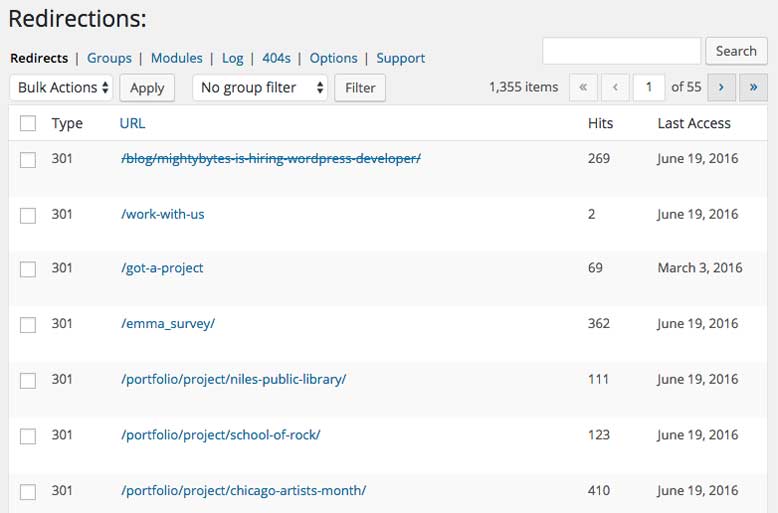 Using Content Audits to Drive Blog Strategy
New York-based educational electronic building blocks company littleBits was revamping its blog strategy and used a content audit to help guide their decisions. To support their mission of inspiring and empowering inventors of all ages, their website includes a community platform where users can share inventions and ideas. littleBits blog pages link to community pages that showcase inventors and projects, and vice-versa. The vibrant and active littleBits community submits user-generated content to the site every day.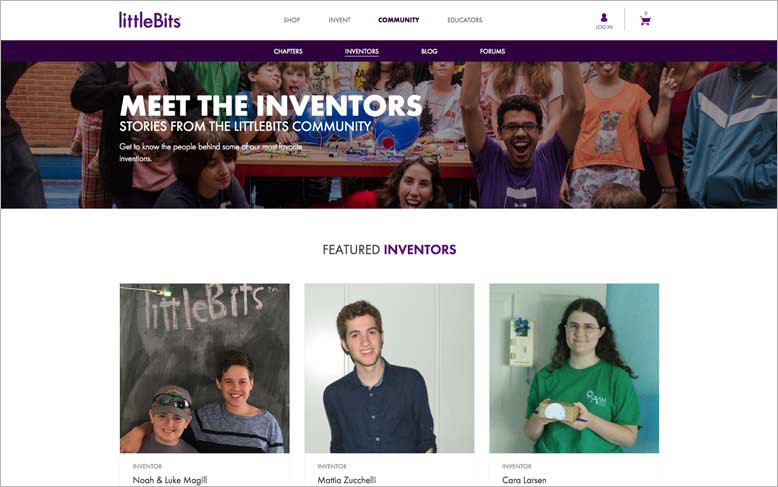 But there was a dark side to all this vibrancy. With thousands of users and no proper governance strategy, a site can quickly get into trouble. In littleBits' case, admins had created nearly 1,500 tags to support various content types, many of which were used only once. Some tags started with '#', even though this wasn't Twitter. Others didn't. Category names and tag names were often used interchangeably, making distinctions between the two irrelevant and confusing to users searching for specific content types. Finally, users submitted their inventions in a variety of formats, which resulted in an inconsistent and counter-intuitive browsing experience. The littleBits community, which added so much value to the company's growth, was causing their site to buckle beneath its own inefficiency. Plus, each site admin had their own way of doing things, which brought about many content governance challenges.
Mightybytes audited an agreed upon sampling of littleBits' URLs, categories, tags, and content that represented the site's biggest problem areas. The audit process generated insights to help the company standardize content types to create a more intuitive site taxonomy. It helped them streamline and better organize their site content. The audit also drove conversations around devising a consistent visual and typographical hierarchy for community pages with user-generated content. Finally, the process gave them a roadmap to enable an effective set of governance rules to keep the site organized, consistent, and user-friendly moving forward. This will save the company huge amounts of time and resources in the long run, especially when it comes time to do a redesign.
A Lean Content Audit
Generally, a comprehensive content audit that includes both qualitative and quantitative data can take some time. We are fans of all things lean and agile, so what if you just want to get an at-a-glance view of how your content is performing? How would you perform a lean, rather than more comprehensive, content audit? If you want to dip your toes into the water without committing to the entire process of running a complete quantitative and qualitative content audit, try this experiment:
Open Google Analytics.
Run a report on the 100 most visited pages over the past year.
Now, ask yourself these four simple questions:
Are the pages listed at the top those you want people to visit most?
Are people taking actions on those pages? In other words, are they serving your business needs? If you don't know, you may need to set up some goals and funnels.
Can you improve those pages to better serve their intended purpose and drive conversions?
Do you see any surprises? Are there pages that should be in the top ten that are not? Are there pages at the bottom of the list that are key to your organization's success?
Next, look at the bottom of the list, those URLs that live on the island of misfit web pages. Ask yourself these questions:
Why is that page even a thing that exists?
Why did it fail?
What's the rationale for keeping it?
The process of going through the above steps should give you a quick overview of your site's content as well as inform how you might change your process moving forward. If the top ten best performing pages aren't also those that drive the most conversions, perhaps it's time to rethink your strategy. What can you change quickly to improve results? Remember, the most sustainable (and agile) approach is to do more of what works, less of what doesn't, and iterate over time. Small experiments like this one can help.
If you're looking for a more comprehensive guide to running a content audit, the following section should help.
A Comprehensive Content Audit How-To
Content audits are typically done with spreadsheets, so you'll need to get friendly with your copy of Google Sheets, Excel, or Numbers in order to successfully execute one. They typically come in two flavors:
A Quantitative Inventory is a comprehensive, soup-to-nuts record of all your content.
A Qualitative Audit can help you judge the quality of your content against a specific set of criteria to help you make plans for improving individual sections or pages.
Some auditors will reserve one tab in their spreadsheet for quantitative data, and another for qualitative data, as with this example spreadsheet from Optimize Prime. The fields you include in your audit will vary depending on the intent of said audit. Choose those most relevant to your needs. you can always add more fields or another tab to your spreadsheet later. Following are some examples of common fields included in a comprehensive content audit.
Quantitative Content Audits
Quantitative audits provide an inventory of all your content. They help you figure out where you are so you can devise a plan for where you need to be. Quantitative audits provide hard facts about your content, such as:
Number of pages, sections, categories, etc.: how many pages exist in each site category?
Page type: what type of page is it? (news article, product info, staff bio, etc.)
Page location: where does the content live? (in the CMS, CRM, YouTube, event management system, etc.)
Page owner: who owns the content? Who's responsible for maintaining it? It is very important to figure out the owner for each page. This helps identify gaps, or spot red flags in content process (i.e. too many "orphan" pages; one overloaded person responsible for everything; etc.)
Page functionality: what special forms or functionality is included on each page? (i.e. newsletter signups, contact form, FAQ search, etc.)
Media types: what files or media are on the page? Images, videos, PDFs; anything embedded or as downloadable links.
Page popularity: How many times have people visited each page in the past 12 months?
A tool like Screaming Frog's SEO Spider or SiteOrbiter can help you quickly collect useful site data for a quantitative inventory, which can inform processes like fixing broken links, auditing redirects, discovering duplicate content, analyzing page metadata, and more.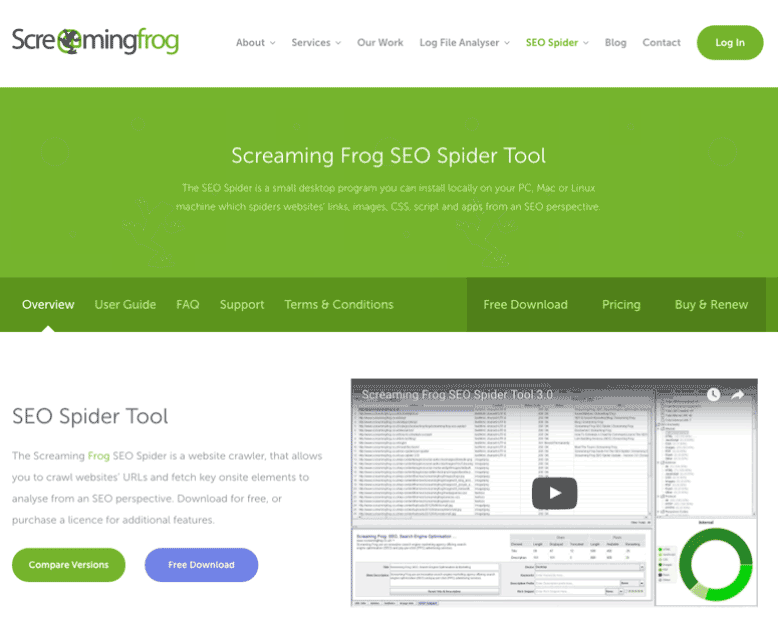 Qualitative Content Audits
A qualitative audit digs deeper into page-level data. It will help you measure how well specific pieces of content meet various organizational goals. As noted above, what you include in your audit depends on its intent. If you're in the process of a site redesign, for example, you might include:
Page description: what's on this page?
Key messaging: what should users to take away from the page?
Accuracy & relevance: is the page up-to-date, factually correct, and on-message?
Content quality: does it follow best practices for web writing? Is it applying the right voice and tonal guide for your brand? Does it employ user-centric language?
Visitor value: do users need this content? If so, which users?
Organization value: how well is the content serving the organization's goals?
Conversions: how often does the page convert users to action?
Action items: what should you do with this page? Keep it? Dump it? Improve it? Merge it with others?
Review schedule: when will you look at it next? When was it last updated?
If your content audit is meant to gauge how well landing pages perform in search engines, you may also want to include fields such as:
Keyword research: what search terms or phrases are relevant to this page? How often are they used?
Page authority: what is the page's authority score? (inbound links from higher-ranking pages help with search rankings)
Bounce rate: how many people leave a page after just a few seconds?
Redirects: is the page being redirected to another page? From another page?
Broken links: does the page include any?
Meta description (and length): does the page's meta description, which shows up in search results and when the page is shared via social channels, clearly and accurately describe what the page is all about? Is it less than 160 characters? (the length at which search engines will truncate snippets.)
Page title (and length): is the page title unique? Does it briefly but accurately describe what the page is all about in less than 65 characters? (the length at which a browser will cut the title off)
Header tags (H1, H2, etc.): are your headers clear, unique, and relevant? Do they use page focus keywords?
Canonical data: does this page exist elsewhere? Have you told the search engines which of the duplicate or syndicated pages is the preferred page using canonical links?
And if you are focused on optimizing site performance, you might also want to include performance data for each page:
Load time: how long does the page take to load on an average-speed connection?
Page size (in kb): helpful if you are trying to maintain a page weight budget.
Number of server requests: how many times does the page make server requests to load assets? (This will directly affect load times)
A tool like Pingdom can help you easily figure out your site's performance metrics and help you keep pages lean and fast-loading for users while also meeting organizational goals as well.

What Next?
Once you have completed the content audit process, use it to diagnose any potential content problems that may exist. Results of the audit can be used to conduct a content gap analysis (determining whether there any holes in your content), such as missing meta descriptions, out-of-date content that needs to be revised or removed, or content that customers request but isn't currently available on your site. It can also help you identify gaps in SEO strategy or files that need to be optimized for better performance. A content audit is often just the first step in a full content strategy process.
Be realistic about content goals and timeline. An experiment like the one mentioned above can give you a brief overview of where your content stands, but, depending on how much content you have, a full content audit can take some time. Often, you may want to conduct just a partial audit, taking samples from key areas like main landing pages, newer blog posts or older blog posts instead of doing an entire site inventory, as was the case with the littleBits example mentioned earlier.
Final Word on Content Audits
It can be easy to get sentimental about past content. If it's not converting, however, it's just burning pixels. If no one's visiting your pages, they're just wasting server space. Ditch them. Similarly, if you have multiple authors or community pages driven by user-generated content, it can be easy for site content to quickly get out of control before you realize it. A content audit can be the driving force for a new site-wide governance strategy. And finally, the content audit process can help you get a clear view of dozens of page metrics that can directly affect whether or not your site serves as a good marketing tool or not. While the process of auditing all your site pages might be a daunting task, once you have completed it you should have a clear path to more quickly and effectively manage your site moving forward. Happy auditing!