Content Audit: A Step-by-Step Guide

In this detailed post, we cover several common reasons why you might need a content audit, then walk you through the process of executing a successful audit.
Content audits can help you more effectively manage your website over time and better serve your customers' needs. Yet so few organizations take advantage of them. Here's how a targeted content audit can help your organization.
What is a Content Audit?
A content audit—inventory and analysis of the content you have today—is a cornerstone activity in any content strategy endeavor. In fact, many people (incorrectly) equate content audits with content strategy. An audit can reveal a great deal about your content, and it's critically important to be prepared, so that you get valuable knowledge out of the effort.

— Hilary Marsh, Content Company
A content audit is the process of collecting and analyzing content elements against specific performance criteria on some or all of a website. Regular content audits can help digital teams identify trends, fill content gaps, speed up page downloads, improve accessibility, reduce emissions, track editorial changes, and more.
Answer Key Content-Related Questions
What's more, content audits can help you answer important questions, like:
Which content performs best/worst against our business goals?
Who owns a piece of content? Who is responsible for keeping it updated and maintained?
Which content is missing, superfluous, factually incorrect, or out-of-date?
Does your content meet specific SEO guidelines?
Is your content inclusive and accessible or does it put your organization at risk?
Does your content promote more sustainable practices?
Which content is evergreen versus time-sensitive?
More importantly, regular audits improve content quality for your users and help you better meet business goals over time. They are an essential part of a successful, long-term content governance strategy.
A content audit will also help you better organize site content and understand which pages to save, which to dump, and which might be better served when combined with other pages. Content audits can be a driving force for an overall content strategy and can help you make more informed digital marketing decisions as well.
When Should I Run a Content Audit?
Let's look at several scenarios where content audits are appropriate.
When Content Marketing Runs Amok
We cover good content governance practices extensively on this blog. Content governance helps you better manage website content over time. However, many organizations don't effectively govern their content marketing efforts.
Rather, the emphasis is typically on creating more content more often and experimenting with new topics and different ways to provide value to customers. Over time, these efforts (hopefully) improve performance toward specific business goals.
However, not every content experiment works. What about all that content that is outdated, didn't meet your goals, or otherwise irrelevant in some way? Here's where a content audit can improve content marketing. To clarify, regular audits let your marketing team evaluate what's really working versus what's confusing users or not performing as intended. Also, as a team effort, the audit process can improve consistency and foster better collaboration.
Auditing Content During a Website Redesign
Content audits are also very useful during a website redesign. Content migration is key to any successful redesign project. Migrating content that is irrelevant or out-of-date wastes time, effort, and money. A content audit can help you streamline this process.
However, as you bring stakeholders into the project, be prepared for pushback. People tend to hold onto tradition, i.e. "But that's always been on our website." Be sure to carefully analyze the value each piece of content brings to your customers and your business. A content audit can help you make tough decisions regarding what stays and what goes.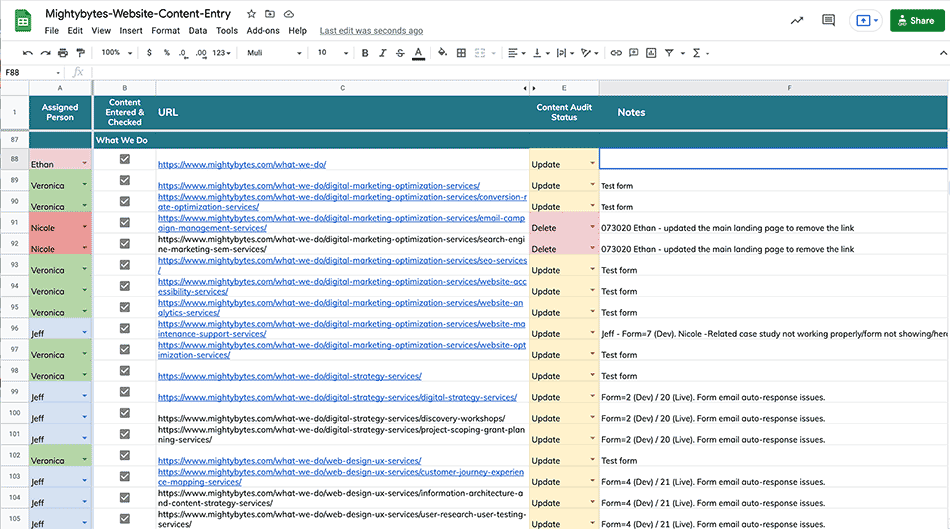 Auditing Content as Part of a CMS Upgrade
Similarly, perhaps you're not taking on a full redesign but are upgrading your content management system (CMS) instead. A content audit can be useful here too.
For example, WordPress released Gutenberg, its block-based content editor, in late 2018. To upgrade, you'll need to convert existing page-based content into individual components, or blocks. During the upgrade, some content blocks may require customization. Again, there's no sense in migrating or upgrading content that's outdated or irrelevant.
For more information on upgrading your site to Gutenberg, check out our step-by-step Gutenberg migration guide.
Content Audit Frequency
There are no hard and fast rules regarding how frequently you should perform a content audit. This will vary from organization to organization depending on your capacity, the amount of content you produce, and any of the scenarios mentioned above. In most cases, we recommend that you consider an audit at least once per year, more often if you produce a lot of content or have many authors.
What Should I Audit my Content For?
A content audit is a difficult and time-consuming process, so it is important to begin with clear, defined objectives if you are to make it a success.

— Alina Petrova, Head of Marketing at SEMrush
Content audits are action-driven to help you make important content-related decisions, such as:
Remove: Can you dump it?
Keep as is: Don't touch it.
Improve: Can you make it better? If so, how?
Consolidate: Might it be more useful merged with other content? If so, how?
With that in mind, you can prioritize audit criteria based on any number of things. You need to clearly understand your business goals and your users' needs. Those will inform your goals for the audit. Let's look at a few examples.
Auditing Content for Inclusion and Accessibility
With this approach, you review content for inclusivity and accessibility. Here are some things to consider.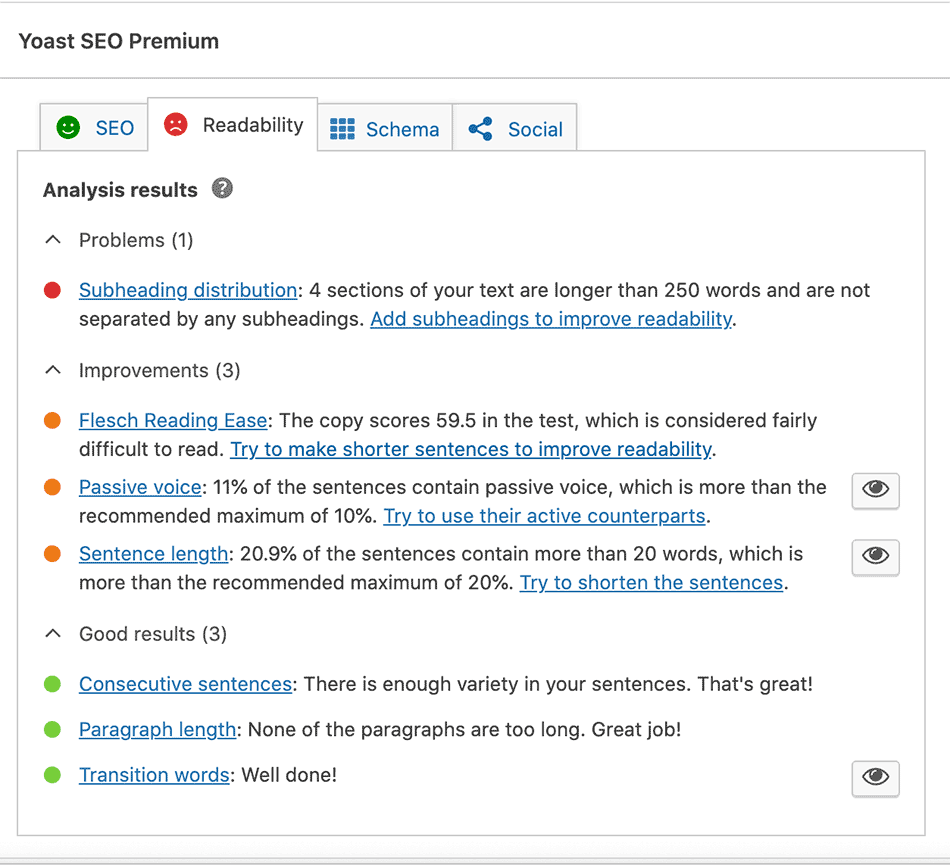 Inclusive Language and Readability
Is your content written in plain, simple language that anyone can understand? This helps people with cognitive disabilities more effectively comprehend page content. It's also good for search performance as well.
Yoast, a popular WordPress SEO plugin, has built-in readability analysis. A number of other readability tools exist as well. Your audit spreadsheet could include a page's readability score as part of its criteria.
Also, does your content contain elements of unconscious bias that discriminate against people based on race, gender, sexual identity, ability, age, and so on? Unconscious bias can take many forms, some of which could inadvertently end up in your content. Familiarize yourself with them and stay vigilant. Whole Whale also offers an Inclusive Language Checker that you can use to review a URL's written content for inclusivity.
Diverse stakeholders create better solutions. This includes content. When auditing content, ask yourself who might be adversely impacted by your message? Whose needs are not being considered? Whose voice isn't included?
Digital Accessibility
Is your content accessible to the estimated one billion people who identify as having some sort of physical or cognitive disability? If not, you might alienate a significant portion of your audience. You could also put yourself at risk for a lawsuit. Accessible content is better for search engines and, sometimes, page performance too. There are no downsides to prioritizing digital accessibility.
Even if you redesign your website with accessibility in mind, over time content creators can forget to do simple things, like:
Add alternative (alt) text to images
Label links, buttons, and other interactive elements
Properly structure content so assistive technologies like screen readers can effectively interpret it
This is also important because legal guidelines regarding digital accessibility are always changing. Ensuring that older content meets current accessibility standards can be included as part of any audit.
Content Audits for Sustainability
Sustainable web design is a set of design and development practices meant to improve performance and reduce a digital product or service's environmental impact. Speedy lightweight websites are not only good for users, they're better for the environment too.
Content audits can include important sustainability data, such as:
Performance: Identify components that slow down page performance and increase load times.

What is the overall page weight?
How might we reduce page size to increase speed?
Can some content elements be removed?

Usability: Flag pages with usability issues.

Are pages optimized for a variety of mobile devices and platforms?
How might we reduce the number of steps required for users to perform tasks?
Can we remove fields in forms without undermining usability?

Findability:

How might we help users more quickly find what they need?
Is page intent clear?
Is content original and does it answer a specific question (or questions)?
Do pages have search features to help users quickly find content?
Are pages following general SEO best practices?
When auditing pages for sustainability, it can be helpful to set a target page weight budget. This can be included in the audit spreadsheet. A tool like performancebudget.io can help with this.
Small Changes Add Up
While these tweaks may initially seem minor, spread across hundreds of pages they can result in significant performance improvements and emissions reductions.
To figure out which sustainability metrics are right for your audit, our website sustainability checklist might be useful. You can also check any page's carbon emissions using Wholegrain Digital's Website Carbon or our own Ecograder, and include that information in your audit spreadsheet.
Content Audits and SEO
More content equals better search results: that's what many content marketers have been taught. However, lots of underperforming content—versus a smaller number of high-performing pages—could actually reduce rather than increase search engine visibility. Search engines consistently recommend that you create valuable content. If you're not creating high-quality content that is useful, informative, credible, unique, and engaging, you will probably undermine your search rankings.
Content Audits and URL Redirects
If you have a page about 'Labrador,' then redirecting to a page about 'dogs' makes sense, but redirecting to a page about 'tacos' does not.

— Cyrus Shepard, Zyppy SEO
Creating redirects is a good strategy for maintaining both usability and search rankings during a redesign or when culling content as long as the content you redirect users to is semantically relevant. During the content audit process, you can identify important page URLs that should be forwarded to similarly relevant site content.
If there is no relevant site content, removing the URL won't typically affect search rankings. However, if a page has a large number of inbound links to it, just remember that by removing the URL you are producing a 404 error, which doesn't help users looking for your content. Content Management Systems like WordPress allow you to easily manage this process.
Alongside content quality and redirects, there are dozens of other elements that could impact how your pages perform in search engines. The section on Qualitative Content Audits below covers this in more detail.
A Lean Content Audit
Generally, a comprehensive content audit that includes both qualitative and quantitative data can take some time. However, what if you just want an at-a-glance view of content performance? How might you run a lean—rather than more comprehensive—content audit?
With a proper Google Analytics goal strategy in place, a quick scan should tell you which posts perform optimally against your goals and which don't. If you notice a lot of poorly performing posts, it might be time for a more comprehensive audit.
However, if you want to dip your toes into the water without committing to the entire process of running a complete quantitative and qualitative content audit, try this experiment:
Open Google Analytics.
Run a report on the 100 most visited pages over the past year.
High-Performing Posts
Now, ask yourself several questions:
Are the pages listed at the top those you want people to visit most?
Are people taking action on those pages? In other words, are they serving your business needs?
Can you improve those pages to better serve their intended purpose and increase conversions?
Are there opportunities to improve accessibility, page speed, or other elements?
Do you see any surprises? Are there pages that should be in the top ten that are not? Are there pages at the bottom of the list that are key to your organization's success?
Low-Performing Posts
Next, look at the bottom of the list, the posts that perform the poorest. Ask yourself these questions:
Why does this page exist?
Why did it fail?
Can it be improved?
If not, what's the rationale for keeping it?
Above all, this process of going through the above steps should inform how you might change your content moving forward. In other words, if the top ten best performing pages aren't also those that drive the most conversions, perhaps it's time to rethink your strategy.
What can you change quickly to improve results? Remember, the most sustainable approach is to do more of what works, less of what doesn't, and iterate over time. Small experiments like this one can help.
Now, let's explore a more comprehensive guide to running a content audit.
How to Run a Content Audit: Step-by-Step
First, it is good to understand that content audits typically come in two flavors:
A Quantitative Inventory is a comprehensive, soup-to-nuts record of all your content.
A Qualitative Audit can help you judge the quality of your content against a specific set of criteria to help you make plans for improving individual sections or pages.
The data you include in your audit will vary based on your goals. Some auditors will reserve one tab in an audit spreadsheet for quantitative data, and another for qualitative data, as with this example spreadsheet from Optimize Prime. In other words, choose data that is most relevant to your users' needs and specific to your business goals. Also, because there are so many criteria you can audit for, it might be smart to start small. If necessary, you can always add more audit criteria later.
Quantitative Content Audits
As noted above, quantitative audits provide an inventory of all your content. They help you understand your content's current state so you can devise a plan for the future. Additionally, quantitative audits can provide hard facts about your content, such as:
Number of Pages: How many pages exist in each site category?
Page Type: What type of page is it? (news article, product info, staff bio, etc.)
Page Location: Where does the content live?
Page Owner: Who owns the content? Who's responsible for maintaining it? This helps identify gaps, or spot red flags in your content production workflow:

Too many "orphaned" pages
One overloaded person responsible for everything
Too many authors, not enough consistency

Page Metadata: Does the page have all the appropriate metadata, such as clear page descriptions, alt tags for images, and so on?
Page Features: What special forms or functionality is included on each page?

Newsletter signup forms
Download forms
Search fields
Calculators or other "widgets"

Media Types: What files or media are on the page? Can they be better optimized for faster delivery? Does the page contain:

Images
Videos
Audio files
PDFs
Other forms of embedded media

Accessibility: Does all website content meet current accessibility standards?
Page Popularity: How many times have people visited each page in the past 12 months? Do they read all the content or abandon the page?
Tools for Your Quantitative Audit
Screaming Frog's SEO Spider Tool can help you quickly collect useful site data for a quantitative inventory. This can inform processes like:
Fixing broken links
Analyzing redirects
Discovering duplicate content
Assessing page metadata
Qualitative Content Audits
A qualitative content audit digs deeper into page-level data. It will help you measure how well specific pieces of content meet your goals. If you're in the process of a site redesign you might include:
Page Description: What's on this page? Does the meta description clearly and accurately describe page content? Is the description less than 160 characters (the length at which search engines will truncate snippets)?
Key Messaging: What should users take away from the page?
Accuracy & Relevance: Is the page up-to-date, factually correct, and on-message?
Content Quality: Does it follow your organization's editorial guidelines? Does it use the right voice and tone for your brand? Does the page employ user-centric language?
Visitor Value: Do users need this content? If so, which users?
Accessibility: Does page content include accessibility criteria, such as image alt tags, link labels, and so on?
Organization Value: How well is the content serving the organization's goals?
Conversions: How often does the page convert users to action? What actions do they take?
Action Items: What should you do with this page? Keep it? Dump it? Improve it? Merge it with others?
Review Schedule: When will you look at it next? When was it last updated?
Adding SEO Criteria
If your content audit is meant to gauge how well landing pages perform in search engines, you may also want to include fields such as:
Keywords: What search terms or phrases are relevant to this page? How often are they used?
Page Authority: What is the page's authority score? (inbound links from higher-ranking pages help with search rankings)
Time on Page: How many people leave the page (bounce rate) after just a few seconds? How many read all the way through?
Redirects: Is the page being redirected to another page? From another page?
Broken Links: Does the page include any?
Page Title: Is the page title unique? Does it briefly but accurately describe what the page is about in less than 65 characters? (the length at which a browser will cut the title off)
Heading Tags: Are your headings clear, unique, and relevant? Do they use page focus keywords?
Duplicate Content: Does this page exist elsewhere? Have you told the search engines which of the duplicate or syndicated pages is the preferred page using canonical links?
Making Your Content Audit Last
Once you have completed the content audit process, you should have a clear path to improve performance and effectiveness. Most websites have gaps in one or more of the areas identified above. The key is to use your audit to drive improvements over time and adjust your content strategy accordingly.
With this said, be realistic about your capacity to fix outstanding issues. Depending on how much content you have, a full content audit might take more time than you have resources for. In that case, a lean audit like the one mentioned above might be your best bet.
Regardless, success depends on your ability to maintain high standards over time. Run through audit results with your entire content team so everyone understands where gaps exist and how to address them. While you may not be able to fix everything at once, if you're diligent about improving content quality and train your team accordingly, you will see results over time.
Content Audits: Final Word
A content audit can be the driving force for a new site-wide governance strategy. The process can help you understand whether your digital marketing strategy is successful or not. It should also help you build capacity.
While auditing an entire site might be a daunting task, once you have completed the process you should have a clear path to improve site content over time. After making the requisite changes, your content should better serve your users' needs and your business goals. Win-win!