Why Mightybytes is an LGBT Certified Business Enterprise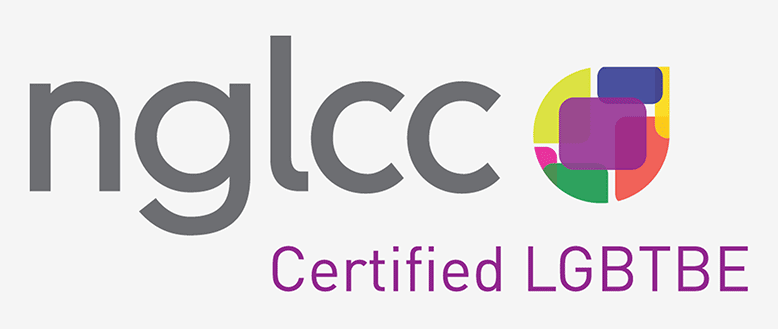 The National Gay and Lesbian Chamber of Commerce has recognize Mightybytes as an LGBT-Certified Business Enterprise. Here's what that means for us and our clients.
Why We Certified as an LGBT Business
Consider these stories from the past year:
Any one of these things should disturb LGBTQ+ people and our allies. A brief search on hate crimes and bullying against our community in 2019 alone reveals hundreds more stories like those above, many of them heartbreaking and some downright disturbing. Plus, there are still several states in the U.S. considering "religious refusal" bills, which can be used to justify anti-LGBTQ+ discrimination.
Here's the reality: In the U.S., LGBTQ+ people don't have universal protection from discrimination on the basis of employment, housing, or public accommodations. In other countries, it can be far worse. At Mightybytes, we want our clients, community, and all company stakeholders to know that there is no place for discrimination of any kind in our office or in how we do business.

What Being an LGBT-Certified Business Means
In 2017, B Lab started its Inclusive Economy Challenge to help Certified B Corps and other companies improve key equity, inclusion, and diversity metrics from the B Impact Assessment. Mightybytes was going through some pretty significant changes at the time, so the challenge offered one opportunity to ground our company transition in the B Corp values that are important to us. Participating was also a personal decision:
Embracing Our Identity
My partner Jeff and I recently celebrated 20 years together. We have collaborated on Mightybytes-related projects since around 2002 (the company started in 1998). Living and working together can put a strain on any couple, but we have figured out how to make it work for us. In 2016, Jeff came on board full-time as our Operations Manager and Benefit Director (the latter a legal requirement of being an Illinois Benefit Corporation). Since that time, with the help of our team, Mightybytes has seen not only its most financially prosperous period, but we have created more positive social and environmental impact than ever before. By putting our certification front-and-center in company communications, Mightybytes can be a role model for people who want to work at LGBTQ+-friendly organizations and a resource for organizations that want to partner with LGBTQ+-owned businesses.
Living Our Values
Running a company that cares about creating long-term, shared prosperity for people and planet is a source of great pride for me. It drives my personal passions and is one of many reasons we are a Certified B Corp. Running a business this way includes fostering a deep respect for people from different ethnic and cultural backgrounds, gender identities, ages, sexual orientations, religious affiliations, and diverse perspectives of all kinds. I know that incorporating these principles into our company's DNA helps us design better solutions and create more successful products, services, and programs for our clients.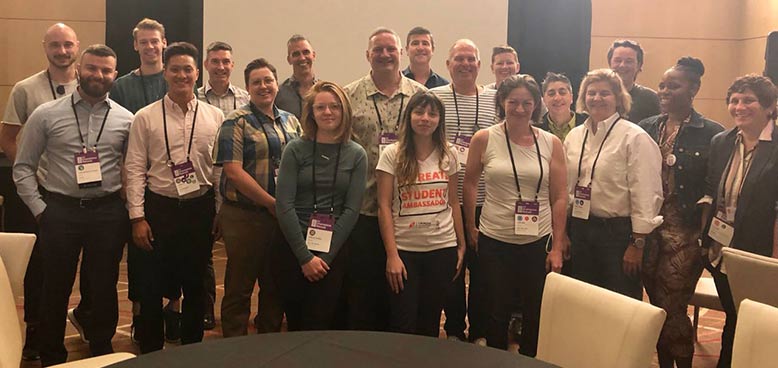 B Proud
In September 2019 at the B Corp Champions Retreat in Los Angeles, Mightybytes collaborated with our fellow B Corp friends at Vianova and Ecodeo to co-facilitate the first-ever session for LGBTQ+ business leaders within the B Corp community. In June 2020, our group plans to release a B Proud Toolkit that any business can use to address LGBTQ+ discrimination issues and improve community support not just during Pride month but all year long. It will include:
A guide for Pride events, including strategy, promotional materials, marketing collateral, and case studies from companies that have executed successful events
Best practices for businesses around how to develop Standards of Practice and Employee Policies that are open and inclusive to the LGBTQ+ community
Resources for individuals and companies with general information on how to show support for the LGBTQ+ community not just during Pride Month but all year long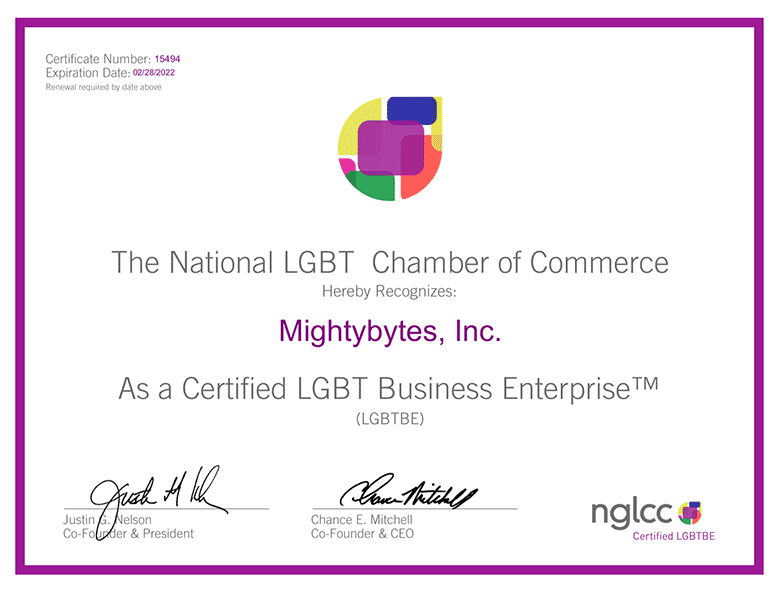 There is Much Work to Do
The efforts above are a start, and we look forward to continued collaboration with our fellow B Corps, but they won't be enough to impact real, large-scale change. To do this, we need the global business community committing to shared prosperity for all.
I believe in building an inclusive and regenerative economy that works for everyone. My business is the tool I use to achieve this goal, but we're only a small agency. There are hurdles to achieving this goal on a global scale, a regional and local scale, and within our own organization. The U.N. Sustainable Development Goals provide a great framework to make improvements and B Lab's SDG Action Manager can help organizations measure progress. Each nonprofit, company, or government agency needs to figure out what works best for their organization, then band together with like-minded and values-aligned people across sectors to create change on a larger scale.
At Mightybytes, we know we can do better to support diversity within our own ecosystem, including our suppliers, vendors, clients, and on our own team. Our advisory committee is majority women and includes LGBTQ+ representation, but there's always room for improvement. As a small agency, Mightybytes does not hire often. We can't change our team makeup overnight. We can, however, make a long-term commitment to improving the company so that our practices live up to our aspirations.