Proud to be a Certified B Corp
Certified B Corporations (B Corps) are for-profit companies that use the power of business to build a regenerative, equitable, and more inclusive economy. We are redefining success in business. From small businesses to multinational corporations, there are nearly 8,000 B Corps in 92 countries and 161 industries around the globe.
Mightybytes and other B Corps use an objective, third-party assessment, the B Impact Assessment, to meet verified high standards of social and environmental performance, transparency, and accountability. Plus, as an Illinois Benefit Corporation, we have also woven this commitment into our company's legal structure.
For organizations looking to align their values with their supply chain, this makes Mightybytes a more trustworthy and reliable partner to collaborate with on projects.
As a socially responsible organization, it is important for us to work with partners who share our values. When we met the Mightybytes team, we were excited that they spoke the same language, foregoing a typical agency's technical jargon in favor of listening and frank, honest conversations about goals, strategy, and defining success. When we learned that, as a B Corp, they also put mission and purpose at the heart of their work, there was an immediate sense of kinship. Choosing to work with them was an easy decision.

— Sharon Miller, Director, Web Communications, DePaul University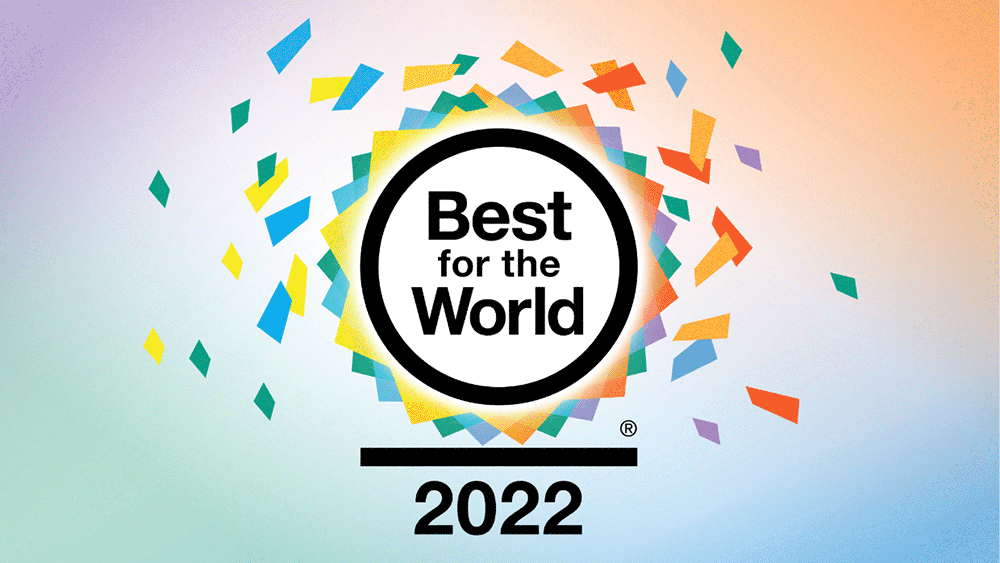 To this end, B Lab, the nonprofit that certifies B Corps, has included Mightybytes in its annual Best for the World list every year since 2017.
Best for the World B Corps are global leaders creating the future of business. They score in the top 5% of all B Corps worldwide that use the B Impact Assessment to measure impact.
Mightybytes has been included in the following categories:
Governance: This evaluates the overall mission, ethics, accountability, and transparency with which we run the company.
Workers: This section evaluates a company's contributions to its employees' lives and well-being.
Changemaker: In the past, we were also recognized for significantly increasing our assessment score.
Certified
B Corps Are Better Businesses
B Corporations legally expand their fiduciary duty of care to include care for people, care for communities, and care for the natural world on which all life depends. That is what makes B Corps more trusted and more attractive to people who want to work for, buy from, and invest in companies that reflect their values.

— Jay Coen-Gilbert, Co-Founder, B Lab
Research has shown: companies that align purpose and profit with clarity outperform their peers over time. Plus, they reap the benefits of better customer loyalty, higher employee retention and productivity, and increased interest from investors.
Because we consider all stakeholders when making business decisions, Certified B Corps are better companies to do business with. If you want to increase your chances for shared success, work with a B Corp.
Better for Workers
For Certified B Corporations, workers are considered among the key stakeholders in policy and practice decisions, with the goal to include more voices to actually help make those decisions better. The empowerment that workers gain through the B Corp stakeholder management structure helps create long-term connections and greater productivity, which both boost the company's bottom line, and provides stability for personal and community health.

— Christopher Marquis, author of Better Business: How the B Corp Movement is Remaking Capitalism
The global B Corp community represents over 500,000 workers. We prioritize employee well-being in company decision-making. Compared to traditional companies, Certified B Corps are:
43% more likely to pay the majority of employee health insurance

27% more likely to pay all their hourly workers a living wage

88% of service-industry B Corps allow flex-time schedules
As an LGBTQ+-owned organization, we have built an inclusive work environment where all company stakeholders feel their voices can be heard and employees can bring their whole selves to work. Plus, we offer the best benefits our resources will allow, and make every attempt to balance flexibility with reality.
Better for Communities
Certified B Corps are also evaluated on how philanthropic and other giveback initiatives are built into their business models. For Mightybytes, this means a few things:
The company is a

1% for the Planet member

, donating 1% of our top-line sales to environmental charities, many of which support local and regional communities.

Th

e company

provides free educational resources for

people

interested in responsible, ethical, and more sustainable digital business practices.

We

co-host a local community of B Corp leaders

that produces events for people interested in using business as a force for good.
Better for the Environment
What we do to nature, we do to ourselves. This perspective can help us come to see the planet … as part of our 'extended body'. A natural response to this understanding is of care and compassion as it becomes our own self-interest.

— Designing for Sustainability: A Guide to Building Greener Digital Products and Services, O'Reilly Media
By prioritizing environmental performance, Certified B Corps:
Outperform other businesses by 16% on addressing climate change

Are 87% more likely to manage greenhouse gas emissions reductions

Are nearly three times as likely to use 100% renewable energy
From company policies to living plant walls, sustainability principles drive everything we do at Mightybytes:
Mightybytes' commitment to healthy ecosystems is at the core of our business and we take it very seriously.
Better for Our Customers
We have learned much more from Mightybytes than we would expect from a conventional vendor. The company challenges us to think differently about what actions we want our supporters to take, how we raise money, and what our relationships with the for-profit sector could and should become.

— Joel Brammeier, CEO, Alliance for the Great Lakes
Finally, Certified B Corps measure their impact on customers by designing products and services to promote a public benefit or solve specific social and environmental problems. For Mightybytes, this means aligning our B Corp values with those of our clients:
Our client base is comprised of nonprofits, social enterprises, community foundations, educational institutions, conscious companies, and other B Corps.

Nearly all of our recent projects have an explicit social or environmental goal to provide education opportunities, promote mental health, expand digital accessibility, improve environmental quality, increase arts engagement, and so on.
We take great pride in our client relationships and always strive to create mutual value with every project. Our clients count on us as a trusted partner who will go to bat for them, and we do everything within our power to uphold these high standards.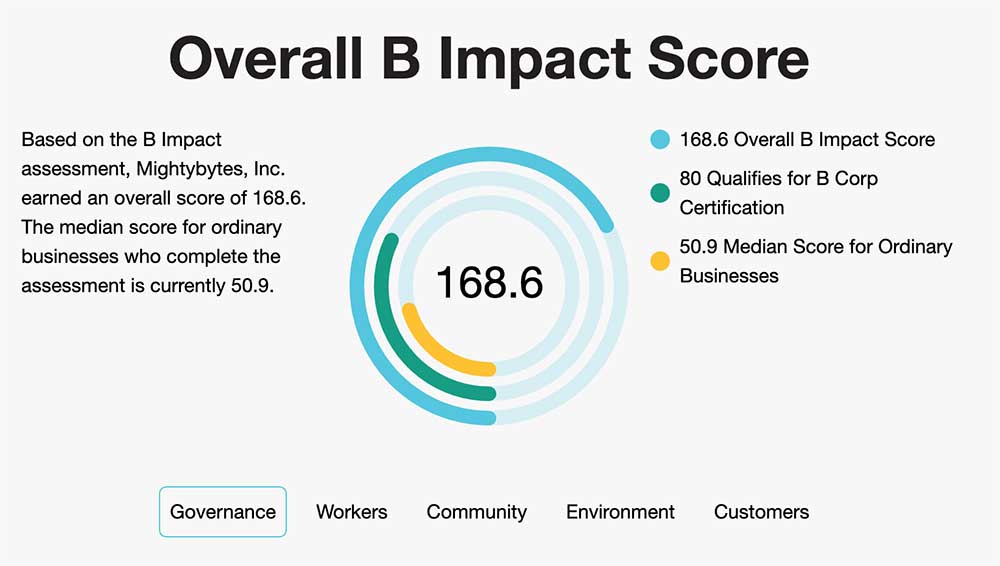 B Corps are the Future of Business
The growing global B Corp community has the single unifying goal to redefine success in business:
Employees increasingly demand work that is meaningful

.

Customer support for brands that inspire is on the rise

.

Society calls for companies to be more responsible

.
In this regard, Certified B Corps lead the way toward a more inclusive, equitable, and regenerative economy. Each company uses business as a force for good in their own unique way.
For more information on how we integrate purpose with profit, check out these resources:
Also, if you have specific questions about any of the above, please feel free to get in touch with us. We'd love to chat.
Annual Impact Report
View our 2022 Impact Report for more information about how we improve our company's social and environmental impact.