Committed to Sustainability
Sustainability principles drive everything we do at Mightybytes. We run our agency with a triple bottom line philosophy that supports people, planet, and shared prosperity. Here's how that plays out.
The internet's environmental impact is larger than the airline industry and is growing rapidly. Estimates put the internet's CO2e emissions at around 1B tons per year and annual electricity use at around 5-10% of the planet's total. When we became a Certified B Corp in 2011 we took on internet sustainability as our champion cause, vowing to raise awareness of its environmental impact and create solutions that drive down emissions and make websites more accessible and easier for everyone to use.
We also started helping our community and our clients make more sustainable decisions about where they host and how they design websites and other digital products. In 2017 we were recognized for our work in this area with an Illinois Sustainability Award and inclusion in B Lab's annual Best for the World list, which honors companies in the top 10% of all B Corps. Mightybytes has been included in this list every year since.
Designing for Sustainability
We are leaders in the growing field of Sustainable Web Design, working to raise awareness about the internet's environmental impact and to educate designers and developers about the tools and tactics they can use to create digital products and strategies that are both people- and planet-friendly. We blog regularly about the intersection of sustainability, design, and technology and 100% of the sites we host are powered by renewable energy.
Tim's book, Designing for Sustainability: A Guide to Building Greener Digital Products and Services is a great resource for digital teams looking to integrate sustainability practices in their own work. Our efforts in this area have been recognized by Fast Company, Wired UK, Mozilla's annual Internet Health Report, and many others.

Ecograder
Ecograder is a free online tool to help you better understand how to improve your website's efficiency and power it with renewable energy. Ecograder's handy reports help you find quick and easy ways to reduce consumption, eliminate waste, and use less energy. Ecograder has been featured in Fast Company, The Green Market Oracle, Sustainable Brands, The Chicago Sun-Times, and several other publications.
Serving.Green
In 2015, Mightybytes began co-hosting weekly discussions with other businesses on the topic of internet sustainability. One initiative that arose from these endeavors was serving.green. This lightweight website is meant to provide an immersive, New York Times-style interactive experience with video and animation while still being able to fit on an old school floppy disc (under 1.4 MB). This was both a design and content challenge meant to address skepticism that more sustainable web solutions must sacrifice design and experience in order to stay lean. Challenge accepted and met.
Our fellow B Corp Manoverboard from Winnipeg did the heavy lifting on design and UX while Mightybytes and NYC-based sustainability consultancy Third Partners worked on content and sustainability metrics.
In late 2016, the site was honored with an AWWWARDS award.

Green Office Practices
We promote sustainability principles in our work and in life. Here are some of our efforts related to engaging our team in more sustainable practices:
We have a green travel policy, which encourages employees to travel only when necessary, use virtual tools, and choose more sustainable forms of transit when possible. All air travel emissions are offset through fellow B Corp 3 Degrees.
We also purchase Renewable Energy Credits (RECs) for our annual energy use.
Mightybytes has a green purchasing policy that requires the use of Certified B Corp vendors whenever possible.
Our office on Ravenswood has many green features, including: recycled building materials, an energy-efficient HVAC system and appliances, a NEST system that helps us track and refine our energy use, energy efficient LED lighting, and two living green walls.
We have recycling bins throughout the office and use Waste Not Compost, a zero emissions composting service in our neighborhood.

Climate Ride
From 2011 to 2016, we offered annual pro bono service grants to Climate Ride. These grants help Climate Ride improve their website, increase donations, and move their mission forward. Several Mightybytes employees have also participated in Climate Ride charity cycling events, pedaling 300+ miles to raise much needed funds for beneficiary organizations, which support sustainability, active transportation, conservation, and other environmental causes.
Teams comprised of Mightybytes employees and their friends have thus far raised over $100,000.00 through Climate Ride events. This money went to help great local and national nonprofits like Alliance for the Great Lakes, B Lab, Active Transportation Alliance, Rails-to-Trails Conservancy, World Bicycle Relief, Climate Ride, and others.
1% for the Planet
Mightybytes is a proud business member of 1% for the Planet, which means we donate 1% of our top-line sales (not profits) to environmental charities that are committed to creating a better future for people and planet. So far, we have committed tens of thousands of dollars to great organizations like Climate Ride, The Alliance for the Great Lakes, Delta Institute, Illinois Green Alliance, and others.
While this effort doesn't directly focus on business operations or sustainable design, it is a strategic choice we made to bake our commitment to the environment into company governance. For more on this commitment, check out our post, How 1% for the Planet Helped us Rethink Philanthropy.
B the Change
All of these efforts are grounded in being proud members of the global B Corp community of people using business as a force for good in the world. To find out more about what that means, check out our B Corporation page.
If partnering with an agency that excels at making the world a better place matters to you, consider Mightybytes for your next project.
Get Our Book on Sustainable Web Design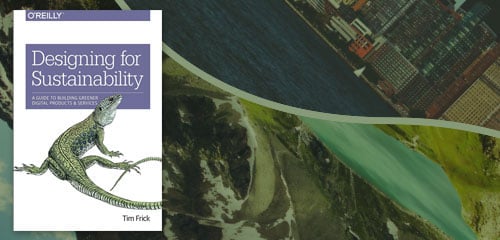 Designing for Sustainability: A Guide to Building Greener Digital Products and Services by our CEO Tim Frick is available from O'Reilly Media.