Best for the World: Honoring B Corps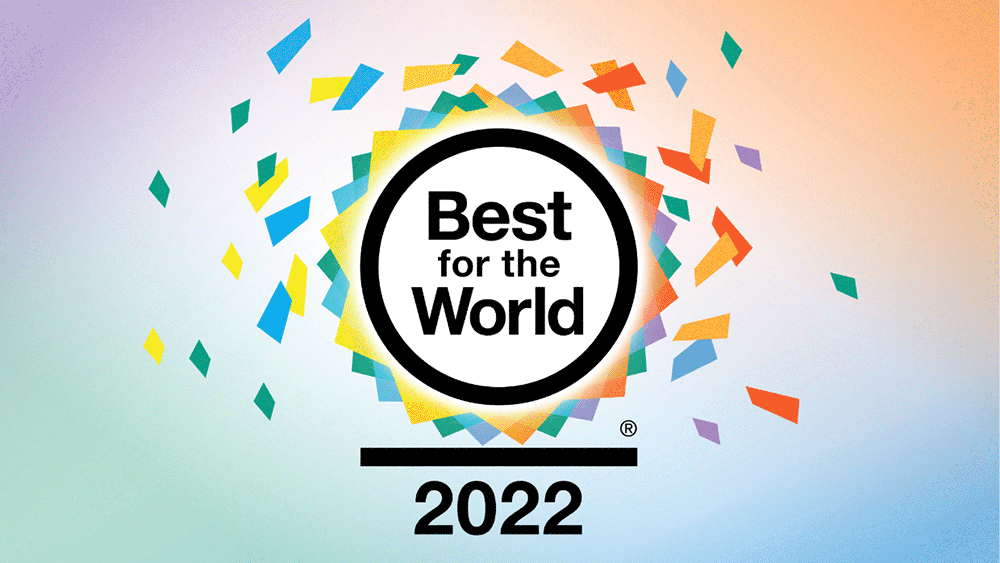 Thousands of Certified B Corps around the world strive every day to create a more equitable, regenerative, and inclusive economic system. Each year, B Lab, the nonprofit behind our certification, honors the top five percent of B Corps in its Best for the World list. But what, specifically, does that mean?
A Growing Global Business Community
The global B Corp community is now over 6,000 companies strong and growing fast. In 2021 alone, more than 6,000 companies applied to become Certified B Corps. We represent 158 industries with 483,650 combined workers in 86 countries around the world.
For many reasons, our businesses are more likely than traditional companies to survive adversity caused by a recession or global pandemic. This resilience is why B Corps are better companies to work for, partner with, buy from, and invest in.
While it's not a silver bullet, in these tumultuous times, B Corp certification has proven to be a winning formula for many companies.
In 11+ years of operating as a Certified B Corp, Mightybytes has seen firsthand the value this certification provides. This year, Mightybytes was honored to be included twice in B Lab's list: once for our Governance and once for Workers.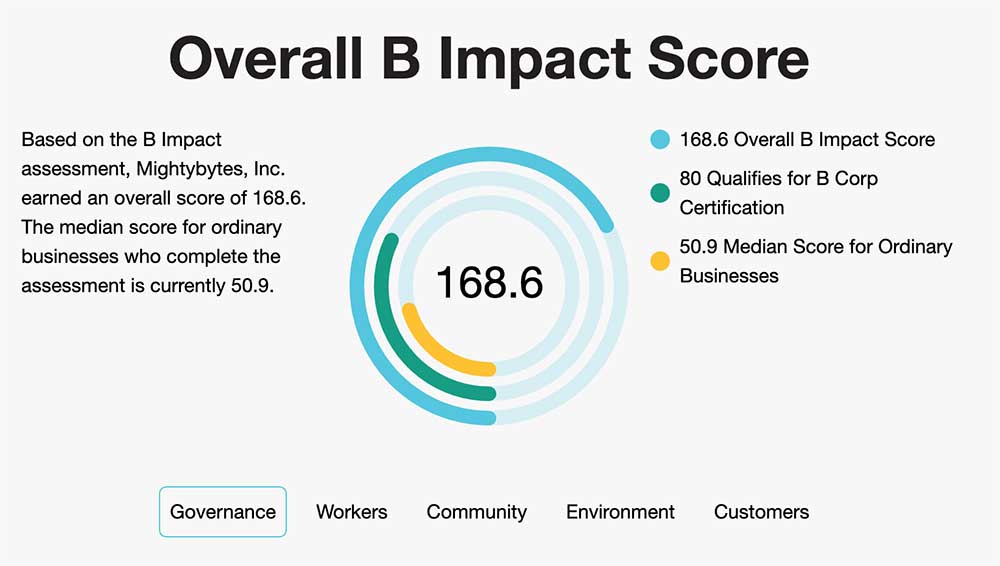 What Does Best for the World Mean?
Best for the World businesses are proving that competing not only to be the best in the world, but the best for the world, is a winning strategy, and they can lead the way as more businesses continue to join the movement that is transforming the global economy to benefit all people, communities, and the planet.

— B Lab's Best for the World list
Best for the World B Corps score in the top five percent of the B Impact Assessment (BIA), the free, confidential tool that over 150,000 businesses use to measure their impact.
The assessment scores companies in five key areas related to social and environmental performance, transparency, and accountability:
Workers: How do your company treat employees, contractors, and others who work for you?
Governance: What policies and practices does your company use to run a transparent and accountable organization?
Environment: How does your company reduce its environmental impact and regenerate ecological systems?
Community: How does your business support the communities in which it resides?
Customers: Who do you choose to conduct business with?
The Best for the World list mirrors these categories. This year marks Mightybytes' eighth time being included.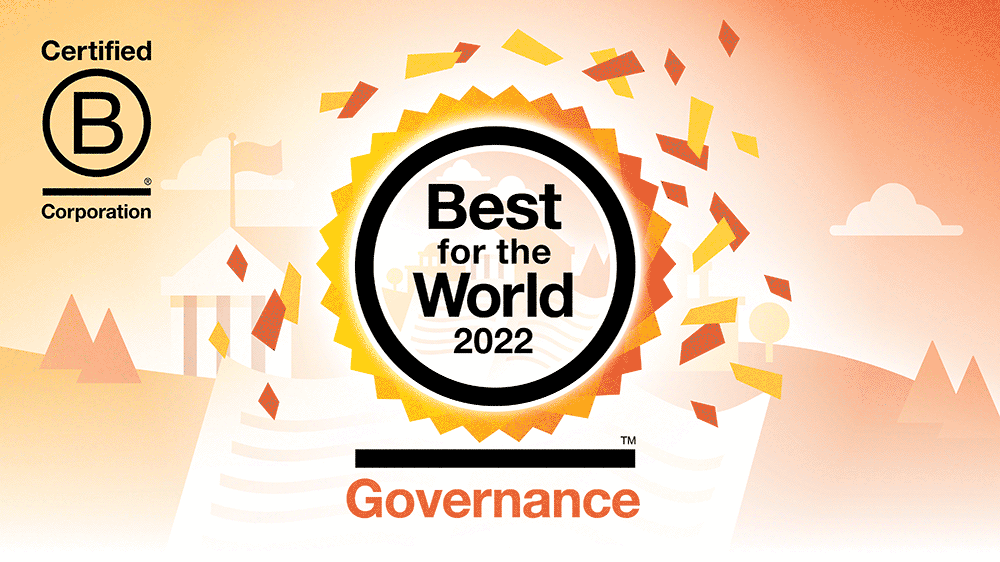 Governance: A Blueprint for Change
The Governance Impact Area evaluates your company's overall mission, ethics, accountability and transparency through topics such as integration of social and environmental goals in employees' performance evaluation, impact reporting and transparency, stakeholder engagement, and more.

— B Impact Assessment, Governance Impact Area
Known for its rigor, B Corp certification challenges business leaders to push boundaries and think differently about how to run their company. It is a great blueprint for innovation and for building an impact-focused organization that considers stakeholders in all business decisions.
Under the Governance category, users answer questions about the role positive social and environmental impact plays in company policies and practices, such as:
Good governance practices can make a big difference in how various stakeholders—like employees, customers, or suppliers—perceive your company's intentions. They also influence operations and can help your company rebound from tough times. When coupled with other stakeholder practices in the B Impact Assessment, they serve as a roadmap for positive change.
Impact Business Models
The governance gold standard for Certified B Corps is the impact business model. It is one thing to start a volunteer program or make a company philanthropic commitment. Businesses that often score highest on the B Impact Assessment align how they make money with specific impact initiatives.
In other words, when you make a sale, how does that sale positively impact an underserved community, reduce inequalities, or regenerate ecological systems? For example:
The B Impact Assessment serves as a social innovation catalyst to design new products, services, or programs around the impact these companies create. Ongoing impact experiments help them better align purpose with profit and evolve their business model based on what they learn.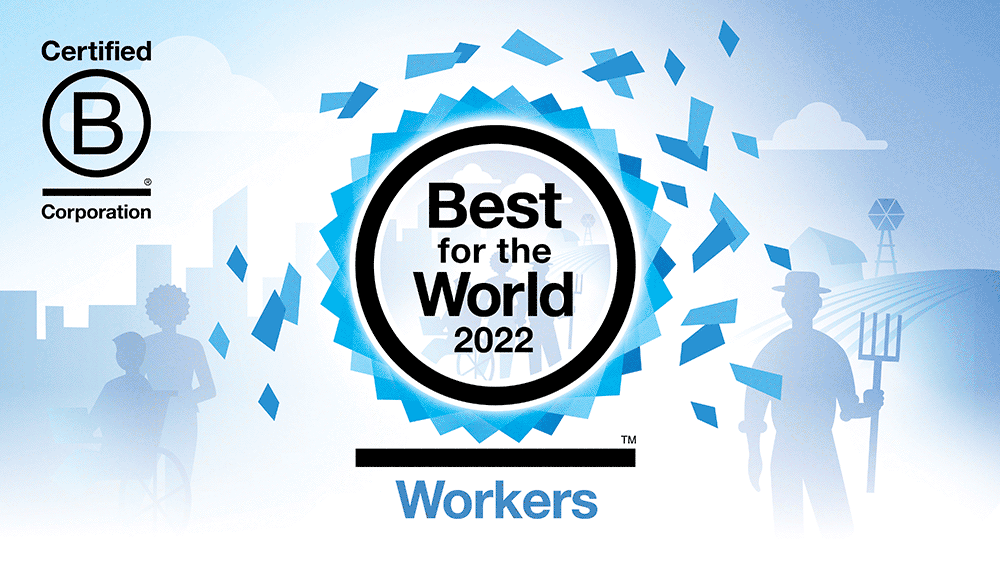 Workers: Supporting Our Team
Companies can make a large impact on the lives of their workers well beyond work hours. The Best For The World B Corps in the Workers impact area achieved a top 5% score by putting in place exemplary employee-friendly practices, such as ownership opportunities, job flexibility, and fair-chance hiring policies.

— B Lab's Best for the World list, Workers Impact Area
The Mightybytes team is, singlehandedly, the most important element of our business. As a digital services agency, our success is in their hands. That's why we truly appreciate being recognized in this year's list for supporting them.
The Workers section of the B Impact Assessment evaluates a company's contributions to its employees' lives and well-being, including:
Financial security, such as wage ratios (highest to lowest paid employees), living wage, compensation policies, bonuses, retirement plans, and so on.
Career development, such as professional development policies and practices, training for new hires, review processes, and more.
Engagement and satisfaction, which includes having a clear employee handbook, employee satisfaction, paid time off, and worker empowerment.
Health, wellness, and safety, including healthcare plans, eligibility, and supplementary health benefits.
We always strive to provide an inclusive workplace where people can be themselves and live healthy, productive, balanced lives. We're happy that B Lab recognizes this.
Growing the Impact Economy
Certified B Corps aspire to create an economy that serves all people and our shared planet. It's a big, audacious goal that won't be easy to reach. However, each company makes progress in its own unique way. Collectively, we grow the impact economy with every action we take.
While there are thousands of B Corps around the world, we need thousands more to reach our goal. If you're in a position to consider certifying and want to learn more, please reach out. We are happy to help any other companies that might want to join our community.
To dig deeper into what being a B Corp means to Mightybytes, check out our B Corp page.
Check out the full Best for the World lists on B Lab's website.
Check out our Latest Annual Benefit Report
Learn how Mightybytes creates shared value for people and planet.
Read the Report