Green Hosting from Mightybytes

The single most important thing you can do to reduce the environmental impact of your website or digital product is to power it with renewable energy. Here's how Mightybytes helps our clients reduce their environmental impact with emissions-free website hosting.
The internet has a larger carbon footprint than that of the commercial airline industry and is growing every day. Recent reports estimate that it's on track to use more electricity by 2025 than any country except China, India, and the United States. Most of that electricity is generated by fossil fuels. Green hosting—website hosting that is powered by renewable energy—is one of the most impactful things you can do to make a difference.
After a long and mostly unsuccessful search for a green hosting partner, we finally landed on Google Cloud Platform (GCP). In addition to being the world's largest investor in renewable energy, they offer a platform that is stable, scalable, secure, and feature-rich. After such a long search, we are excited to bring the power of GCP to bear for our client's projects.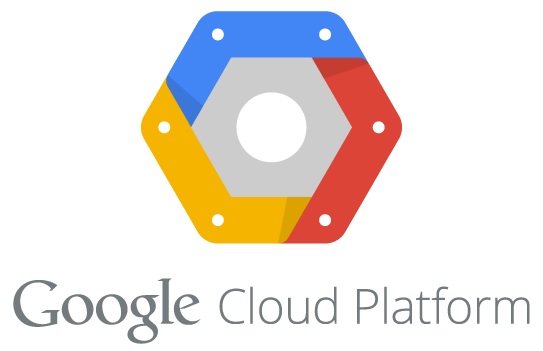 We have published several posts in our sustainable web design series about Mightybytes' mission to find great green hosting and the subsequent frustration that followed. During this time, Mightybytes has started—and subsequently severed—relationships with many green hosting providers, including Green Geeks, AISO.net, A Small Orange, Dreamhost, and a handful of others. Most of these ties were severed due to problems with site reliability or poor customer service. With GCP, we have found a resource that is committed to a more sustainable future but also understands the importance of providing a good customer experience.
Green Hosting Defined: Google's Energy Mix
In late 2016, Google announced they will reach their goal of being 100% powered by renewable energy in 2017. The company has committed to purchasing 2.6 gigawatts of renewable energy, making them the largest non-utility purchaser of renewable energy in the world. According to Greenpeace's Click Clean Scorecard Chrome Extension, Google currently produces 46% of its renewable energy needs through onsite wind and solar. The company purchases the remainder of its energy through renewable energy credits (RECs), certificates that allow a company to buy renewable energy without being directly connected to its source.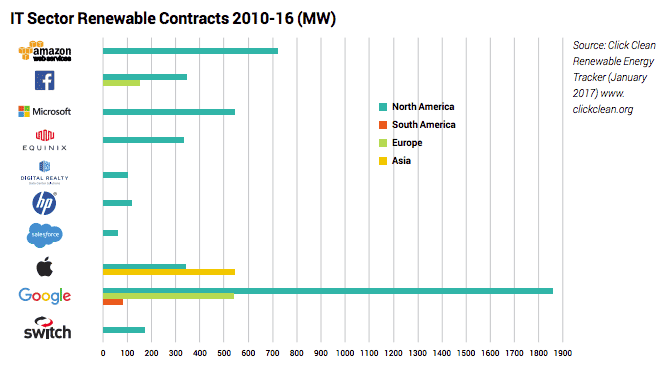 Why is this important? As Google's Director of Global Infrastructure, Gary Demasi, says on the blog post noted above:
Wind and solar resources provide power only when the wind is blowing or the sun is shining but Google's data centers operate 24×7. If we wanted to power our data centers from adjacently-sited wind or solar and operate disconnected from the rest of the grid, Google's products would be offline whenever renewable resources aren't producing energy.
But not all RECs are created equal. Google ensures that the credits it purchases directly contribute to the production of more renewable energy, thereby reducing the effects of climate change. As David Pomerantz, executive director of the Energy and Policy Institute notes in Designing for Sustainability: A Guide to Building Greener Digital Products and Services this is important because:
If you're paying for the electricity along with the RECs it's a viable solution. But if you're just buying the RECs alone, you're not actually improving the situation. Companies that purchase RECs and not the electricity that comes with them are, in effect, just buying PR.
In other words, by purchasing unbundled RECs, any hosting provider can claim to be "green" without actually being part of the solution. This is an important distinction.
In Google's case, they use three criteria for purchasing RECs:
Additionality: making sure their RECs purchases go toward advancing the production of more renewable energy.
Bundled energy and certificates: making sure that both the physical renewable energy and its associated certificates are purchased directly from suppliers and not on the open market, where they can be unbundled.
Proximity: ensuring that the energy source and their data centers are close to each other.
In addition to this, Google has invested in numerous projects meant to maximize the production of renewable energy and new technological innovations in efficiency. All of this makes Google the definitive corporate leader in renewable energy and a champion fighting climate change. We're happy to get on board with that.
GCP Features
Here are some of the features Google Cloud Platform offers that help us bring success to our client projects:
Scalability
GCP offers a suite of tools meant to help companies scale as their needs grow. If you need an another CPU, more server space, or additional features, they are easy to spin up quickly. While our basic hosting and maintenance package covers the needs of most clients, we are happy to work with you to devise a custom solution, should your digital products and services require more than our basic plan can offer.
Security & Privacy
GCP has a team of over 500 people dedicated to protecting their infrastructure and the privacy and security of digital products and services hosted on their platform. GCP has many security features, including intrusion detection, data encryption, security scanning, secured service APIs, authenticated access, and others. The platform is certified for "a growing number of compliance standards and controls, and undergoes several independent third party audits to test for data safety, privacy, and security." It also includes tools for logging and monitoring, firewall setup, penetration testing, OS and application patches, user management, and so on.
For more detail on Google's commitment to privacy and security with Google Cloud Platform, watch this video or check out GCP's security page.

Green the Web With Us!
With over three and a quarter billion people using the internet and only a small portion of its power coming from renewable sources, it is now more important than ever to collectively transition to clean energy as soon as possible. Partnering with a stable hosting service powered by renewable energy helps us ensure the digital products and services that Mightybytes builds have as little adverse environmental impact as possible while still offering the same commitment to quality that we are known for.
Mightybytes currently offers green hosting only to customers with a current project or those who have a maintenance contract with us. If you're interested in making your website more people- and planet-friendly, check out our web sustainability checklist below or look into our digital sustainability services.