Build a More Sustainable Marketing Stack
Use these 20 tools to create a more sustainable marketing stack that prioritizes people and the planet in your digital campaigns.
Marketers can choose from an overwhelming number of digital products and services to run effective campaigns. Your marketing toolkit probably has anywhere from a handful to several dozen software products and services you use to:
Manage SEO, publishing, and digital experiences across channels
Create and run ad or social media campaigns
Understand and engage with target audiences
Solicit and track earned media
Track and measure campaign performance
And so on…
Building a More Sustainable Marketing Stack
In fact, ChiefMartec estimates that in 2023 there are over 11,000 marketing technology tools available (see image above). However, to date, few of these companies include clear sustainability claims or features as part of their product or service's value proposition. Fewer still publicly commit to climate and environmental justice in their company operations.
Yet, more marketers shift their practices every day to align with purpose, trust, and an increasingly sustainability-focused customer base. So, why don't the tools we use follow suit?
For this post, we scoured the internet looking for marketing technology organizations that have made public sustainability claims or offer specific sustainability features in their digital products or services. Swap out traditional tools with some of these options for a more sustainable marketing stack.
Sustainability = ESG
We used ESG criteria to review products and services that might make up a more sustainable marketing stack. This criteria included:
In all examples, we looked for public-facing commitments and, if possible, third-party validation of these commitments through certifications, badges, and so on.
Unfortunately, there's no one-size-fits-all sustainable marketing stack that meets the criteria above. However, a growing number of digital products and services are rising to meet this need. We aim to capture some of them below.
Also, this is not a comprehensive list of everything available on the internet. If you think we missed something important, please let us know.
Analytics & Reporting
Understanding performance over time is key to maintaining an effective sustainable data strategy. For many digital marketers, reporting and analysis are crucial to how they measure success and make data-driven decisions that focus on continuous learning and improvement.
Unfortunately, some analytics tools can slow down websites or undermine data privacy. In fact, Austria, Sweden, France and other countries have ruled that certain Google Analytics configurations violate Europe's privacy law, GDPR. The tools below offer lightweight, privacy-focused analytics solutions.
Plausible Analytics
Plausible Analytics is a lightweight, open source, privacy-friendly web analytics service.
ESG/Sustainability Features
Privacy: Plausible doesn't use cookies or collect personally identifiable information. It's also compliant with GDPR, CCPA, PECR, etc. Plus, the company doesn't run paid ads or engage in other startup marketing practices that undermine privacy.
Environment: According to the Green Web Foundation's green host check, Plausible.io is hosted on servers powered by renewable energy. However, the company's website does not include any publicly available environmental claims.
Philanthropy: The company has donated $78k to social and environmental charities.
Open: Plausible code is open source on GitHub and released under an AGPL license.
What it Replaces
Plausible Analytics bills itself as the privacy-friendly alternative to Google Analytics.
Additional Considerations
Plausible's simplicity makes it attractive to marketers who don't want to deal with an overwhelming amount of data points. It focuses on "essential website stats and metrics only". Analytics power users might need more features.
Fathom Analytics
Fathom Analytics is a website analytics platform that "doesn't compromise visitor privacy for data".
ESG/Sustainability Features
Privacy: Fathom's business model is privacy by design. The company states its tools are GDPR, CCPA, ePrivacy, PECR (and more) compliant. It also has clear security policies.
Environment: The company donates 2% of its gross revenue to next-generation carbon removal technologies. The platform also practices data minimization, only processing and saving data that's essential, useful, and privacy-focused.
Open: The product started out as open source, though now it operates as a hosted service.
What it Replaces
Like Plausible, Fathom Analytics considers itself a privacy-friendly alternative to Google Analytics.
Other Considerations
We appreciate companies with impactful data disposal strategies. Also, it is great that Fathom is proudly bootstrapped. We would love to see more information about how the company engages with customers, employees, and other stakeholders to create positive change.
Also, the Green Web Foundation doesn't list Fathom's website as hosted green. We're not sure about their underlying infrastructure.
Search
Of the 11,000+ marketing tools referenced above, many serve the SEO market, which is a crowded red ocean. Again, very few of these tools actually tout environmental benefits of their products or services. However, we did find one…
Yoast
Yoast is a popular SEO plugin and service for WordPress. It integrates with the popular content management system to help site owners manage and optimize their content from within the WordPress authoring environment.
ESG/Sustainability Features
Open: All of the company's plugins are open source. Yoast also shares a slew of free educational materials and regularly sponsors WordPress events. 'SEO for everyone' is the company's tagline.
Environment: The company has clear sustainability commitments listed on their website. They also claim their SEO plugin can reduce your website's environmental impact.
Equity & Inclusion: In addition to listing equality and inclusiveness as core values, Yoast believes in collaboration, sharing knowledge, and making work fun and meaningful.
What it Replaces
Yoast fits a very specific niche as a plugin that lives inside of WordPress. There are other SEO plugins. However, this is one of the most popular. It also complements other popular SEO tools like Wincher and SEMRush.
Additional Considerations
Yoast is one of our favorite SEO tools. We would love to see more data on how to quantify the plugin's sustainability benefits to align with broader climate reporting initiatives.
Advertising
Advertising is estimated to be a $1 trillion industry by 2026, according to Statista. Alongside marketing, advertising has been slow to address its environmental impact. In fact, depending on who you ask, a typical advertising campaign can emit between 5.4 tons and 70 tons of carbon dioxide equivalent, or CO2e.
Here are several resources specifically made to improve the social and environmental impact of ad campaigns and media buys.
Scope3
Scope3 works to decarbonize the media and advertising industries. It offers several solutions to compensate for emissions associated with advertising campaigns and block high emissions ad inventory.
ESG/Sustainability Features
Open: The company's methodology is open source and evolved in public. It also regularly produces research reports aligned with their mission to decarbonize media and advertising.
Environment: Scope3 has invested $1 million in their own carbon removal portfolio that their clients can draw down with no additional fees.
Governance: The company is a public benefit corporation.
What it Replaces
Scope3 can replace or supplement existing ad and media buys that are more carbon-intensive.
Additional Considerations
Hopefully the company can work with strategic partners to amplify its message and mission to a much wider audience. We know more than a few B Corps who are interested in this!
Good-Loop
Good-Loop offers a variety of products and services that incorporate responsible ad campaign management practices. Using their service, ad viewers unlock charitable donations based on view length and engagement. These donations are paid for by advertisers.
ESG/Sustainability Features
Governance: The company is a Certified B Corp.
Environment: Good-Loop offers a variety of 'Green Media' services, including a carbon calculator specifically for ad campaigns, the ability to filter out carbon-intensive publishers, and a green tag that can be used to plant trees based on ad impressions. Their servers are also carbon neutral.
Philanthropy: Since launching in 2016, Good-Loop has raised over £4 million for charities, according to the company's website.
Privacy: Good-Loop promotes honesty, trust, and transparency on their website. Their Privacy Policy claims they are GDPR-compliant.
Open: Much of the company's source code is available on GitHub.
What it Replaces
Good-Loop operates as an advertising agency. You could potentially replace the platform(s) you use to manage and distribute advertising campaigns with their products and services. However, Good-Loop's website doesn't list price ranges. Interested parties will need to contact them to learn whether or not their services are within your budget.
Other Considerations
We're all for supporting our fellow B Corps. More importantly, we're all for putting less money into the pockets of Big Tech and more into organizations committed to creating positive social and environmental change.
For a company so committed to trust and ethics in advertising, it would be great to see more financial transparency about costs to potential customers and where the money not earmarked for charities goes.
Check My Ads
Check My Ads is a membership-based nonprofit organization dedicated to defunding hate speech and disinformation in the adtech industry.
ESG/Sustainability Features
The organization is independently funded and doesn't take money from Big Tech firms like Twitter, Google, Facebook, etc.. Membership funds investigative reporting and research to help people better understand how adtech companies fund hate and disinformation.
What it Replaces
Joining Check My Ads will keep you up to date on a widely unregulated industry.
Additional Considerations
We hope this organization can continue to get the funding it needs to continue its important work.
Clean Creatives
Next, Clean Creatives is a U.S.-based nonprofit organization dedicated to ending fossil fuel greenwashing and helping ad and PR agencies cut ties with fossil fuel companies.
ESG/Sustainability Features
Per their website, the Clean Creatives pledge (see logo on our About page) commits agencies, creatives, and strategists to refuse any future contracts with fossil fuel companies, trade associations, or front groups to the fossil fuel industry.
What it Replaces
While Clean Creatives won't replace any of the tools in your marketing stack, signing the Clean Creatives pledge—and placing the badge on your website, as we have—sends a clear signal to company stakeholders that your organization is committed to a safer climate future.
Additional Resource
View a webinar (YouTube video) on climate-conscious marketing for B Corps. Clean Creatives produced this presentation in collaboration with the B Corp Marketers Network and B Corp Climate Collective. It covers how to be part of the movement to end fossil fuel greenwashing.
Email Marketing
Despite the scourge of spam, email remains an effective marketing channel. Here are a few email marketing-specific resources for better campaigns and a more sustainable marketing stack.
EcoSend
EcoSend bills itself as the climate-conscious email marketing platform. It offers a variety of commonly used email marketing tools such as audience segmentation, automation, campaign tracking, and a website form builder.
ESG/Sustainability Features
Environment: EcoSend plants trees to offset your campaigns and includes a carbon calculator for email campaigns.
Philanthropy: The company backs carbon capture initiatives with part of its profits.
Privacy: Campaigns sent via EcoSend can be made GDPR- and CCPA-compliant.
What it Replaces
EcoSend claims to be a more conscientious and cost-effective alternative to Mailchimp.
Other Considerations
The Green Web Foundation doesn't identify EcoSend as hosted green. Their website claims that the service has "world-class energy-efficient, scalable infrastructure." However, it doesn't make specific claims about how it powers that infrastructure. It would be great to see that.
A quick search reveals that EcoSend is hosted via Amazon Web Services, which gets lower grades than other cloud providers for its commitment to renewable energy and lack of transparency. However, we appreciate EcoSend's climate-forward mission and messaging. It is possible they are hosted in a more eco-friendly AWS data center. Hopefully, they can work on clarifying this for their customers.
Brevo
Brevo, formerly Sendinblue, offers a series of email, chat, SMS, CRM, and automation tools to create engaging customer experiences.
ESG/Sustainability Features
Environment: The company began calculating and reducing its carbon footprint in 2022, including Scope 3 emissions associated with its value chain. Like some other resources in this list, Brevo also includes a simple carbon calculator and works on features to reduce the carbon impact of email campaigns, including green hosting.
Privacy: Similar to Ecosend, Brevo campaigns can be GDPR-compliant.
What it Replaces
With a robust offering that includes email, automation, chat, SMS, and sales pipeline products, Brevo could potentially go toe-to-toe with popular CRM and marketing automation platforms.
Other Considerations
Brevo's website says very little about the company itself, beyond the recent name change and information about how they track their carbon footprint. Plus, the company's blog is standard marketing fare. Sophisticated customers want to know more about their potential partners.
We would love to know more details about the company's general philosophy, philanthropic efforts, how it treats its workers, where funding comes from, and so on. In other words: tell us why we should care.
Website Management
Next, a sustainable marketing stack would be incomplete without tools to create, manage, and maintain an organization's website(s). A good site remains a core foundation for many organizations' content and digital marketing efforts. They often provide a customer's first experience with your brand.
Here are several tools that can be useful for managing more social- and environmentally-friendly websites.
Ecoping.Earth
Ecoping offers a variety of tools to reduce website carbon emissions and boost performance.
ESG/Sustainability Features
Environment: The company's mission is to clean up the internet and reduce website carbon emissions. All of Ecoping's features are driven by this mission.
Open: Ecoping was one of the earliest collaborators with Wholegrain Digital on an open source methodology for estimating digital emissions, which we use in our own Ecograder as well.
What it Replaces
Ecoping could supplement website performance improvement platforms, like Pingdom Tools, SiteImprove, or others. However, it is not meant to be a replacement for them.
Additional Considerations
As a collaborator, we look forward to seeing how Ecoping grows and evolves its business over time.
The Green Web Foundation
The Green Web Foundation is a nonprofit organization that offers several digital products and services which might be useful to sustainability-minded marketers.
First, their hosting directory features the world's largest dataset tracking which parts of the internet run on green energy, and when they switched. This directory powers their green web check, which can be used to learn whether or not a publicly available URL is hosted green.
Next, CO2.js is an open source JavaScript library that estimates emissions related to app, website, and software use. Developers can use this script to learn more about the potential emissions impact of a digital product or service.
ESG/Sustainability Features
Environment: Everything the foundation does is driven by their mission of a just and fossil-free internet by 2030.
Open: All research and tools are published either on the organization's website or GitHub.
What it Replaces
To the best of our knowledge, the Green Web Foundation's resources are unique.
Other Considerations
From what we understand, hosting profiles that include more information about a provider's Power Usage Effectiveness (PUE), water consumption, etc. are on the horizon. This will be very useful for people who want to make more educated decisions about where their digital products and services are hosted.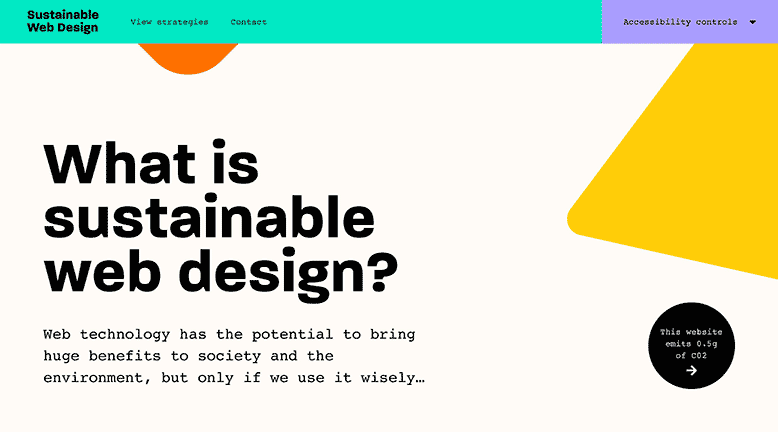 Sustainable Web Design
This Sustainable Web Design site was created to help web teams better understand good practices associated with creating and managing more environmentally-friendly websites.
ESG/Sustainability Features
The site is an open repository of strategies that designers, developers, product managers, and marketers can use to create more sustainable digital products and services.
What it Replaces
Web teams can use this resource in place of more traditional educational resources which don't always focus on efficiency, performance, energy use, or emissions reductions.
Additional Considerations
The site will eventually become home to the 'sustyweb' W3C community group's Web Sustainability Guidelines (WSG). Learn more about those.
Website Carbon Calculators
A rising number of tools to estimate emissions from digital products and services have been released recently. Many (but not all) use the sustainable web design model for calculating digital emissions.
The Tools
Sustainability Claims
Most of these tools do the same thing: estimate emissions from a single URL based on data points such as transfer size, regional grid intensity, and so on. Plus, some offer options to crawl a range of pages or an entire domain.
What These Tools Replace
These tools don't replace others inasmuch as they provide another layer of data that can be used to educate stakeholders and reduce emissions associated with creating and managing digital products and services.
Additional Considerations
The creators of Website Carbon, Ecograder, EcoPing, and, more recently, Sitigreen and Footsprint collaborate regularly to share best practices and ensure their tools provide the same or similar results to users. This reduces confusion.
What's In Your Sustainable Marketing Stack?
Finally, with thousands of tools to choose from, one might think it would be easier to build a more sustainable marketing stack with which to run your campaigns. Unfortunately, that's not the case. While the number of tools to address these needs is growing, this is still a relatively short list.
We would love to hear which tools you're using to execute more ethical, responsible, and sustainable marketing campaigns. Plus, we know we missed a few resources here. To suggest a tool or resource that should be on this list, please complete this short form.
Need help finding an effective partner to implement digital sustainability practices into your own organization? This post on finding an ethical marketing agency might help.
Check out Ecograder's fresh look and new features
Reduce digital emissions, improve performance, and reach your website goals faster with the new version.
Try Ecograder