Our Journey to Net Zero
Here's how Mightybytes made progress in 2020 on our commitment to operate as a zero emissions company. Perhaps the ideas listed below can help your organization do the same.
Accelerated climate change and ecological breakdown have already impacted every corner of our globe and directly affected organizations of all sizes. As climate change accelerates, one by-product is increasing social inequities and inequality. Eventually, this will lead to disruption and social unrest on a scale we've never seen before.
Per the B Corp Climate Collective:
It is clear to us that these twin crises are being driven, and responses constrained, by an economic system that rewards the single-minded pursuit of profits while untenably externalising environmental and social costs. This results in decisions that prioritize short term financial returns often at the expense of people, communities, and the natural world on which all life depends.
Mightybytes declared a Climate Emergency in January 2020 and committed to achieving net zero emissions as quickly as possible. While we have worked to reduce the company's environmental impact for over a decade now, we made significant progress toward achieving our zero emissions goal this past year. Here's how.
What is Net Zero?
Committing to Net Zero means that your organization will first reduce carbon emissions as much as possible, then offset what can't be reduced to reach the equivalent of carbon neutral, or zero emissions. The B Corp Climate Collective recommends that companies wanting to make a Net Zero commitment follow these steps:
Declare a Climate Emergency. Use the Climate Emergency Playbook for Business to encourage stakeholders and claim intent.
Accelerate Carbon Reduction. Calculate Scope 1-3 emissions and devise a plan to reduce them as much as possible.
Develop a Net Zero Plan. Offset remaining carbon emissions to achieve Net Zero between 2025 and 2050.
Join the B Corp Climate Collective. This global community of learning and practice is dedicated to climate action, climate justice, and climate advocacy.
The Collective also recommends engaging in ongoing climate advocacy and using the community's collective voices to accelerate the just transition to a net zero carbon economy. (In other words, your actions don't stop by joining the collective.)
Defining Emissions Scopes
Understanding how to approach a Net Zero commitment means understanding the differences in emission types, which are broken into three categories:
Scope 1: Direct emissions from company-owned and controlled resources, including onsite HVAC units, company vehicles, industrial processes, etc.
Scope 2: Indirect owned emissions from energy purchases
Scope 3: Indirect not-owned emissions from a company's upstream and downstream activities
There are 15 categories under Scope 3 emissions that include purchased goods and services, operations waste, transportation and distribution, leased assets, and so on. Scope 3 emissions offer the widest number of opportunities for organizations to make progress on their Net Zero commitment. However, because Scope 3 emissions are often out of an organization's control, they can also be the most difficult to calculate and track.
Reduce Emissions First
In making a Net Zero commitment, organizations are encouraged to first reduce as many emissions as possible before resorting to offsets or renewable energy credits (RECs). Before Mightybytes became a Certified B Corp in 2011, we were members of Eco-Andersonville and went through their green business certification in 2009. Thus, reducing waste and improving our environmental impact has been a company priority for many years.
Emissions We Reduced
The commitments mentioned above made reducing our carbon footprint easier. These included:
Energy Star-compliant appliances and HVAC units that use less electricity
Nest thermostats to better regulate office temperatures, especially after-hours
Intelligent plugs that can be controlled through wifi to shut off automatically, reducing "vampire power"
Reducing business travel, encouraging public transportation use and low-carbon commuting, such as walking or cycling
Cree LED bulbs in every office socket to reduce electricity consumption
In-house composting, which we later replaced with a zero-emissions composting service
Ordering supplies from companies (usually other B Corps) that offer low-carbon shipping options and buying recycled, composted, or low-impact materials when possible
This isn't a comprehensive list, but represents the primary things Mightybytes did to reduce our emissions over the years. Unfortunately, we changed offices several times and didn't set a baseline, so it's hard for us to quantify how much we have improved over the years. Lesson learned.
Offset What You Can't Reduce to Reach Net Zero
Elements out of our control also hindered the company's specificity regarding science-based targets. Our building unit, for example, doesn't have an electricity meter. To accommodate, we estimated based on square footage and similar usage rates from other units our size on Chicago's north side. By "rounding up" estimates, we can reasonably presume that offsets and renewable energy credits (RECs) purchased for energy used more than cover our footprint.
What We Measured
Given our digital agency's business model, the lion's share of emissions came from running the office and our respective workstations. We also included the web hosting we do for clients. More on that below.
We tracked the following components:
Airline activity: How much business travel did we do?
Ground travel activity: How much commuting or traveling to client meetings did we do?
Lighting: How much electricity (per bulb) did we purchase to light the office?
Plug load: How much electricity (per plug) did we purchase to run computers, equipment, etc.
HVAC: How much energy was used to heat the office?
Individual workstations: How much electricity was used to enable us to do our jobs?
COVID and Carbon Emissions
In March 2020, the global COVID-19 pandemic forced our team to work from home. Because of this, we were able to drastically reduce annual office energy use. We also adjusted the components above to compensate for reduced commuting, business travel, and home offices over the course of the year.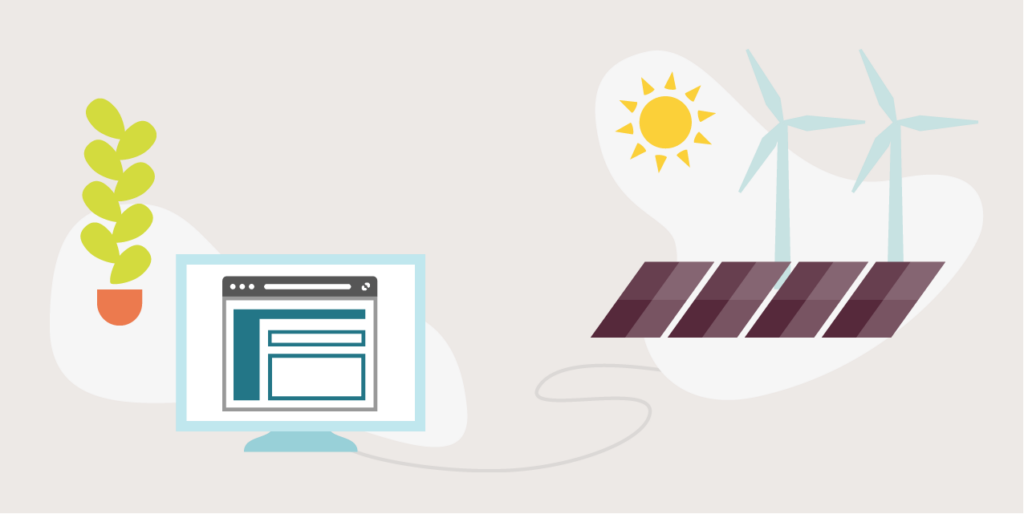 Scope 3 Emissions: Carbon Negative Website Hosting
For the first time this year, we were able to provide carbon negative website hosting for clients who host their websites with us. This was part of our Scope 3 emissions. What does this mean? Let's break it down:
We use Pantheon as our hosting partner. In turn, Pantheon uses Google Cloud Platform (GCP), which claims carbon neutrality since 2007 and has pledged to be carbon-free by 2030. We think this is pretty impressive.
Pantheon shared 2020 hosting account data with us. Using the formula Wholegrain Digital employs for their free Website Carbon Calculator, we were able to estimate our account's energy use in kWh. 
Even though our hosting was already pretty green due to GCP, we opted to purchase wind power RECs to cover all account electricity. Again, we "rounded up" these estimates to cover the Scope 3 emissions generated by our hosting. 
This allows us to claim that website hosting with Mightybytes is actually carbon negative. In other words, it is regenerative. It removes carbon from the environment.
For us, this is a big deal. It represents a positive result from a long and sometimes painful journey to offer our clients truly green, emissions-free website hosting.
Purchased Offsets and RECs
With all of the above in mind, the offsets and RECs we purchased gave us the equivalent of:
Growing 3,325 trees per year for 10 years, or…
Taking 27 cars off the road for one year, or…
Not using 302 barrels of oil…
We worked as we have in previous years with our friends at fellow B Corp 3Degrees to support projects that are local to the Midwest, in this case the UPM Blandin Native American Hardwoods Conservation Project.
Moving Forward: Net Zero Obstacles
Mightybytes is lucky. Our small team and digital-native business model means that reducing and offsetting emissions wasn't as arduous as it might be for product-based companies with large supply chains, for instance. We don't purchase a lot of goods and services. We don't travel a lot for business. And in 2020, we barely commuted. This enables us to make progress on Net Zero commitments faster than most.
However, there are still areas where we can improve our efforts:
We could stand to learn more about setting and maintaining science-based targets.
We will start better quantifying our Sustainable Web Design efforts.
We can explore better banking options to help us completely divest from fossil fuels. Our current bank is a 'green branch' but there's still room for improvement.
We will explore what it takes to be a Zero Waste company, the next natural step to work in tandem with Net Zero aspirations.
So, is Mightybytes Net Zero?
Based on the math we did and my current understanding of Net Zero commitments, I would say yes. However, Net Zero is an always moving target, one that requires ongoing vigilance, effort, and resilience in the face of changing circumstances. For more information, Carbon Trust has a great post on why defining Net Zero is so complicated.
For these reasons, I'm hesitant to shout from the highest rooftop that we're a Net Zero company. However, I'm still pretty proud of our accomplishments. Cheers to a zero emissions economy!
NOTE: Special thanks to JD Capuano, esteemed Mightybytes advisory committee member, and his students at Bard College for helping us make significant progress on our Net Zero commitment.