Web Hosting: Renewable Energy & RECs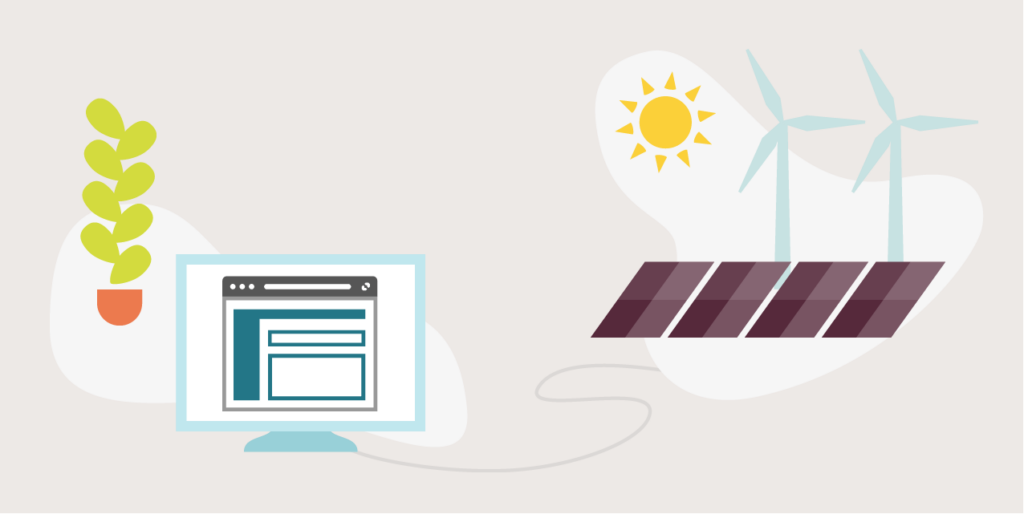 What's the difference between a web hosting provider that uses renewable energy credits and one powered directly by renewable energy? We explore several answers in this post.
Web hosting using renewable energy can help you reduce greenhouse gas emissions from digital products and services. However, not all renewable energy is created equal.
Some hosting providers have resources to build wind farms or solar arrays, while others bring renewable energy to their customers by purchasing Renewable Energy Certificates (RECs). Is one of these better than the other?
An Aging Energy Grid
To better understand how we power the internet, let's explore challenges that existing electrical grids pose.
Many of them are over 100 years old, created at a time when electricity needs were simple.
They also don't differentiate between power generated by a wind farm, a hydroelectric dam, a solar array, a nuclear plant, oil, or a coal-powered electrical plant.
Electricity from all sources goes into the grid and mixes together, making it virtually impossible to know whether the energy that ends up at your home or business came from clean, renewable sources or fossil fuels.
This poses challenges for consumers or companies that want to commit to renewable energy. Right now, they only have two choices:
Invest in renewable energy hardware, such as a wind farm or solar array
Purchase Renewable Energy Certificates (RECs)
Let's explore the difference in more detail.
Renewable Energy-Powered Data Centers
Even for most data centers with on-site or off-site renewable energy, the center maintains a tie to the local electricity grid and the power its equipment uses is from these grid-fueled power plants. This local electricity mix can rely heavily on fossil fuels that produce greenhouse gasses (GHGs).

— Manoverboard Green Hosting Report
A solar array on your rooftop or a windmill in the parking lot guarantees that your energy comes from a renewable resource. Since your power source is nearby, this approach also mitigates transmission loss from grid use.
Renewable energy can be installed with or without access to the larger electrical grid:
A microgrid does not rely on grid power. This small-scale power grid operates independently or in conjunction with the area's main electrical grid. Any small-scale, localized station with its own power resources, generation, and definable boundaries qualifies as a microgrid.
Data center wind farms or solar arrays also contribute power back to the primary electrical grid which can then be used by customers of that grid via Renewable Energy Certificates (RECs).
However, not all RECs are created equal.
Renewable Energy Certificates (RECs)
Simply providing unbundled RECs or facilitating their purchase is not an impactful option or enticement for those companies who want to legitimately power their operations with renewable electricity in a way that meaningfully improves their electricity supply…RECs don't make your corner of the internet greener, and aren't a good primary strategy. Identify options for a better strategy.

— Greenpeace, Clicking Clean
To circumvent our power grid's shortcomings, energy companies created RECs. Unfortunately, the grid can't differentiate between electricity sources. RECs act as a tracking system for renewable energy.
Every time a clean energy power company produces a unit of energy it also produces a renewable energy certificate. RECs are sold bundled with electricity and separately. The latter often means a raise in cost to the end customer. Plus, because they are often sold through resellers, RECs don't contribute to the proliferation of new clean energy production.
Purchasing RECs guarantees that the amount of power you purchased is produced from a clean source. However, unbundled RECs are not a good primary strategy.
To clarify, here's a video that sums up how RECs work:
Also, here's an example REC from the Bonneville Environmental Foundation for fellow B Corp Canvas Host before they were acquired by HostPapa.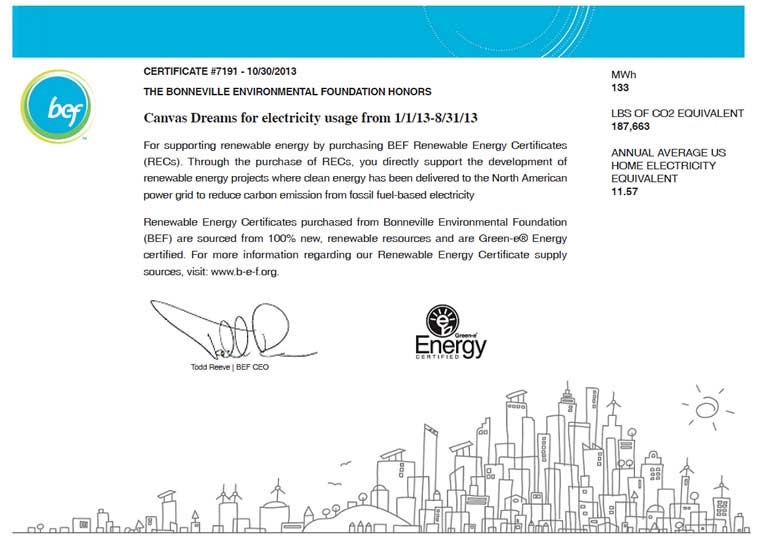 Carbon Credit Confusion
Also, it is important to note that Renewable Energy Certificates are not the same as carbon credits or carbon offsets. RECs are used to purchase renewable energy whereas carbon offsets or credits mitigate emissions. They are two different things.
More importantly, we always recommend that any organization first devise an emissions reduction strategy before relying on credits/offsets. Emissions sources lurk in every corner of our organizations. It is important to identify and reduce them first.
Only then should you rely on carbon offsets, which are viewed by many in the environmental movement as a lazy "permission to pollute" solution.
Green Hosting for Your Own Website
Finally, when choosing your own hosting provider, please consider a company that powers their servers with 100% renewable energy. It is the single most important thing you can do to reduce greenhouse gas emissions that stem from your website.
For an extensive list of green hosting providers, please review the Green Web Foundation's Green Hosting Database. Are you a green host that's not listed? Add your company. To understand the full breadth of digital sustainability, read our sustainable web design post.
Try the new Ecograder
Reduce emissions, improve performance, reach your website goals faster.
Try Ecograder