Web Hosting: Renewable Energy & Renewable Energy Credits

What's the difference between a hosting provider that uses renewable energy credits and one powered directly by renewable energy? We explore several answers in this post.
Hosting your website with a provider that uses renewable energy is the single biggest step you can take to reducing its greenhouse gas emissions. But not all renewable energy is created equal. Some hosting providers have the resources to build their own wind farms or solar arrays, while others bring renewable energy to their customers by purchasing Renewable Energy Credits (RECs). Is one of these better than the other?
An Aging Grid
To understand where the web's power comes from and how it gets to our servers, let's talk about some challenges that existing electrical grids pose. Many of them are over 100 years old, created at a time when electricity needs were simple. They also don't differentiate between power generated by a wind farm, a hydroelectric dam, a solar array, a nuclear plant, oil, or a coal-powered electrical plant. Electricity from all sources goes into the grid and mixes together, making it virtually impossible to know whether the energy that ends up at your home or business came from clean, renewable sources or fossil fuels.
This poses challenges for consumers or companies that want to commit to renewable energy. Right now, they only have two choices: they can invest in renewable energy hardware, such as a wind farm or solar array, or they can purchase Renewable Energy Credits (RECs).
Renewable Energy-Powered Data Centers
Generating your own renewable energy takes a serious commitment of time and money. It requires investments in hardware that needs to be maintained or upgraded. But having a solar array on your rooftop or a windmill in the parking lot is also the best way to guarantee that you are getting energy from a renewable source. Since the source of your power is nearby, it can also mitigate transmission loss that comes with using the grid.
Renewable energy can be installed with or without access to the larger electrical grid:
A microgrid does not rely on grid power at all. This small-scale power grid can operate independently or in conjunction with the area's main electrical grid. Any small-scale localized station with its own power resources, generation and loads and definable boundaries qualifies as a microgrid.
Data center wind farms or solar arrays can also contribute power back to the primary electrical grid which can then be used by customers of that grid.
As our fellow B Corp Manoverboard put it in their Green Web Hosting Whitepaper,
Even for most data centers with on-site or off-site renewable energy, the center maintains a tie to the local electricity grid and the power its equipment uses is from these grid-fueled power plants. This local electricity mix can rely heavily on fossil fuels that produce greenhouse gasses (GHGs).
Renewable Energy Certificates (RECs)
To circumvent our power grid's shortcomings, renewable energy providers have created renewable energy certificates (RECs). RECs act like a tracking system for renewable energy to get around the fact that the grid can't differentiate between electricity sources. Every time a clean energy power company produces a unit of energy it also produces a renewable energy certificate. RECs are sold separately from the electricity itself, which often means a raise in cost to the end customer.
While it is currently impossible for the grid to tell where the actual electrons that arrive at your home or business came from, purchasing RECs guarantees that the amount of power you purchased was also produced by a renewable source. However, this is not a good primary strategy for greening up your electricity use. According to Greenpeace's 2015 Clicking Clean report:
Simply providing unbundled RECs or facilitating their purchase is not an impactful option or enticement for those companies who want to legitimately power their operations with renewable electricity in a way that meaningfully improves their electricity supply…RECs don't make your corner of the internet greener, and aren't a good primary strategy. Identify options for a better strategy.
Here's a video that sums up how RECs work:
And here's an example REC from the Bonneville Environmental Foundation for fellow B Corp Canvas Host: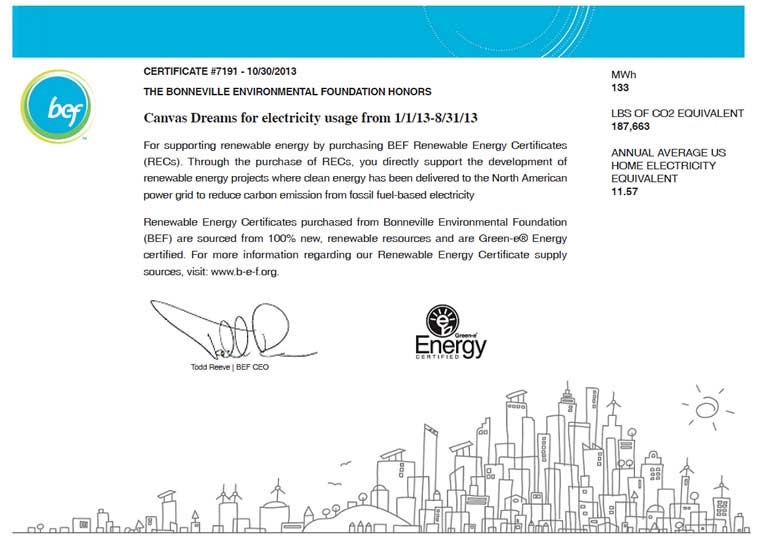 Ranking Green Web Hosts
When we launched our free web sustainability tool Ecograder in 2013, we gave 25 of the 100 possible points to hosting providers that power their data centers with 100% renewable energy (option one above). We recently incorporated the Green Web Foundation's green host database into Ecograder's core functionality. Their database distinguishes between companies that power their servers by 100% renewable energy and those that use RECs. In using their API, Ecograder now gives websites hosted by companies that use RECs 10 points while hosting providers powered by 100% renewable energy get 25 points. In other words, if your hosting provider uses RECs your site will be recognized for their efforts, but since RECs aren't a solid strategy for improving the electricity supply, you won't get full credit.
Green Hosting for Your Own Website
Finally, when choosing your own hosting provider, please consider a company that powers their servers using 100% renewable energy. It is the single most important thing you can do to reduce greenhouse gas emissions that stem from your website. For an extensive list of green hosting providers, please review the Green Web Foundation's Green Hosting Database. If your company is a hosting provider powered by renewable energy that is not represented in their list you can add your company. For more on digital sustainability read our sustainable web design post.