Solidarity, Not Pridewashing
In this post, we explore ways to move beyond Pridewashing to create authentic policies and communications that support LGBTQ+ equality not only in the month of June but throughout the year.
You can't use the internet during the month of June without being barraged by social media posts trying to convince you that company x is an ally to the LGBTQ+ community. Many are more than happy to sell you rainbow-themed products to prove their support.
Yet Pride isn't just about celebrating progress towards LGBTQ+ equality and acceptance. It is a rallying cry to continue striving for a more equal and accepting world in the face of mounting hostility.
Solidarity vs. Pridewashing
Organizations that genuinely support the LGBTQ+ community during June's celebrations are appreciated. They normalize the idea that members of the community are and should be considered a core part of every organization's stakeholders.
However, as LGBTQ+ acceptance becomes more celebrated, bad actors try to jump on the Pride train while failing to back up their words with meaningful actions. You can't have it both ways.
Many marketers feel called to use our platforms to further normalize the idea that LGBTQ+ people are important, worth celebrating, and most importantly, deserve equal treatment and protection under the law.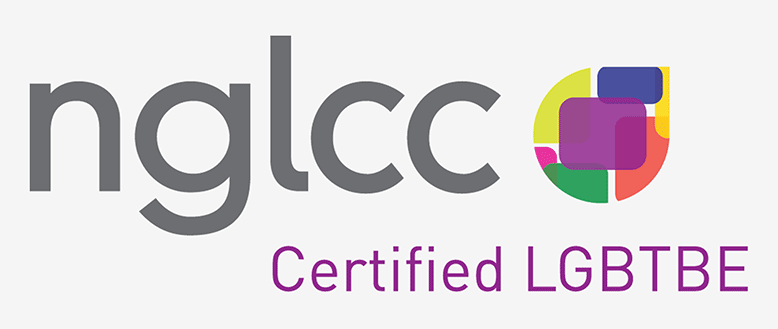 As an LGBT-certified business enterprise, Certified B Corp, and digital agency, we want to help our clients and other stakeholders create inclusive policies and communications that support equal rights for all people and our shared planet.
With that being said, how do purpose-driven organizations differentiate themselves from those that are happy to sell rainbow products during Pride while simultaneously supporting policies that harm the community or otherwise undermine equality? Here are some ways to show up for the LGBTQ+ community all year long.
Start with What You Can Control
Change starts with individuals and organizations doing what they can to make their environment more inclusive. Here are some actions to consider:
Individual Actions
Even if you're not in charge of creating policies within your organization, small actions can pave the way for bigger change. For example:
Pronouns: Add your pronouns to your Zoom profile, email signature, and (if applicable) social media profiles.
Resources: Share resources, articles, or facilitate workshops to educate coworkers, suppliers, or other stakeholders.
Third-Party Experts: If you're not comfortable taking the lead yourself, bring in third-party experts to speak to your team about these issues.
Gendered Language: Stay away from gendered language in internal and external business communications unless absolutely necessary.
Organizational Actions
In mapping your business ecosystem, you'll most likely find that members of the LGBTQ+ community play key roles in your organization's success, whether as customers, employees, suppliers, etc. If possible, enlist them as partners in any Pride-related communications efforts.
However, get your house in order first. Pride-focused campaigns will be more readily accepted if your organization has built trust with the community and prioritized accountability and transparency. Otherwise, you might run into potential pitfalls in your storytelling efforts. Consider the following:
Code of Ethics: Create a Code of Ethics on your website or within your employee manual that includes specific language supporting the organization's justice, equity, diversity, and inclusion (JEDI) efforts as they relate to LGBTQ+ issues.
Employee Handbook: Include explicit language about rejecting homophobia and transphobia in your employee handbook. If possible, create a whistleblower policy with clear steps to help stakeholders effectively address these issues.
Inclusive Healthcare: If you provide benefits, support gender-affirming healthcare options.
Strategic Partners: Join forces with organizations across sectors that complement your own inclusion efforts. This can help you amplify your impact and share knowledge and resources.
Also, start small. Even if every item on this list is not applicable to your organization, find one thing to create a foundation you can build upon in the future. Do what you can to improve your organization's inclusion efforts over time.
Inclusive Digital Communications
The internet can be a hostile place for LGBTQ+ people. Bullying and disinformation are endemic and Big Tech does little to police hate speech or disinformation on their platforms. Plus, algorithmic biases often deprioritize LGBTQ-affirming stories in favor of more controversial topics that get more clicks or otherwise incite bigotry.
Consider the following in your ongoing digital communications:
Ethical Marketing Policies: Craft ethical marketing and advertising policies to ensure truth-telling and inclusion are prioritized and enforced in company campaigns and messaging.
Highlight the Community: Encourage marketing campaigns that feature LGBTQ+ people.
Inclusive Language: Use inclusive language in your communications. Croud's inclusive language checker, Casey, can help with this. However, don't rely entirely on an automated tool to catch potentially offensive language. Do the majority of this work yourself.
Be a Watchdog: Call out bigotry and hate speech in other social media campaigns and profiles.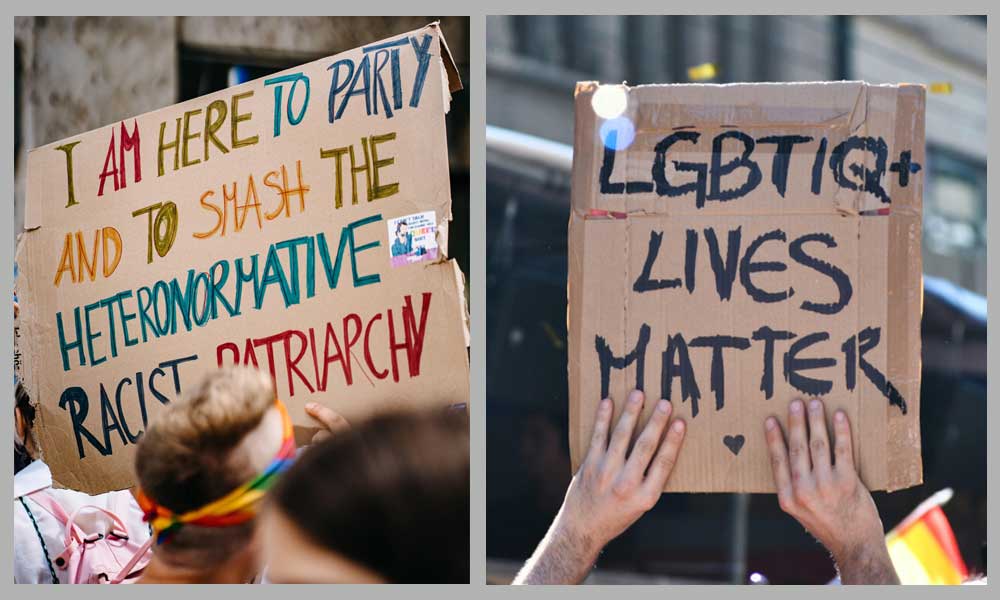 Get Loud all Year Long
Anti-LGBTQ+ sentiment is gaining momentum in the United States, and around the globe. From legislative attacks on gender-affirming healthcare to violent attempts to "riot" at Pride events, inclusive organizations must speak loudly against these attacks.
Amplify LGBTQ+-affirming stories whenever you can. This builds meaningful solidarity with a community that must live with the state of things once the celebration is over and the rainbow flags are put away.
If your solidarity extends beyond an event (it should), show it in your words and actions throughout the year.
Financial Support
As organizations try to find ways to make social purpose more of an integral part of their operations, consider raising money for or directly donating to charities that center LGBTQ+ people.
Even if you have chosen another avenue to create a positive impact, it is worth noting that marginalized communities, including LGBTQ+ people, are often disproportionately impacted by a diverse set of intersectional social issues.
Here are some nonprofits to consider supporting:
Conversely—and perhaps most importantly—do not give money to politicians or other entities that oppose LGBTQ+-affirming legislation. You cannot claim to support the LGBTQ+ community, then fund the people who orchestrate their oppression. Plus, journalists and online activists are increasingly calling out companies that engage in this behavior.
Solidarity is Consistent
No matter what is achievable for your organization and communication channels, the main takeaway is that solidarity is consistent and ongoing. Understand your capacity, then plan accordingly. Just start somewhere.
Ongoing inclusive initiatives within your organization ensure that when you celebrate Pride, you do so authentically with the knowledge that your solidarity is concrete and productive.