How to Implement a Content Governance Plan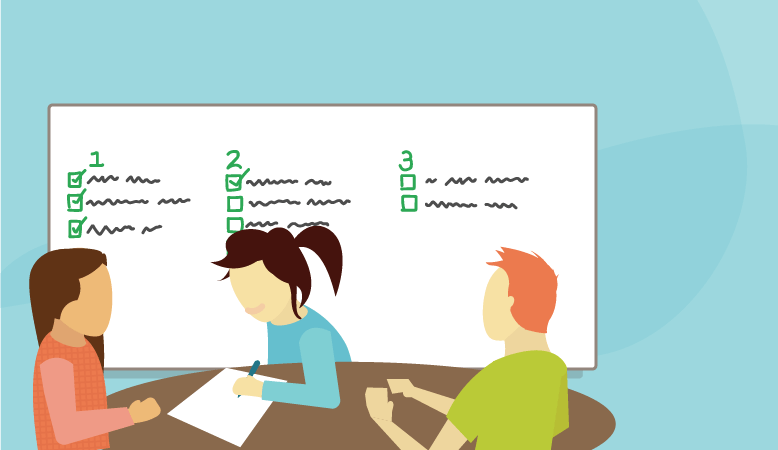 An effective content governance plan is critical to the success of any organization's content strategy. Sticking to it, however, can be a challenge: things go off the rails when real-world challenges get in the way of your best laid plans. In this post, we discuss how to successfully implement a content governance plan to set your organization up for long-term success.
Your team has planned out the coming year's content with several new campaigns scheduled each quarter. You plan to run some great customer promotions, develop stories around a new product line, engage influencers on social media, and reach a brand new audience for the first time.
But then things get real. Four different departments want their products and programs on the website's homepage. Your new assistant just sent an off-brand tweet that might give customers the wrong impression. A scheduled promotion conflicts with the company's annual trade show. And you still have day-to-day tasks to contend with. What do you do?
What is Content Governance?
Content governance is a set of practices to create, publish, manage, distribute, and scale content in a real business environment. Content governance defines how content is reviewed, who is empowered to make editorial planning decisions, what to do after content—or an erroneous tweet—is published, and how to address stale, non-performing, or outdated content. Good content governance practices can make or break digital marketing success. It can also contribute or become a hindrance in the pursuit of sustainable web design practices. In our experience, they're also often overlooked.
Digital Transformation Requires Good Governance
Digital transformation is the process of using digital technologies to create new (or modify existing) business processes, culture, and customer experiences to meet changing business and market requirements. Organizations across sectors are undergoing this change on a monumental scale. For Mightybytes' clients, digital transformation often manifests itself through an organization's relationship with content:
Access to digital tools like content management systems allow them to create, publish, and promote content faster than ever before.
Social media and other internet-enabled communications channels give customers, donors, and other stakeholders real-time access to organizations in unprecedented ways.
This requires new workflows, processes, skills, and resources. Many organizations are simply not equipped for this.
Over the years, we have found that content for digital projects challenges our clients the most. This is why we prioritize it with a content first approach, helping clients better understand the workload involved with implementing a successful content strategy over time, in which content audits, content creation workflows, editorial guidelines, content migration, search engine optimization, calendar planning, and a host of other content-related tasks all play important roles.
These challenges often become even more apparent after a digital product or service launches: organizational change management is typically necessary to maintain a long-term content strategy alongside a successful promotion and distribution strategy. This overwhelms inexperienced teams. At scale, managing content becomes unwieldy, especially for organizations with many departments contributing content. It is critical to implement—and enforce—good content governance practices in this fast-paced, always changing environment.
Designing a Content Governance Plan
Assuming you already have a good content strategy in place, how do you set yourself up for long-term success before writing your first post? You can start by designing a content governance plan. Successfully manage the publishing process and your team will better understand the bigger picture while also learning how content initiatives could impact them day-to-day. Though it might be tempting to allow your team free reign, a content strategy without checks and balances can quickly become unwieldy and costly. Plus, content creators, outside vendors, and internal stakeholders will appreciate having a set of guidelines to work from.
Here are some things to think about as you get you started:
Manage Office Politics: For any given organization, chances are there will always be more people asking for content or homepage real estate than there is space or time for. In these cases, it's necessary to implement a prioritization process when working with stakeholders.
Establish Editorial Guidelines: Editorial guidelines ensure that your team understands the exact standards you've set for your organization. This means deciding on a unified voice, accessibility standards, and how keywords will be implemented.
Accountability: Build accountability into every step of your plan. Who is writing what? Who edits and/or approves content for publication? How are content creators kept on deadline? Does a single person have the responsibility to publish content or will that be spread across multiple teams?
State Objectives Clearly: In order to create effective content, writers need to clearly understand campaign goals. In other words, what purpose does your content serve for each communication channel? Having clear objectives ensures that individual campaigns work toward larger organizational goals.
Define What Success Looks Like: Before creating content, set out methods to measure success. What result are you looking for and how will you measure your progress? What are your KPIs?
Prioritize Accessibility: Make sure the Web Content Accessibility Guidelines play a role in your ongoing content governance efforts. This will make your website easier to use for up to 15% of your audience. Plus, it could help you avoid a lawsuit.
Be Flexible: Finally, while it can be tempting to plan out every little detail, make sure your content governance plan is flexible enough to account for unexpected hurdles. These crop up often. Embracing change and continuous learning will help your organization be more agile.
Create Editorial Guidelines
Even if you're a content team of one, consistency is key. Providing clear editorial guidelines to content creators will support consistency from story to story before they start any research. Editorial guidelines streamline the writing and editing process by providing clear content standards that anyone can follow.
Here are some things to consider when crafting your guidelines:
What style guide will serve as the basis for your guidelines: AP Stylebook, Chicago Manual of Style, MLA Formatting and Style Guide?
What are the qualities of your company's voice? Is it professional and academic or casual and conversational?
Do you have any industry terms or ambiguous grammatical rules that you can identify?
How should content look like on your website? Will you publish in large blocks of text or are frequent bulleted lists more your style?
How does the editing process work at your organization?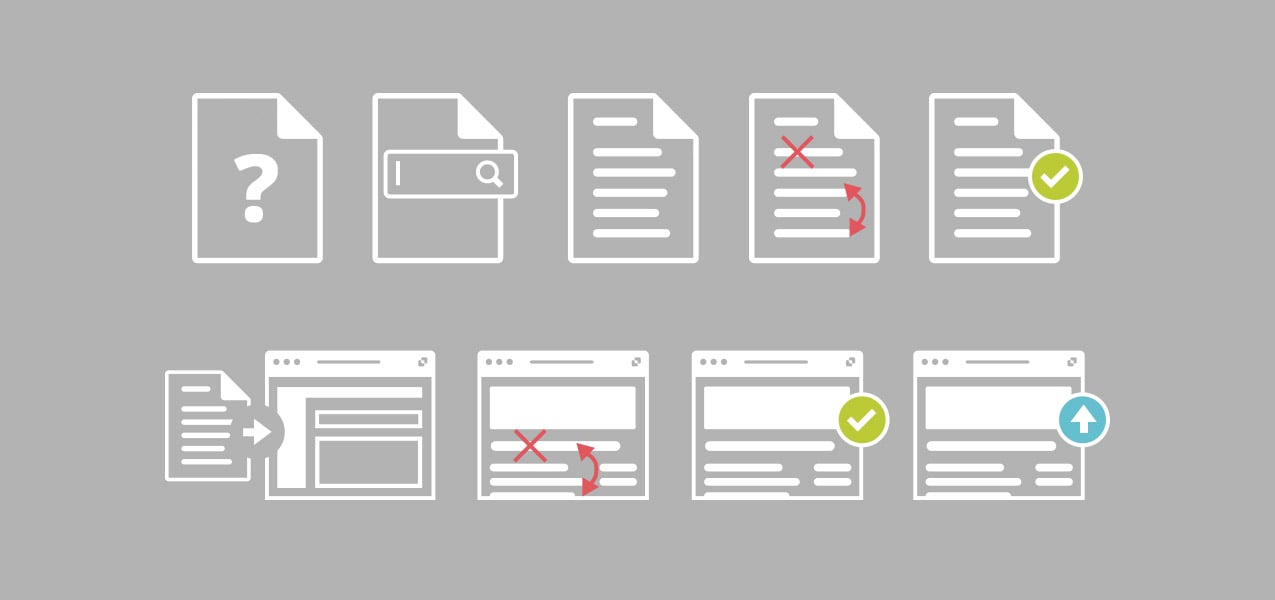 Design a Sustainable Content Workflow
Defining a clear content workflow can set content creators and editors up for success. How will you lay out the exact steps content creators should follow to successfully publish a piece of content? A typical workflow reads like a set of procedures, for example:
Hypothesis: What story do you plan to tell? How will it engage your audience?
Research: Collect research to support (or refute) your hypothesis; define target keywords, title tag, and URL if SEO is a consideration.
Outline: Draft an outline of your story, ensuring that key points are conveyed; review with editors, if necessary.
Write: Create a first draft based on your outline.
Review: If you have a formal editorial team, submit your draft for review; if not, find a subject matter expert to play this role.
Visuals: Find imagery that adheres to your style guidelines; will you use illustrations or photos? Edit/resize as needed.
Edit/Proof: Good content is often edited multiple times—once for story content, once for grammar and style, and a final time to proof for any misspelled words or missed errors.
Approve: Get the thumbs up to publish.
Format: Input your content to a content management system (CMS), previewing as needed and adding any SEO-specific data such as internal links, meta descriptions, and so on.
Final Proof: Preview one final time, double-checking all your publish settings.
Publish: Release all your hard work to the internet!
As you can see, the seemingly simple act of publishing a blog post can take many steps and, potentially, input from multiple stakeholders. Defining a good workflow is helpful to build consensus and manage expectations. You don't want any unnecessary confusion around how best to achieve your organization's content goals.
What Makes a Content Workflow Sustainable?
Content can quickly overwhelm a marketing or communications team, especially if your organization has many stakeholders. Perhaps your content workflow only needs six steps as opposed to the eleven noted above. Or maybe your writer and editor are one in the same person. To design more sustainable content workflows, start small, learn from your mistakes, and course-correct as needed. This will help you maximize efficiency and work more harmoniously. Consider the following when assessing the sustainability of your content workflow:
Prepare vs. Plan: While it's good to have a plan, it's better to be prepared; create all plans with the understanding that they will change, and that's okay.
Know Your Resources: A content plan created for a team of six when you have a team of two serves no one; plan for what your resources will support.
Collaborate: Workshop processes with everyone in the same room, if possible; it will strengthen your team's bond while also building consensus quickly.
Embrace Efficiency: Always be on the lookout for new ways to streamline your processes and practices.
Continuous Learning: Regularly assess what you learned from a particular mistake or process; re-evaluate how you would change things for the next cycle.
Post-Publishing Governance
What happens after a post goes live? How will you promote or otherwise distribute your content? Is the post evergreen content that never goes out of date? Or is it time-specific and will require updates, as in the case of event-related content? If, after publishing a post, it doesn't perform to expectations, how should you improve it? What about broken links? These are all common questions content teams face after publishing content for some time. Here are some things to keep in mind:
Distributing & Promoting Content: Publishing content doesn't guarantee views or audience engagement. A proper governance plan accounts for this reality by defining how posts are distributed, whether that's through your org's newsletter, Twitter, Facebook, or any other platform. It should also identify potential influencers and promotion partners who can expand your reach.
Measuring Impact: A good measurement strategy will help you quickly understand whether or not a content strategy produces results. Defining and refining your methodology for tracking content performance is critical for good long-term governance.
Maintaining Performance Over Time: Content production is rarely a "write it and leave it" situation. One way to improve older post performance is to dedicate time to maintaining them with up-to-date information.
Putting Your Content Governance Plan Into Action
Content governance is imperative to ensure that your organization's content strategy is successful over time. When you take the time to lay out your workflow, assign accountability, and maintain performance, your content campaigns will be more unified in message and efficient to execute. With policies laid out, you'll always have a guide to turn to when presented with ongoing challenges, like office politics and other material circumstances. It also helps you maintain a more sustainable business.