Developing a Sustainable Content Workflow

In this post, we talk about how to define a sustainable content workflow for your content marketing team to follow. We also cover how to maximize efficiency while minimizing potential friction with your organization's stakeholders.
Do You Need a Content Workflow?
The actual act of writing content is only one part of the process of creating, publishing, and managing content. A content workflow describes the entirety of your process. A typical workflow reads like a set of procedures. It should touch on every step from concept to publication, and maybe even promotion, clearly defining who is responsible for what and whose approvals are needed for the process to move smoothly. It is important to include all the right details. Without clarity, you might confuse people, losing time and energy fixing easily avoidable misunderstandings.
The Benefits of a Detailed Content Workflow
As noted above, miscommunication can lead to errors that damage a content team's productivity and ability to function efficiently. This means your team spends less time on activities that add value to your organization and more time repairing problems caused by avoidable mistakes. And that's just speaking to the immediate value of a well-defined content workflow. Over time, the benefits become more significant.
These benefits can include:
Onboarding new team members becomes a simple process
Everyone quickly knows who to go for what
Over time, the workflow becomes second nature to your team, improving their efficiency and freeing up time to work on more important things
Coupled with editorial coupled with editorial guidelines, your content becomes more consistent, higher quality, and offers a better experience for users
With a clear workflow, content governance becomes easier over time as you grow your team and repository of content
We have helped some of our clients craft team-specific content workflows and the differences this makes in managing expectations and streamlining processes is notable.
Sustainable Content Workflows
At Mightybytes, we try to apply sustainability principles to everything we do. In Tim's book Designing for Sustainability, a more sustainable content strategy is defined like this:
The process itself shouldn't have a lot of waste and the results should be actionable and clear to users. First, the workflow for creating content should be efficient and collaborative in a way that gets to desired outcomes quickly. The content created should be easily found, organized clearly, tell a compelling story, and most importantly, motivate users to take action of some sort. It should also display in ways that are relevant to the devices and platforms upon which it is being viewed. Finally, the road to more sustainable content begins with measuring the important stuff. Doing more of what works and less of what doesn't is the quickest way to green up your content's 'supply chain'.
While only some of this is specific to content workflows, the point about efficiency and collaboration is important when you're trying to create something that can stand the test of time. Measuring successes (and failures) will help you and your team quickly learn what works and what doesn't, so you can concentrate on more of the former and less of the latter.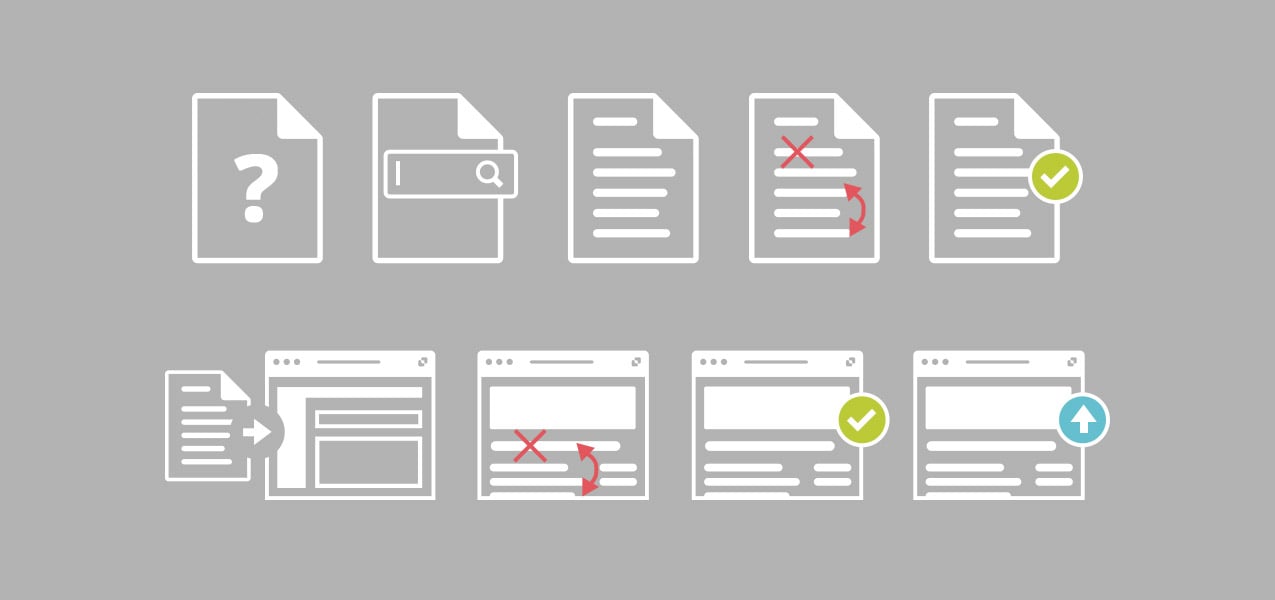 Our Content Workflow
With some variation, most content workflows are similar. Here's one we use at Mightybytes. The basic framework looks something like this:
Hypothesis: What story do you plan to tell? What pain point do you plan to address? How will it engage your audience?
Research: Collect research to support (or refute) your hypothesis; define target keywords, title tag, and URL if SEO is important to you.
Outline: Draft an outline of your story, ensuring that key points are conveyed; review with editors, if necessary.
Write: Create a first draft based on your outline.
Review: If you have a formal editorial team, submit your draft for review; if not, find a subject matter expert to play this role.
Visuals: Find imagery that adheres to your style guidelines; will you use illustrations or photos? Edit/resize as needed.
Edit/Proof: Good content is often edited multiple times—once for story content, once for grammar and style, and a final time to proof for any misspelled words or missed errors.
Approve: Get the thumbs up to publish.
Format: Input your content to a content management system (CMS), previewing as needed and adding any SEO-specific data such as internal links, meta descriptions, and so on.
Final Proof: Preview one final time, double-checking all your publish settings.
Publish: Release all your hard work to the internet!
For content marketers, the process doesn't stop there, however. You'll want to track each piece of content's performance over time and identify whether or not it's reaching your desired outcomes. This includes measuring page conversions, inbound traffic, and other metrics used to define success.
To improve upon this basic framework, personalize it to suit your team's unique needs. What should your organization think about when creating your own content workflow? Let's review a few key points.
Take Stock of Your Team's Resources
Big or small, every marketing or content team has material constraints around what they want to do and what they have the resources to accomplish. A key part of creating a content workflow that is sustainable over time is taking into account those constraints from step one. For example, if your organization has one content writer, they may require more time to write, edit, and format posts than a team with a dedicated member of the team for each step. Be sure to design your workflow to match the resources your organization can allocate toward content creation.
Whose Hypothesis is it, Anyway?
Content ideas can take many forms. Ideas often come from many stakeholders. Nailing down how ideas are processed and prioritized is a worthwhile pursuit. A content calendar can help with this, as can a clear prioritization process. However, it's also important for content creators to understand how involved stakeholders will be and to communicate clearly with them. This will help you improve collaboration on any project. How should your writers prioritize, for example, when they are given several ideas at once?
Defining these processes can help your content team deal with situations where they are asked to balance the needs and expectations of multiple parties by relying on a concrete process.
Allocating Research Resources
Research is time-consuming and can drag out any content creation process. Whether you are researching topics, trends, scholarly articles, keywords, fact-finding, or tracking down relevant and trusted sources to quote, this process will help your content perform better, and it takes time. That's why it's important to outline what information you need and allocate an appropriate amount of research time to produce results.
Keywords
SEO keywords are terms you add to online content in order to help search engines better understand what a post is about. To find out which keywords to use, do some keyword research. For many organizations, keyword research is done up front as part of an organization's content strategy to help inform future topics. If you're doing keyword research on a per-post basis, which might be helpful if you're writing trend-based or time-sensitive articles, your content workflow should take this process into consideration. Also, it's worth noting that though a blog post might be well-written and researched, there are still several steps you should take to improve performance once it goes live. The Yoast WordPress SEO plugin is helpful to speed up this process.
Enlist Subject Matter Experts
Request quotes from subject matter experts to reinforce any research you have done. Be sure to respect their time and make the process as easy as possible for them. Also, be sure to budget enough time to gather the necessary information, schedule an interview if necessary, and distill their wisdom into something you can use for your piece. Remember, if you paraphrase a direct quote, be sure to run the edited version by them before publishing as a matter of respect.
Including quotes from experts can validate (or refute) your content hypothesis, improve your content quality, and increase its level of professionalism. Plus, most people are happy to be quoted in a reputable source and will often share your content to their own networks.
Outline Your Posts
Some writers like to free-form the writing process. Others prefer to write from an outline. A page brief can help you identify potential gaps in your story or areas where research is necessary. Some outlines can serve as generic templates for defining structure as well. Here's a format we've been using for years:
How we've been doing things
Why that's not working
What we concluded
What happens now/moving forward
What this means for you/me/everyone
Hopeful Summary
This format is great if you're trying to impart wisdom from things you've learned. Medium is filled with posts that follow some variation of this structure. Just keep in mind that your audience is likely interested to know how what you learned can help them, so spend less time talking about yourself and more time sharing knowledge.
Define Responsibilities
If you look back at the content workflow outline, you can see in our example above that there are quite a few people necessary to produce a single piece of content. It follows then that whether your content team is small or large, each role should be well defined within your content workflow. Who are your writers, your editors, and who has final say of what and when content goes live? Answering these questions ahead time saves an incredible amount of time and energy and also allows each of your players to assess whether or not those expectations are reasonable.
For example, if all editing and approvals from a team of, say, five writers go to a single editor, that editor can get overwhelmed, causing bottlenecks and potential confusion. Outline responsibilities clearly so everyone can best manage their workload and identify any potential hiccups.
Of course, this assumes you have multiple members on your content team. What if you are a content team of only one person? This is common in many organizations. The smaller the team, the more likely their chance of getting overwhelmed at times. How do you mitigate some of that risk? Laying out processes that clearly indicate how small or even solo content teams should prioritize content requests leaves them with less pressure to deliver everything at the same time.
Gather Feedback from the Content Team
Finally, whether your content team consists of several members or one, foster ongoing communication with your team about their content workflow experience, needs, and obstacles. Regular check-ins can make a world of difference. Whether daily, weekly, or monthly, define a velocity that works for your team. Plus, the ongoing dialogue will help you address new concerns without reinventing what already works. When businesses run more efficiently, they also tend to run more sustainably. We've written extensively on sustainable web design.