Measure Content Performance in 7 Steps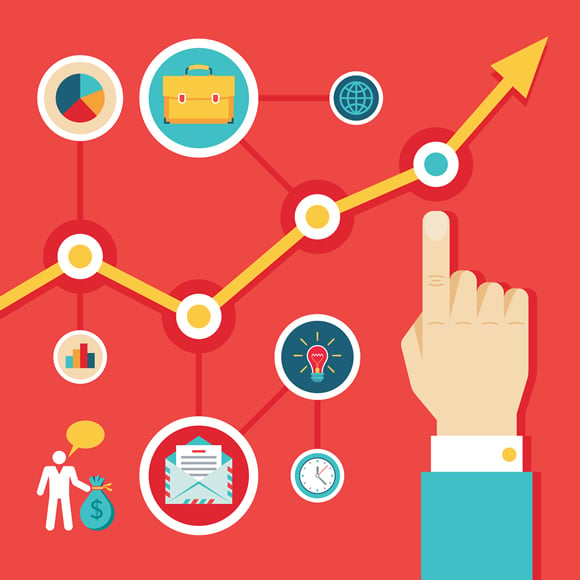 How do you know if the content you create has a measurable impact? In this post, we break the content performance measurement process into seven simple steps.
Your content strategy has kicked into gear and you're regularly creating and posting according to your schedule. Great! Now, take a step back to see whether the content you're creating is meeting your business goals or if your blog posts are drifting aimlessly in the wind.
7-Step Content Performance Measurement Process
Here are seven steps to follow to figure out whether your content is effective.
1. Revisit Your Content Goals
What was the reason you created a content strategy in the first place? Was it to generate sales leads for a new service offering? To provide material for donors to share via social networks? Think back to the initial reason you created a content strategy and focus on those objectives. Even if you started a content plan with no business objectives in mind, now's the time to outline them. Write them down! Use those goals to guide the type of content you create and how it'll be measured.
2. Which Performance Metrics Best Measure Your Goals?
Now that you're clear about the goals of your content (you may have more than one goal and that's okay), decide which key metrics will help you best determine whether your content is meeting your goals. This is crucial for a successful digital marketing strategy. Some examples:
If you're trying to generate leads for a new service, tracking landing page traffic and page conversions from search would give you an idea of how many potential customers are finding your content through Google and taking the desired actions after they visit your site.
If you're trying to provide material for donors to share via social networks, you might track the number of shares each piece of content gets. Tracking overall content traffic or email signups might also be helpful.
These performance metrics are known as your key performance indicators (KPIs). Write them down and put them into a spreadsheet so you can start tracking—and hopefully improving—them over time.
3. Set a Baseline Tracking Metric
Given the data you've decided to track, set a baseline metric either from current time forward or from a time before you started implementing your content strategy, whichever makes most sense to you. Then set up a document to track KPIs at regular intervals moving forward. This document will be your go-to reference whenever you need to check content performance.
4. Don't Try to Track Everything
Now that you've established content goals and you know what KPI's to track in order to effectively measure those goals, it's okay to leave some metrics off the table. In fact, choose only the metrics that matter to your business. For instance, you might be interested in how your overall site traffic increases after you boost content volume on your blog, but perhaps the number of comments on individual blog posts won't matter to you. Don't weigh yourself down trying to track everything that's trackable; focus on your KPIs.
5. Are Your Goals Realistic?
Do some research to determine what a realistic goal is, given the content you're creating. For instance, it's not likely you'll see a 50% conversion rate on a landing page when industry averages are typically 3-6%. If you're trying to measure up to impossible standards you might think your content underperforms when actually you're doing quite well. To figure out if your content stacks up, do a Google search on terms like "typical landing page conversion rates" or "B2B blog bounce rate average". That should yield interesting insights.
6. Compare or Test Similar Content Types
If you're doing a blog series, it might help you to compare several blog posts on the same or similar topics to see which one performed best. Or if you're sending out a weekly email, figure out which subject lines get the highest open rate. Pay attention to patterns and trends that will indicate, over time, what resonates best with your audience.
You can also run an A/B test to serve up small variations in content that will give you an idea what versions of your content perform better with your target audience.
7. Make Adjustments to Move the Needle
Use the information you gather by comparing content or analyzing the results of your A/B test to make small hypotheses (eg. "the forms with fewer fields get more submissions" or "our blog posts with charts and graphs get more shares"), then tweak existing and new content to maximize performance. Later, test your assumptions to see if the altered content is better meeting your goals.
Finding Your Own Content Performance Metrics
We didn't write this post with specific metrics in mind because everyone's content and business goals are different. But we'd love to hear from you on any specific metrics you're measuring and how they've helped you determine whether or not your content was serving its purpose. Hit us up on Twitter or fill out our contact form.