Level Up Your Marketing Game with This Content Toolkit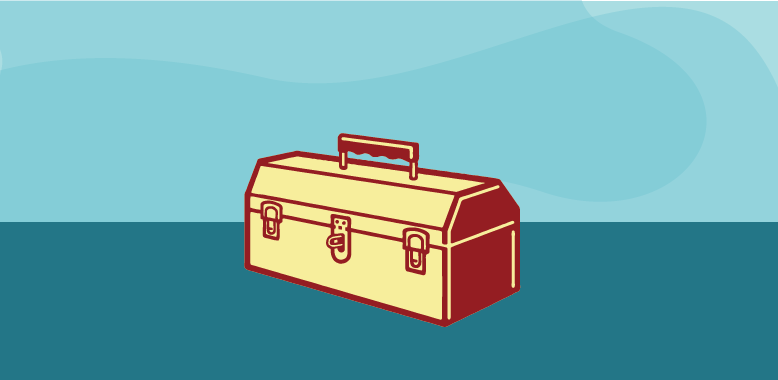 For this content toolkit, we compiled some of our best content strategy, storytelling, SEO, governance, and analytics resources. We hope you find this collection useful for your next website or content marketing project.
Over the past couple months, sheltering-in-place has taught us some valuable lessons on reevaluating how we work and what we prioritize. Our team has used time during the global coronavirus pandemic to reconnect with Mightybytes' content and ensure that it provides maximum value to our readers.
In that spirit, we compiled some of our best resources into this content toolkit. 
We had a lot of content to wade through, but in the end it came down to helping people tell and share better stories, something Mightybytes has done since opening our doors in 1998.
Below you'll find a collection of our best content-related posts—some new, some updated, some legacy—meant to help any organization create, publish, promote, and manage its content and storytelling capacity. The practices in these posts have been time-tested and proven on our own blog and via client websites. They represent some of the biggest challenges our clients have faced over the years.
A Helpful Content Toolkit to Improve Your Marketing
If you too are utilizing work-from-home time or otherwise managing a disrupted schedule by rethinking your organization's content, we hope the resources in this content toolkit are helpful. In the links below, you'll find downloadable worksheets, strategy templates, step-by-step tutorials, and many other resources to assist with day-to-day content creation and management tasks.
We broke the content in this toolkit into the following categories:
We have marked posts published or updated within the past year accordingly and hope you find these resources useful. Cheers!
Content Strategy Resources
In today's social web environment, getting the right message to the right customer at the right time is crucial. Reaching those all-important touch points requires brand-specific content strategy and tactics.

Kathi Kruze, Kruze Control
No organization can exist without an effective content strategy. How, where, when, and most importantly, why you tell your story gives your organization purpose and helps key stakeholders—including customers—better understand their relationship with you. An impactful content strategy helps you clearly convey your value proposition and, if successful, turns casual readers and customers into faithful brand advocates. We included these five posts in our content toolkit to help you implement a better content strategy:
Storytelling Resources
Treat [storytelling] as a compass for your marketing strategy, and the result will be a brand that is as profitable as it is captivating.

Celinne Da Costa, Forbes
To implement an impactful content strategy, you have to know the story you want to tell. Good stories help people clearly understand the problem an organization is trying to solve in a compelling, relevant, timely, and hopefully thought-provoking (or at least entertaining) way. This is especially true for purpose-driven organizations. It's less about features and benefits and more about authenticity and emotion. That in mind, our content toolkit includes several posts that can help you tell a better brand story:
SEO Resources
It's about understanding what people are searching for online, the answers they are seeking, the words they're using, and the type of content they wish to consume. Knowing the answers to these questions will allow you to connect to the people who are searching online for the solutions you offer.

Britney Muller, Moz
Getting good SEO results means playing the long game. It takes time and dedication in the midst of an always evolving search ecosystem of content, ads, link-building, social media, and so on. Yet, if done correctly, the results can be monumentally beneficial to an organization. Here are several posts to help you drive more qualified traffic to your content.
Content Governance Resources
Systems, both human and technical, need to be put in place to make existing digital footprints work well for the user, and be streamlined and effective for the internal teams that are using them. Governance which establishes effective checking, reporting and amending of content all need to be built into the content management cycle, before publication, to cut down on errors and issues.

— Claire Gibbons, CMSWire
Good content governance works hand-in-hand with the other parts of this content toolkit to help your organization better manage content marketing efforts over time. It is one of our clients' biggest challenges. Many don't realize they need good governance until they're far down a path of bad practices. That's why this is the most comprehensive section.
Measurement and Analytics Resources
Forget decisions based on gut feeling. Data is the marketer's best friend. It gives you the capabilities to target campaigns to segmented audiences, create content based on what we know consumers love, build messages that we know will engage.

Dan Seavers, Talkwalker
Finally, this content toolkit would be remiss if it didn't include perhaps the most critical component of effective digital marketing: analytics and performance measurement. You can't track what you don't measure and you should only measure the things that matter to your organization. Here are several posts to help you do this effectively:
The Path to Content Marketing Success
A lot of research, experimentation, and writing time went into creating these resources. If you find them useful, or if you have any questions, please let us know! We would love to hear your story. Thanks very much from the Mightybytes team.