4 Ways to Make Your WordPress Website More Sustainable with Plugins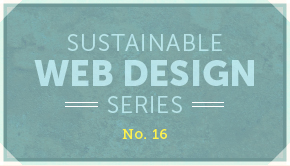 Jeff ran his WordPress site through Ecograder and wasn't happy with the results. Here's his advice on four ways to make your WordPress website more sustainable with the help of plugins.
There are more than 72 million WordPress sites in the world according to WordPress.com, with over 385 million people reading 13.3 billion pages each month. Millions of people, including 48 of the top 100 blogs in the world, use WordPress to manage their content online. WordPress is responsible for a lot of web traffic. So it comes as no surprise that, as a company focused on sustainable web design, we're interested in ways people can make their WordPress sites more eco-friendly.
As a WordPress user myself, I was curious to see how sustainable my website was, so earlier this year, I ran my personal blog through Ecograder. My score was low: somewhere in the 40s. I'm pretty sure that this means that I'm killing a polar bear somewhere.
I took some of the advice from Ecograder and decided to make some changes to my site:
Enable caching
Install a mobile plugin, to make it easier for people to find what they're looking for via their mobile device
WordPress offers more than 27,000 plugins, so I researched a few that I could use to improve my site's eco-friendliness and my Ecograder score. After making these few changes I re-ran my site through Ecograder and my score was in the mid-60s!
Here are four ways to improve your WordPress website's sustainability and my advice on plugins that can help improve your Ecograder score:
Autoptimize WordPress Plugin
Autoptimize optimizes your website by compressing CSS and JavaScript code, minimizing the number of requests being made. This not only makes your site faster but also more sustainable.
Image Optimization
Optimizing your images for the web can decrease the carbon footprint of your WordPress site. This is an easy task you can do to minimize load time and maximize your site's sustainability. You can use one of these three tools:
Yahoo! Smush.it
Photoshop's Save For Web and Devices
W3 Total Cache WordPress Plugin
This plugin is designed to improve user experience and page speed. I use this plugin because it can help reduce server load time by reducing the number of requests per page, thus helping your page become more sustainable. We explain what a request is, and how they impact your website's performance in the blog post, "What Fast Food Drive Throughs Can Teach Us About Making Fast Websites".
WordPress Mobile Pack
WordPress Mobile Pack is a plugin that makes it really easy for you to enable a mobile version of your WordPress site. Responsive web designs look great and perform well no matter what device your customers are using because it adapts to the size of their screen. The designs are also optimized to load quickly on all devices. And a quick load time means that you're saving energy.
I hope that these tips help you make your WordPress site more sustainable in just a few minutes. To see how sustainable your WordPress site is, test it with EcoGrader and get some quick tips on how to improve your website's energy efficiency.