New Report Sheds Light on Content Usability for Non-Profit Websites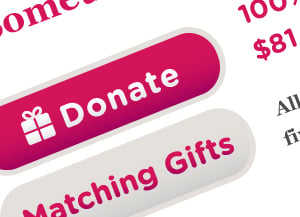 According to a new report by Nielsen Norman Group, giving money on charity websites is 7% harder than spending money on e-commerce sites. Donating physical items is even harder. For non-profit websites, social media is secondary; the top priority is to create clearer content.
The Non-profit and Charity Website Usability Report offers 224 pages and 116 design guidelines for improving the usability of essential information and processes on charity, non-profit, and NGO websites. How does your site stack up? We looked over the report's criteria to compare our work to its findings.
The Report
This report was based on a study of people who use non-profit websites for donation and volunteer purposes. Sixty non-profit websites across nine different categories were used in the testing process. Some tasks that were directly affected by poor usability included:
Making a first-time donation:

Test participants made online donations to chosen charities.

Making a non-monetary contribution:

Participants located information about donating a tangible item, such as pet food or used toys.

Volunteering:

Participants researched information about volunteering at one of the study's organizations.

Using Facebook to research charities:

Participants compared two similar non-profits on Facebook and selected one to receive a donation.
The Findings
Study results show that non-profit websites must drastically improve their written content and make it more organized and clearer:
Those users making their first-time donation took 7% more time on average that it took users to complete an e-commerce checkout process because the content wasn't clear enough.
Those users making a non-monetary contribution bounced between many non-profit organizations because the information about donating physical items was often hard to find and rarely sufficiently specific.
On the other hand, those looking to volunteer were satisfied in their endeavors. Most of the sites provided straightforward information and fairly simple forms for volunteering.
The users didn't use Facebook to research non-profit organizations or make donations. Instead, they wanted social networks to showcase stories about real people who'd been involved with the organization.
What it all Means
Overall, it is important for non-profit organizations (or any organization for that matter) to undergo thorough analysis of their written content and site structure to insure intuitive user experiences. This is especially critical if the organization relies heavily on some of the online tasks mentioned above.
As not-for-profits are often resource-constrained, it can be tempting to cut corners when building out the organization's website by doing less testing, skimping on the design process, or even cutting out the necessary step of information architecture altogether. Content management systems make it easy to add new navigation, pages, and content, further inciting the desire to 'design-on-the-fly' in the name of saving costs.
What may seem like a smart corner to cut during site design and development, however, can end up being a more costly mistake over time, as is evidenced by the results of this report. In a nutshell, make sure all site content is organized, thorough, and easy-to-follow. For those organizations on social sites, provide a different type of content—real stories, conversations, interactions—that connect with users on a more personal level.
Additional reporting on this post by Steven Zeisler