Creative Process in Action: How to Build a Green Photo Booth for Under $250.00
Mightybytes recently sponsored the Andersonville Farmer's Market during Green Week on July 13th with an eco-friendly photo booth that didn't use any paper and didn't break the bank either. Here's how we did it.
The market team gave us room for a fancy banner, but not being a seller of produce or creator of fine quality baked goods, we struggled with the best way to represent ourselves amongst the asparagus and cheese curds. Sure, we're a green company and all, but what, really, does a digital media firm have to offer market customers?
We thought about giving away free web audits, but that's lame.  Like super lame. Then we considered creating a game show called 'Let Me Google That For You', but weren't sure we could sustain that across five hours of open market time (and some people might not find it very funny). We tossed around a few other ideas as well, but none really seemed to stick until Bryan came up with the brilliant idea to build a photo booth. "And of course it would have to be a green photo booth," he said, to which we naturally all agreed. So it was decided.
Download Instructions
We've created a handy PDF with step-by-step instructions that you can use to make your own photo booth:
Discovery Process
When building web apps, documentation, notes and wireframes are a critical part of our discovery process and for the photo booth our approach was no different. Bryan sketched out plans along with detailed notes and measurements for a PVC-based framework that would offer space for a camera of some sort, and could be covered to close out light.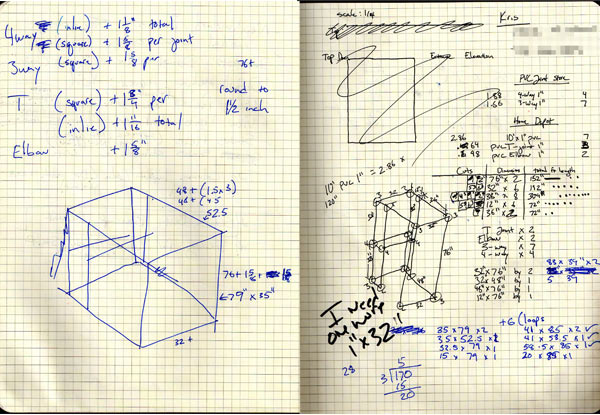 Design Process
Bryan's plans were critical for Kris' roommate Kelly, who provided the necessary tailoring expertise to create walls and a roof from black fabric that could be easily tied onto the PVC framework. Kelly is renowned for her work with a Bedazzler, but—as is common on many design projects—we were on a tight deadline with limited budget, so it was decided that Kelly's sparkly features would have to wait until photo booth 2.0.
Meanwhile, Joy whipped up some sexy graphics to festoon the booth, printed them on our color laser printer, and dry-mounted them on extra cardboard that we recycled from a recent hardware purchase.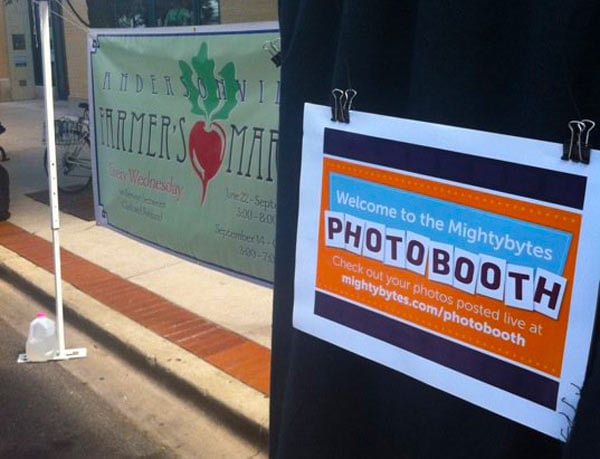 Development Process
Bryan used the plans as a reference guide for purchasing the PVC piping and joints from Home Depot, cutting them to the right size, and labeling each for fast and easy assembly/disassembly. Meanwhile, Bryan, Jeff, and Stephanie collaborated on how to build the appropriate software to run the booth.
There were only a few requirements:
It had to work like a typical photo booth with a 'strip' of four photos.
It had to be green (no paper).
People should be able to view and share photos online.
It should have custom Mightybytes and Green Week branding.
Stephanie found several tutorials about using Apple's Photo Booth along with Automator to devise a photo booth-like experience, but in order to meet our requirements we ended up going with Sparkbooth, an Adobe AIR-based software package that had the features we needed.
Sparkbooth allows users to send photos to an email address and Flickr allows users to upload photos via an email address and embed slideshows in web pages. It also supports adding custom graphics, so with a few trial runs we got everything up and configured pretty quickly:
The booth shoots four photos in succession.
It adds custom branding and plays a fun animation of the photos.
It uploads them to Flickr.
The Flickr slideshow is embedded in a page on the Mightybytes site.
We did end up printing small strips of paper with the URL on them to give to booth customers so they could easily find their photos online.
Testing and Debugging Process
The day before market, we set everything up at the office to do a dry run and noticed that the booth graphics had a different URL on them than what actually worked. Before Joy could get Illustrator launched to make the changes Bryan was there with a solution.
"No worries," he said with a sly QA grin. "Why waste paper when a simple 301 redirect will work just fine." And so it came to pass that www.mightybytes.com/booth and www.mightybytes.com/photobooth both work to view pictures taken at the market. Chalk one up for quality assurance!
Launch
Chicago weather cooperated beautifully. The booth went up in minutes without a hitch and performed flawlessly for the entire market. While the booth itself was a hit, what really drew crowds (especially those under five) was Bryan's collection of fun hats and accessories. At one point we had at least a dozen kids running around the booth dressed as pirates, Roman soldiers, bears, and pimps.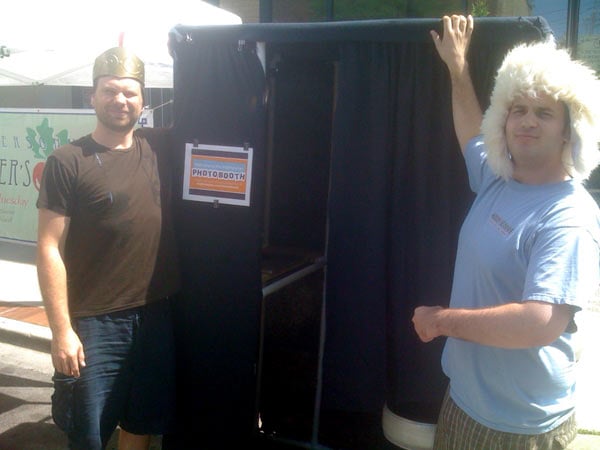 Marketing lesson here: for all the effort you put into design and communication, it's often the unexpected ancillary features that prove most popular. (Remember when Flickr used to be a gaming platform?)
By the end of market our Flickr photo stream had amassed 72 photos and it was even easier to take down than it was to put together. And what's more, when all is said and done, the broken down photo booth fits into a pillowcase, an extra bonus for an office where free space is a premium commodity.
Total Costs:
Fabric: $100.00
PVC: $50.00
Board for shelf: $3.00
Booth Light: $8.00
Sparkbooth Software: $59.00
Total: $220.00
Photo Booth 2.0
Many ideas for additional features arise during a standard project implementation and this project was no exception. In addition to the extra design flourishes from Kelly mentioned above, to really stay with our eco-friendly philosophy we decided that next year's photo booth should either be solar or bicycle-powered. Got any good suggestions for a decent cycle-driven generator?