15 Ways to Optimize Drupal for Sustainable Web Design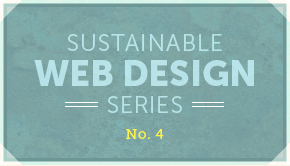 To sum it up in one sentence: optimized sites are better for the environment. Stephanie identifies the tools that Drupal already has in place to create sustainable websites.
The main keys to sustainable web design nirvana are:
Front-end Design Optimization
Back-end Design Optimization
Findability – making content easy to find
Content optimization: User experience, visual design and content strategy
Granola Eating Optimization (working in an eco friendly office)
To sum it up in one sentence: Optimized sites are better for the environment. That's because they're significantly faster, more usable, with content that's optimized for SEO and user experience. It's my belief that Drupal has all of the tools in place to create sustainable websites…if you just know where to look.
So, how do we improve Drupal right now and moving forward to become a more sustainable content management system? How can we help your site grow green leaves?

15 Tips for Optimizing Drupal for Sustainable Web Designs
Optimize your theme's mark-up with the Drupal Fences module.
Why? Fences provides leaner markup than Drupal 7 core and removes extraneous classes. Less unnecessary code = faster page loading.
Turn on CSS and JS aggregation through the performance page (Administer > Configuration > Performance) and use the Drupal Core Library module to greatly reduce the number of aggregated files.
Why? Aggregating creates less HTTP requests. Less HTTP requests = faster page loading.
Use ImageCache to optimize your images and avoid scaling.
Why? Image optimization is crucial for performance and sustainability. Drupal uses ImageCache (Now part of D7 core) to optimize images. ImageCache also resizes images in responsive layouts. Smaller image sizes = faster page loading.
Disable the rebuilding of theme registry.
Why? On production sites it unnecessarily impacts performance. No theme rebuilding = better performance.
Enable page and block cache (Administer > Configuration > Performance), increase cache lifetime, and use the Boost module for static page caching.
Why? Caching significantly improves performance and Boost provides different cache lifetimes for different parts of your site.
Disable unnecessary and unused modules (such as Devel, Statistics, Update Status).
Why? Unused modules suck up resources causing poor performance.
Tune your server with tips from Drupal.org.
Why? The configuration of underlying technology can be make or break your site's performance.
Follow Drupal coding standards.
Why? Following Drupal coding guidelines helps keep performance at it's peak.
Use the SEO Checklist module.
Why? Search engine optimization helps browsers do their job efficiently which helps the web at large. It also helps user quickly find the content they're looking for.
Optimize your database with the DB Maintenace module.
Why? It's optimized! It's faster! (are you seeing a pattern yet?)
Use a green hosting company.
Why? Not all hosts are created equal. Do your research (or check out our post on this topic) and make sure your host is environmentally friendly. A simple host switch can have a significant impact on CO2 output.
Design Mobile First, design responsive, and use HTML5 & CSS3. Zen theme is a good place to start.
Why? Mobile-first is all about progressive enhancement over graceful degradation. Mobile browsing is BIG and your site should load efficiently on mobile devices then progressively enhance to a luxurious desktop version. HTML5 & CSS3 help get the job done and can replace many animations/graphics. Zen theme is lean and the best starting place for responsive HTML5/CSS3 design.
Put your stylesheets at the top of your code and move JavaScript to the page footer.
Why? The browser reads code from top to bottom. Rearranging is simple and increases the speed of page load.
Work in a green office environment.
Why? Hey, not everything happens inside of a computer. Where you sit matters. To learn about companies making a change check out http://www.bcorporation.net.
Use Yahoo!'s YSlow for Firebug for greater insight into why your Drupal site is performing poorly.
Why? YSlow helps you see where the problem is using measurable data. Yahoo! also has a list of best practices for speeding up your site if you want to dive deeper.
I hope these tips help you make your Drupal site a little greener. If you know of any other crucial tips of if these tips have significantly improved your site's performance in Drupal, please leave feedback in the comments! We'd love to hear from you!
Take a look at our latest product Ecograder and see how sustainable your website is.