Brewstorming: Product Development Brainstorming Meets Beer Brewing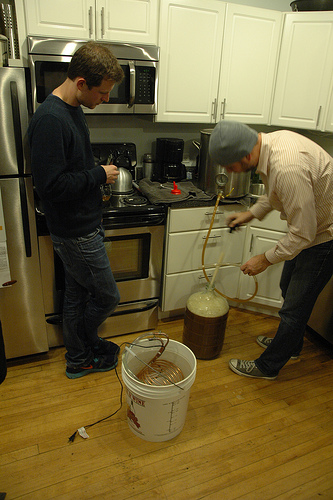 Beer brewing meets brainstorming in a fun day of product development activities inspired by Eric Ries' The Lean Startup.
To celebrate the addition of our newest project manager, Julian, we named him brewmaster for the day and to make a beer of his choice. Julian chose a Daisy Cutter clone, and our local brew supply store Brew Camp hooked us up with all of the necessary supplies.
We dubbed the day "brewstorming" because when we weren't brewing, we were working together as a team to brainstorm new product ideas. We also found time to make tasty s'mores with the fire we used to heat up the beer brewing water.
Tim recently bought everyone in the office a copy of Eric Ries' book The Lean Startup to help jump start our product development brewstorming session. In the book, Ries observes that most startups fail. But many of those failures are preventable. The Lean Startup describes a new approach that is changing the way that companies are built and the way that new products are launched.
With Eric Ries' book in mind we started to generate product ideas and most importantly have a lot of fun doing it. These were to steps we took:
Day 1
Explore the problem space: think about any problem in your life. What doesn't meet your needs?
Generate potential solutions to those problems through ideation, improv, brain farts, etc.
Share our solutions: sharing is caring.
Honing in: review all solutions and pick the top three ideas to continue to develop.
Day 2
Recap of Day 1
World Domination Session: What are some business and revenue models that could inform a product development process?
Competitive analysis: assess competition and market opportunities following a SOAR Analysis (Strengths Opportunities Aspirations Results)  and product research
Share our results
Grade each product idea by how well it follows B Corp criteria (a triple bottom line): People, Planet, Profit.
In the end, we had a great time and came up with some great ideas for applications or products to develop.