It's Official! Mightybytes is a Three-Star Certified Green Business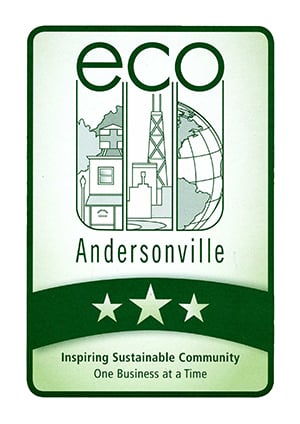 Green news is good news!
Eco-Andersonville just announced Mightybytes as its newest green-certified business in review of our commitment to making a positive impact on People, Planet, and Prosperity throughout all business practices. The three-star certification is the highest level that Eco-Andersonville offers and we are thrilled that all our efforts in 'greening' Mightybytes as we moved into the new office space are paying off.
Mightybytes is strongly committed to making our business as close to carbon neutral as possible and supporting Eco-Andersonville's initiatives of 'People-Planet-Prosperity'. All members of our company believe in helping the environment and working toward a sustainable future. We discuss (and implement) the best ways possible to integrate our efforts with daily business practices on a regular basis.
As part of our recent move to a new Andersonville space we implemented the following practices:
Energy Star-rated appliances
VOC-free paint on all walls
Green-certified, energy efficient technology infrastructure
Energy-efficient lighting
Power conservation
Water conservation
Cleaning with environmentally-friendly products
Full recycling system for paper, glass, plastic, metal, etc.
Shifting a portion of financial investment to a locally-owned bank
We are also in the process of updating the water flow systems on our toilet and sink faucets as well as purchasing office furniture that is partially made of recycled materials.
Each year, Eco-Andersonville asks certified businesses to make a sustainability goal. Here's what Mightybytes will be focusing on over the next year:
Conserve: continue our commitment to getting as close to carbon-neutral as possible by conserving energy, recycling and buying local, environmentally-friendly products and services whenever possible.
Educate: continue to educate ourselves, our staff, our clients, and our community about green business practices and share what we learn with others.
Improve: continue to re-evaluate our approach iteratively to make sure we are complying with best practices for businesses like ours.
The Eco-Andersonville green certification program is like few other neighborhood programs in the country and has sparked interest from other urban areas as a potential blueprint for supporting sustainability on a local level. Visit a few of eco-Andersonville certified businesses.