"That would be great, but I don't have enough time to do that" is a common responses to content strategy plans. While there are many approaches to solve that problem, one solution is to create evergreen content. What is Evergreen Content? Like a pine tree that never loses its leaves, evergreen content never goes out of season. It's content […]
Read More
In this installment of This vs. That, Katherine Raz and Tim Frick go head to head on social buttons, discussing their impact on marketing and website performance.
Read More
From Thai restaurant websites to massage therapy websites, Flash stepped in and offered to be everything to everyone." We look back at how Flash became popular, and explain why we should stop using it.
How Flash Became Everything to Everyone
The year is 2006. A small microblogging service called Twitter is launched. North Korea successfully detonates its first nuclear device. Shakira discovers that human hips are incapable of deception. Americans are dizzy as the future they had been promised for so long is finally delivered at their feet, and a little outfit named Adobe Systems buys a technology from Macromedia, once called FutureSplash, and shortens the name to "Flash."
Read More
In this post in our content governance series, we'll talk about juggling the requests of many departments or managers who all want their programs featured on the homepage of a website.
This is a problem that I myself faced when my team managed the Explore Chicago website, formerly the official tourism website of the City of Chicago. The Explore Chicago website had several key stakeholders: the Mayor's office; the tourism office; the teams that managed marketing for the Chicago Cultural Center and Millennium Park; the Chicago Park District, which manages over 500 parks; and the team that marketed the city's special events such as Taste of Chicago.
Read More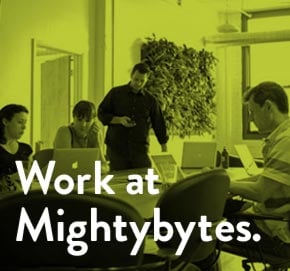 Mightybytes is hiring! We're looking for a bright-minded, full-stack software engineer to join our team. If you have experience creating dependable web applications we want to talk to you!
Read More
You can't generate a list of all the keywords your competitors rank for with the click of a button, but by doing a bit of research, you can create a fairly accurate list of keywords that can inform your own SEO strategy.
I get this question all the time from people trying to outrank competitors on certain terms:
How can we determine all the keywords are competitors are ranking for?
While there's no plug-and-play solution that will list all the keywords a competing site ranks for in Google (just as there's no gadget that tells you what keywords your site ranks for), you can generate a fairly accurate list of keywords your competitors are using with some light detective work.
Read More
A website navigation may seem like an easy and intuitive thing for stakeholders to piece together at the outset of a website redesign, but a carefully considered navigation — validated through UX tools like tree testing — will guarantee that site content will be accessible.
A large website is typically organized into a hierarchy — a "tree" — of topics and subtopics. This navigation is usually arrived at one of two ways: haphazardly, as an organization suffering from content sprawl adds content that wasn't planned for over time, or planned, when stakeholders get together to decide what a website's navigation will look like in advance, and map it out using a tool like Slickplan.
Neither approach is inherently better than the other, because while it helps to have a plan in place for content, the ultimate test of whether your website's navigation works is if a visitor can easily find information. Surprisingly, someone might be able to locate information on a website where content was never planned for, but have difficulty finding something in a navigation decided on by stakeholders who aren't thinking about how visitors naturally seek out content.
Read More
When you do business with B Corps, you support a unique sector of the economy that is focused on doing well while also doing good. B Corps solve social and environmental problems while also turning profit. The more profitable they are, the better they can support their workers, their communities, and their social or environmental mission. Everyone wins.

Mightybytes uses B Corps to fill its supply chain because we like the feeling of knowing our money goes to support businesses that incorporate people and the planet into their business model. In this series, we will put a face to some of the B Corps Mightybytes does business with every month. We hope you'll consider doing business with them, too!

First up is Dharma Merchant Services, a socially responsible credit card payment processor. Dharma is committed to a mission of transparency and sustainability — rare in the merchant services industry! We use Dharma to process our payments because we like their commitment to honoring "the interconnectedness of all things," even in business.

Read More
Join Mightybytes at Ancien Cycles, a new Chicago cycling community resource on Milwaukee Avenue, for the official Climate Ride Midwest kickoff party!
Climate Ride is coming to the Midwest
Climate Ride, a national charity fundraising event for environmental causes, is coming to the Midwest in September and you can be a part of it! Climate Ride Midwest will take 150 cyclists from Grand Rapids to Chicago this September 6-9, raising critical funds for dozens of different environmental organizations. This new ride will challenge, inspire, and surprise you as you pedal and connect with other climate and bicycle heroes. 

Learn More
When a newly redesigned website launches, stakeholders are likely to come across elements of the site that aren't functioning correctly. In order to fix these bugs, as they're called, you'll need to report them to a developer who can fix them. For a bug to get fixed expediently, it's helpful to file your report in a way that a developer can easily understand, diagnose and remedy the problem.

Think of it this way: bugs are like emergencies and developers are the 911 operators. The more calmly and accurately you can describe the problem, including what's happening and where, the more expediently the right kind of help can be dispatched. If you panic and provide nonsensical information you're liable to wait longer for assistance.

Luckily you don't have to understand what's technically happening in order to file a good bug. The important thing is to be clear, accurate and organized in your reporting.

Read More