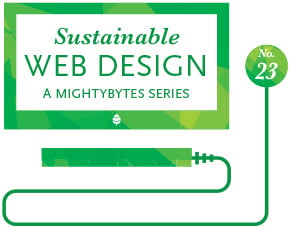 We recently ran a few tests on the Mightybytes website to help speed up load times, and we made an interesting discovery about the impact blog comments have on page speed, user experience, and website sustainability.
The first step to speeding up a WordPress site is to figure out why it's running slow. There are a variety of tools available to help you do this. Chrome's Developer Tools provided some metrics for comparison. We found that our homepage took on average 2.8 seconds (42 HTTP requests, 1.5 megabytes, 82 MySQL queries) to load. According to tools.pingdom.com, that made our site 57% faster than all websites they've tested. Not bad, but also not great. There was certainly room to speed it up.
Read More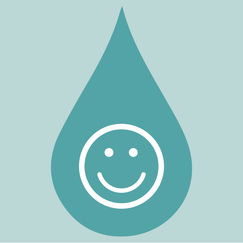 It happens all the time. You sign up for an email alert or download a white paper from a recently discovered website and find yourself caught in an endless flurry of robotic emails that serve no purpose and insult your intelligence. Buy this product! Check out this service! Yada yada yada. Inevitable next step: unsubscribe. Delete. Go away forever. If the offending act occurs on social networks: unfollow, unfriend, etc.
It's the scourge of marketing automation done wrong. Instead of increasing brand loyalty and earning respect from customers, many companies unwittingly do the opposite by pummeling new sign-ups with useless auto-generated drivel that doesn't meet their needs.
Read More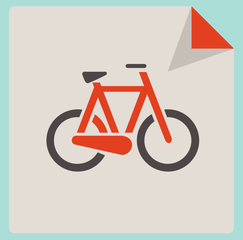 Join Mightybytes Climate Riders for an evening cocktail fundraiser on Friday, July 18 at the Mightybytes offices. Enjoy signature cocktails, beer & wine, plus party snacks and hors d'oeuvres. Take part in our raffle, and leave with some souvenir photos from our photobooth. Your donation will benefit the four members of the Mightycrew taking part […]
Learn More
When it comes to managing complex web projects, many agencies still employ a rigid, top-down development process known as Waterfall. Originally developed under the context of manufacturing, Waterfall works in a series of phases that starts with gathering requirements and ends with testing. While it works well for simple, straightforward projects, it doesn't work well for building digital products that contain a lot of unknowns.
Read More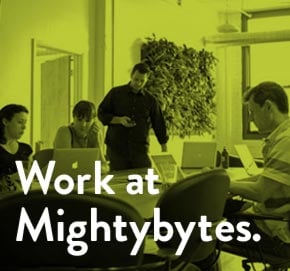 Mightybytes, a full-service creative firm for conscious companies, is looking to hire an interim Digital Marketing Manager to fill in on a contract basis for up to 5 months while our current Digital Marketing Manager is on leave. This person will support the day-to-day management of Mightybytes' social media platforms, blog, and website with writing, […]
Read More
Content calendars are helpful in planning blog content, but things fall apart when too much planning makes these documents unusable under real-world constraints. Here's how to set up a content calendar in a spreadsheet that helps you organize new content ideas, a publishing schedule, and a metrics document — and it easy enough to stick with.
Read More
404 is the error code that a server gives when it can't find what a visitor is looking for. How your website is set up to respond to 404 errors can mean the difference between frustrating visitors and exceeding their expectations, and ultimately, acquiring a customer for life, or losing one forever.

Even though that sounds like a big deal, 404 pages are relatively simply to set up, design, and create content for. Three members of the Mightybytes team— a designer, a developer, and a content strategist — have collaborated here to give you their thoughts on best practices for strategizing, designing, and deploying a great 404 page.

Read More
Ideas for searching for quality stock photos and 9 free stock photo websites where you can find high caliber stock photos. While custom photography is always preferable to stock photography, it's not always realistic — due to budget and time constraints, or the sheer amount of content you have to produce — to use custom photography for every […]

Read More
In the countless decisions it takes to bring a website to life, your business goals will often face off against your users' expectations. How can you find the happy medium between achieving your business goals and creating a pleasant experience for website visitors?

Imagine there's a doughnut shop on your drive to work. The shop has pretty good doughnuts, so you stop in often. Then one day you see a dancing, costumed guy with a spinning sign waving people into the parking lot. "Mildly annoying," you think, "but I bet that's a good way to grab more customers."

The next day the same guy is there, but now he's blasting bagpipes, stopping traffic, and pounding on your window. How long would it take for you to stop visiting the doughnut shop, or take a new route altogether?

Read More
Come hang with the team at Mightybytes! We are seeking a contract-to-full-time project manager to build and nourish relationships on digital projects large and small. Become an integral part of a creative, smart and technically savvy team with a varied client base and core commitment to social good.

Read More