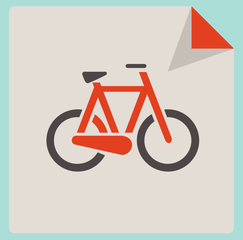 Join Mightybytes Climate Riders for an evening cocktail fundraiser on Friday, July 18 at the Mightybytes offices. Enjoy signature cocktails, beer & wine, plus party snacks and hors d'oeuvres. Take part in our raffle, and leave with some souvenir photos from our photobooth. Your donation will benefit the four members of the Mightycrew taking part […]
Learn More
When it comes to managing complex web projects, many agencies still employ a rigid, top-down development process known as Waterfall. Originally developed under the context of manufacturing, Waterfall works in a series of phases that starts with gathering requirements and ends with testing. While it works well for simple, straightforward projects, it doesn't work well for building digital products that contain a lot of unknowns.
Read More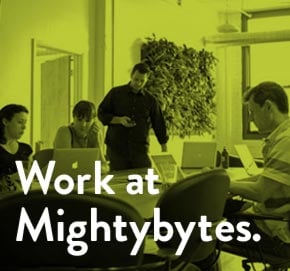 Mightybytes, a full-service creative firm for conscious companies, is looking to hire an interim Digital Marketing Manager to fill in on a contract basis for up to 5 months while our current Digital Marketing Manager is on leave. This person will support the day-to-day management of Mightybytes' social media platforms, blog, and website with writing, […]
Read More
Content calendars are helpful in planning blog content, but things fall apart when too much planning makes these documents unusable under real-world constraints. Here's how to set up a content calendar in a spreadsheet that helps you organize new content ideas, a publishing schedule, and a metrics document — and it easy enough to stick with.
Read More
404 is the error code that a server gives when it can't find what a visitor is looking for. How your website is set up to respond to 404 errors can mean the difference between frustrating visitors and exceeding their expectations, and ultimately, acquiring a customer for life, or losing one forever.

Even though that sounds like a big deal, 404 pages are relatively simply to set up, design, and create content for. Three members of the Mightybytes team— a designer, a developer, and a content strategist — have collaborated here to give you their thoughts on best practices for strategizing, designing, and deploying a great 404 page.

Read More
Ideas for searching for quality stock photos and 9 free stock photo websites where you can find high caliber stock photos. While custom photography is always preferable to stock photography, it's not always realistic — due to budget and time constraints, or the sheer amount of content you have to produce — to use custom photography for every […]

Read More
In the countless decisions it takes to bring a website to life, your business goals will often face off against your users' expectations. How can you find the happy medium between achieving your business goals and creating a pleasant experience for website visitors?

Imagine there's a doughnut shop on your drive to work. The shop has pretty good doughnuts, so you stop in often. Then one day you see a dancing, costumed guy with a spinning sign waving people into the parking lot. "Mildly annoying," you think, "but I bet that's a good way to grab more customers."

The next day the same guy is there, but now he's blasting bagpipes, stopping traffic, and pounding on your window. How long would it take for you to stop visiting the doughnut shop, or take a new route altogether?

Read More
Come hang with the team at Mightybytes! We are seeking a contract-to-full-time project manager to build and nourish relationships on digital projects large and small. Become an integral part of a creative, smart and technically savvy team with a varied client base and core commitment to social good.

Read More
While technically everyone on your team might be expected to contribute to your blog, what do you do when only a few people actually do? How do you get more people to contribute quality content?

If you're in charge of a blog calendar, you're likely a person with some capacity for writing. Your mistake is assuming everyone on your team has that same capacity. Transforming complex ideas into succinct written pieces isn't easy for everyone, just as, say, drawing detailed cartoons isn't something everyone can do.

Read More
Established workflows are the key to maintaining a sustainable development practice. When developers agree on how to work together, the workflow is sustainable, which ultimately makes our business more sustainable.

As a company that creates and maintains complex, enterprise-level websites, our developers have to meet some basic criteria in order for us to work together effectively. We need to know how to create an environment where we can work without interrupting the work of our peers. We must know how to share and merge our work with other developers. We have to know how to migrate our work to staging and production environments. If we can't meet these basic criteria, we end up with unsatisfied customers, flummoxed project managers and frustrated, confused developers.

Read More