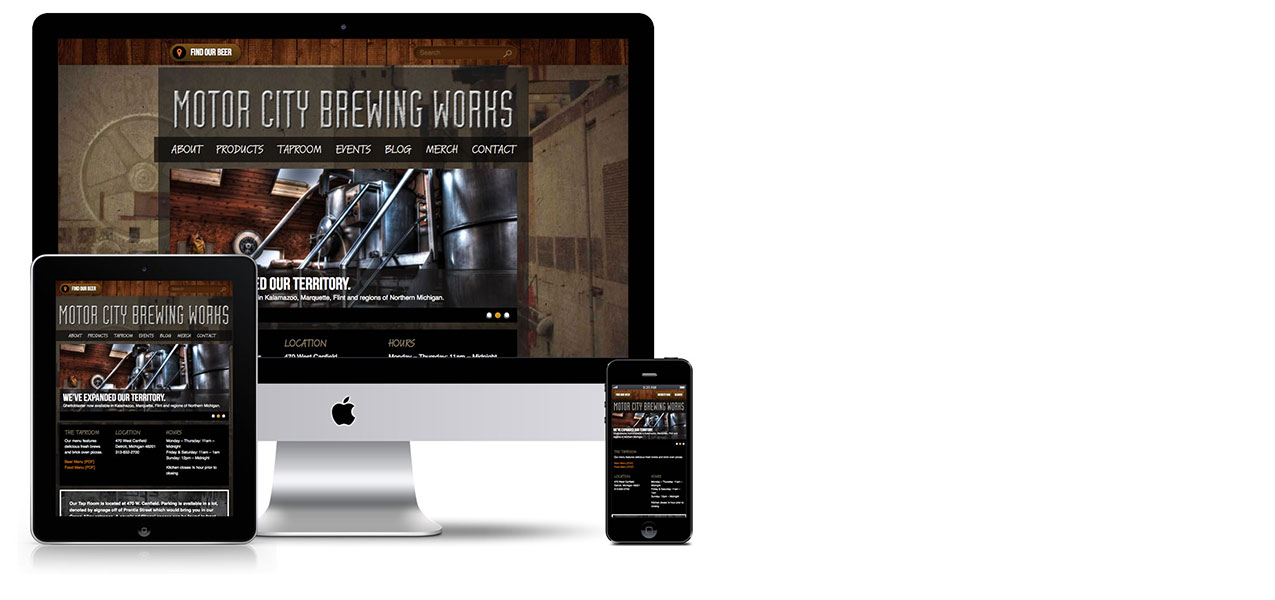 Capturing the spirit of Detroit, our relaunch of the Motor City Brewing Works' website makes it easy to find beer at nearby stores, and browse menus on a mobile device from the brewery's taproom.
Motor City Brewing Works Website
Motor City Brewing Works (MCBW) is the second oldest craft brewery in Michigan. MCBW's new site remains true to the roots of the brand while making it easy for customers to see what's brewing, download seasonal menus, and learn about upcoming events, like art shows and tastings.
A Google Maps integration makes it easy for customers to find beers at stores near their location. A responsive design ensures a seamless customer experience, whether you're looking for brews at home on a desktop computer or in MCBW's taproom on a mobile device.
Our Approach:
As avid craft beer brewers, Mightybytes was excited to take on a brewery project. From a design standpoint, we wanted the website experience to mirror the actual experience of visiting the brewery in Detroit, complete with gleaming wood floors, urban greenery and industrial gears.
We started out with a site visit, where we sampled MCBW's hand crafted beers and put ourselves in the perspective of a new customer, to begin to understand the flavor of their brand. Photographs of MCBW's neighborhood and the bar itself helped inspire our visual design.
We also read all guest reviews to gain a better understanding of MCBW's customer experience. We devised a new visual approach that made the MCBW brand more approachable and memorable while subtly incorporating MCBW's original branding, which was difficult to read, into the site design.
All of these elements work together to give the new design of the site an authentic and hand-crafted look and feel, showcasing MCBW's latest products and telling the brewery's story simply and effectively.
The Return:
The new website, powered by the ExpressionEngine content management system, is easy to use for brewery staff who need to make quick, frequent updates to their product information and menus to showcase seasonal brews. A new blog makes it easy for brewery staff to highlight new vendors and upcoming events.
Responsive design ensures that MCBW patrons can easily browse brewery information, whether they're checking out the website at home on a desktop computer, or scrolling through menus on a mobile device while seated in MCBW's Taproom.
A new Find Our Beer feature integrates with Google Maps, making it easy for customers to find MCBW's hand-crafted brews on the shelves of a store near them.