AblePlay Website
Here's how Mightybytes helped a national nonprofit create a toy rating service to help parents make better purchasing decisions based on their children's abilities.
The National Lekotek Center is a nonprofit organization that promotes play for children. Lekotek developed AblePlay, a resource for consumers to get more information on the benefits of specific products for children who have special needs. Toy manufacturers can submit their products to AblePlay for evaluation and rating in five categories related to a child's abilities—physical, sensory, communicative, cognitive, and social/emotional. With their existing site, the AblePlay team struggled to publish meaningful new content updates. Plus, users had difficulties finding specific product information. Mightybytes was asked to redesign the website with a friendlier user experience.
Strategy and Discovery
We started by workshopping the existing site against AblePlay's business goals to reach consensus on potential areas for improvement and devise a strategy for building out the site. In these workshops, we also generated user personas to aid in the design process and help everyone better empathize with potential user needs and interests.
Design and User Experience
Based on findings throughout the strategy and discovery process, we provided updated user interface and UX recommendations to further drive a better experience for target persona types. Using these recommendations, we redesigned site templates to be responsive across mobile devices and browsers while still maintaining the interface's playful look and feel.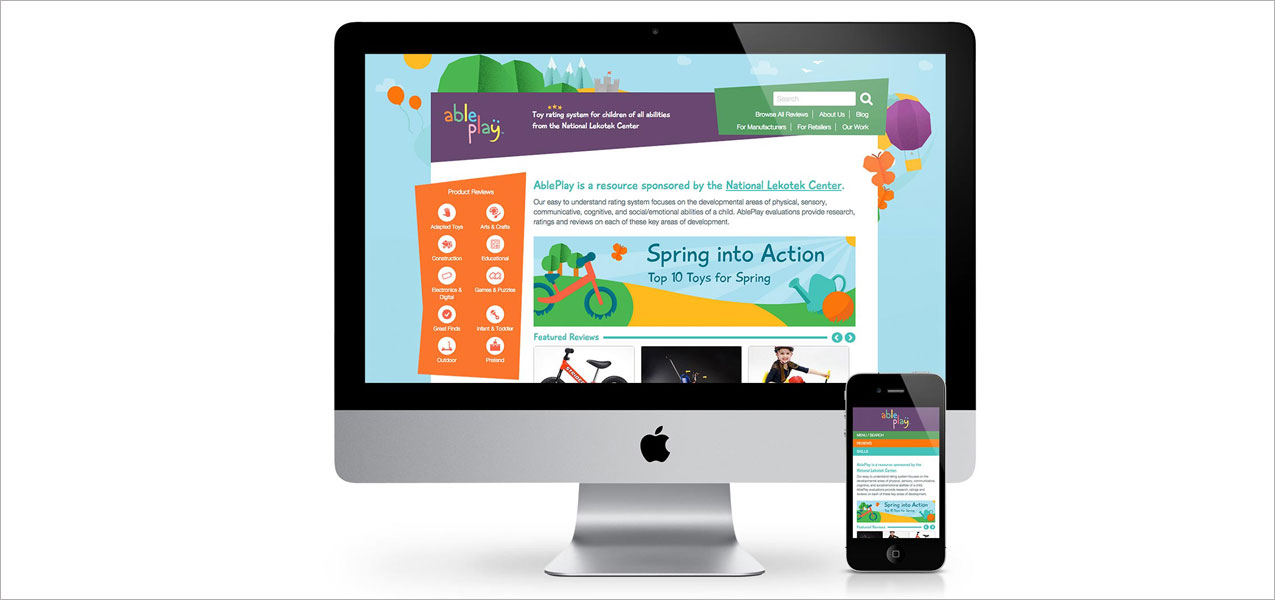 Building a Product Ratings System
We then rebuilt the sites's back-end to accommodate an expanding array of new products, reviews, and ratings. With the new interface, each product incorporates several image or video media items as well as review and evaluation data. This empowers the AblePlay team to quickly manage content and website administration on their own. Content from the old website was migrated to the new one and, after usability and QA testing, the site was launched.
Generating Results
AblePlay's new website provides consumers with a more intuitive user experience as they research product types and reviews. An easy-to-use administrative back-end interface allows AblePlay staff to quickly make updates and more easily add new products as needed. Best of all, the site is simple, clean, and most importantly, playful!