Elevate Energy Website
Here's how Mightybytes helped Elevate Energy improve access to clean energy and energy efficiency programs while advancing their mission of "smarter energy use for all".
Elevate Energy believes that everyone should have access to resources that enable more efficient energy use. The organization designs and implements energy efficiency programs that lower costs, protect the environment, and ensure that the benefits of energy efficiency reach those who need them most. Mightybytes was approached to research the organization's audiences, develop a content strategy that organizes program information, and to redesign Elevate Energy's website with a modern design that works across devices and platforms.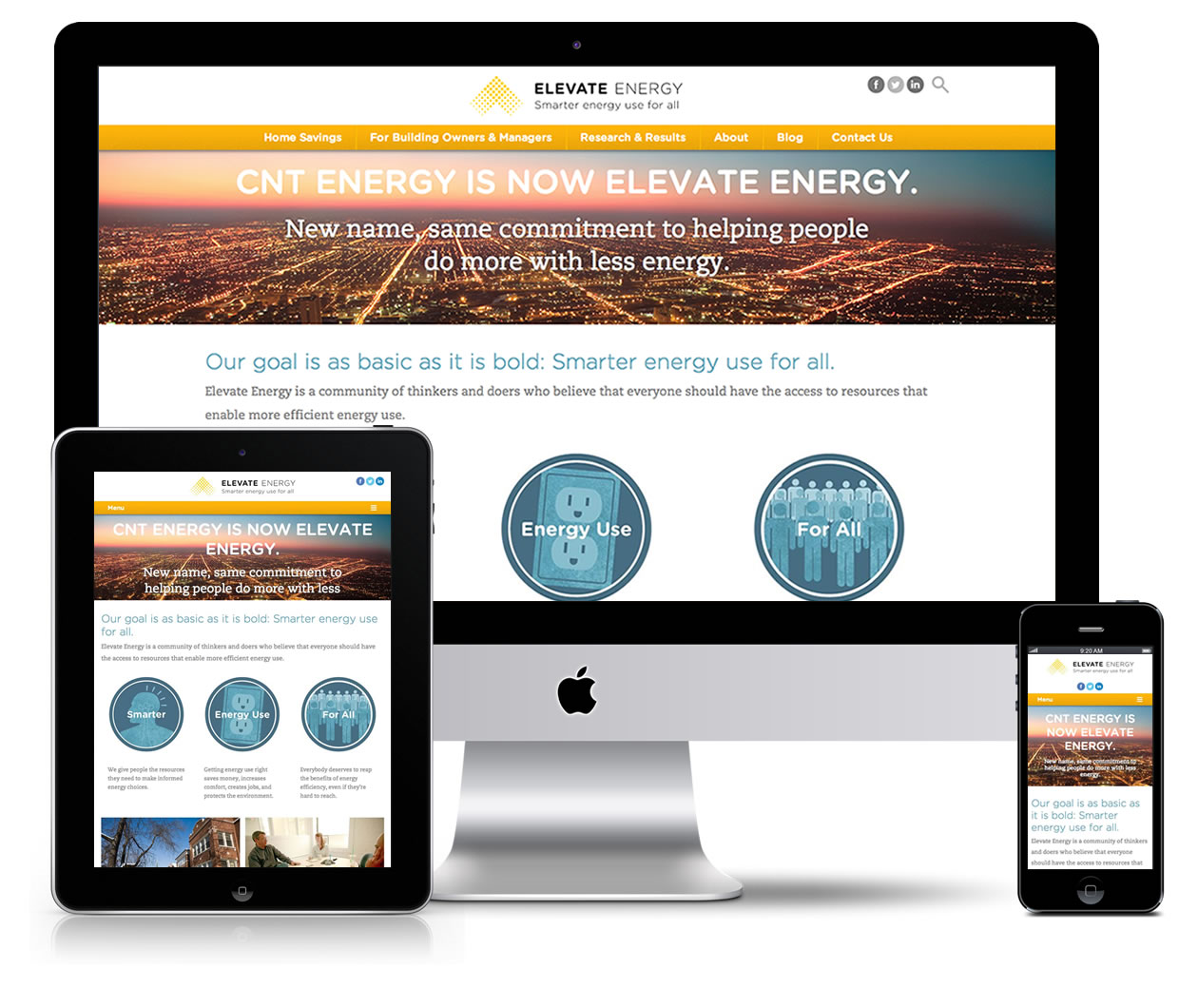 User Research and Testing
On their previous website, visitors did not have a clear or easy path to relevant program information. This led to missed opportunities and page abandonment. Our team researched the website's core audiences, creating user personas that identify website content needs, potential user flows, and which key messages might get the best response. We then validated these assumptions with users.

This led to the development of a simplified navigation that clusters content resources by audience type, for example, grouping resources for contractors in one place and resources for homeowners in another place. Enlisting a cohort of volunteers, we performed user testing to ensure that the new navigation would work for website visitors.
Content Strategy
We also identified new content types, such as case studies and savings success stories, that emphasize which messages core audiences are most likely to respond favorably to. A new content filtering system gives funders and partners the ability to filter search results by geographic region and areas of interest most relevant to their work.
A New Content Management System
Mightybytes developed the Elevate Energy website using the WordPress content management system (CMS), which makes updating site content a breeze.
Updated Design
Mightybytes implemented a responsive design, so the site looks great and is easy to use across devices and platforms. With refreshing colors, warm illustrations and crisp photography, Mightybytes brings Elevate Energy's content to life through an engaging interface that moves away from the business stock photography of their previous site. We created interactive animated GIF icons to improve the homepage experience for visitors. We also worked with Elevate Energy to create a simple infographic that depicts energy-saving results with brevity.
Driving Business Outcomes
Traffic to the new site grew steadily after launch and visitor feedback was positive. With new information architecture and a CMS in place, users can quickly find the information they need while site admins can easily update site content on the fly, saving the organization time and money. Also, prior to the website's redesign, Elevate Energy did not collect email addresses from users. By implementing onsite email signup forms the organization was empowered to grow their audience of potential customers.
Finally, the Elevate Energy site now uses green hosting powered by 100% renewable energy, allowing them to better live their mission of smarter energy use for all.