Designetics
Our new website is easy to use, helps us track specific company goals, and does a fantastic job at positioning Designetics as an industry leader. The Mightybytes team really helped us get the most out of the redesign process.

Sydney Spraw | Executive Vice President | Designetics, Inc.
Through strategy sessions and a complete content, UX, and website overhaul, here's how Mightybytes helped a world leader in precision fluid application systems solve key business problems.
Whether adhering windshields to cars or photovoltaic film to solar panels, Designetics' patented flow application systems meet a wide range of specifications for applying primers, adhesives, sealants, and other materials to virtually any type of surface. Their outdated website was initially built in 2003 with an inflexible, industry-specific platform that restricted their ability to generate leads and grow their business. The company also faced an industry perception that they were a parts order company rather than a strategic solutions provider.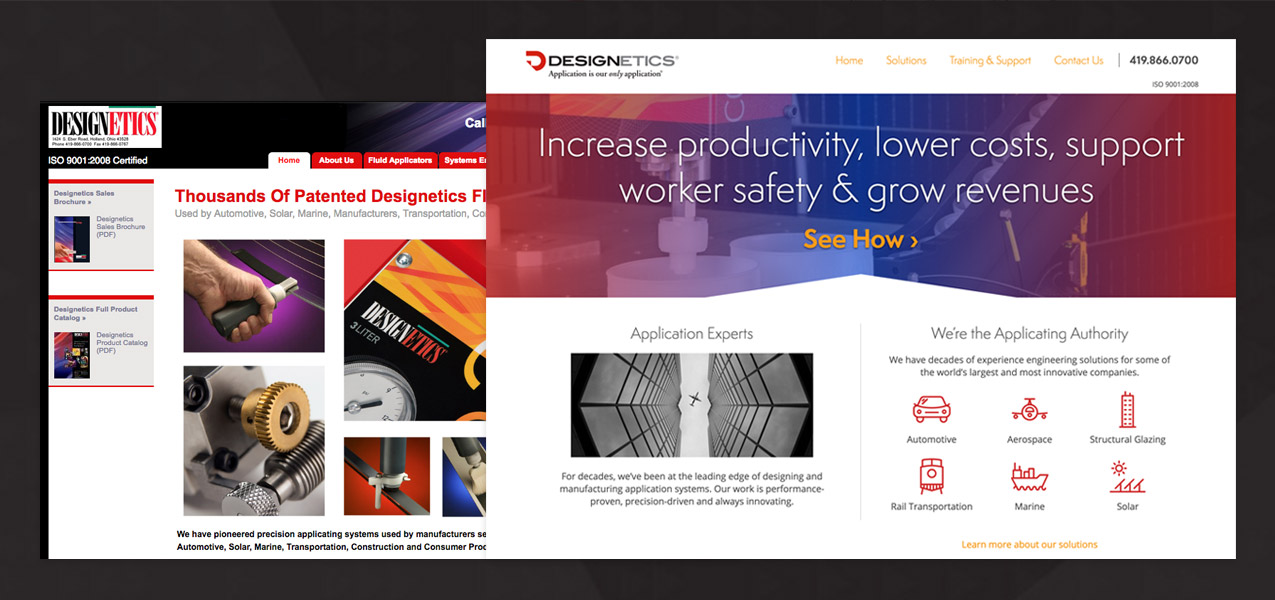 Strategy and Discovery
We started with a day-long discovery and strategy workshop that included website forensics, competitive analysis, content modeling, key performance indicators (KPI's), and a collection of user stories that drove design, UX, and construction. These efforts kept everyone focused on meeting both business and user goals. The discovery process helped us collectively chart a clear path to success and allowed Mightybytes to provide an accurate estimate of what it would take to bring the site to life.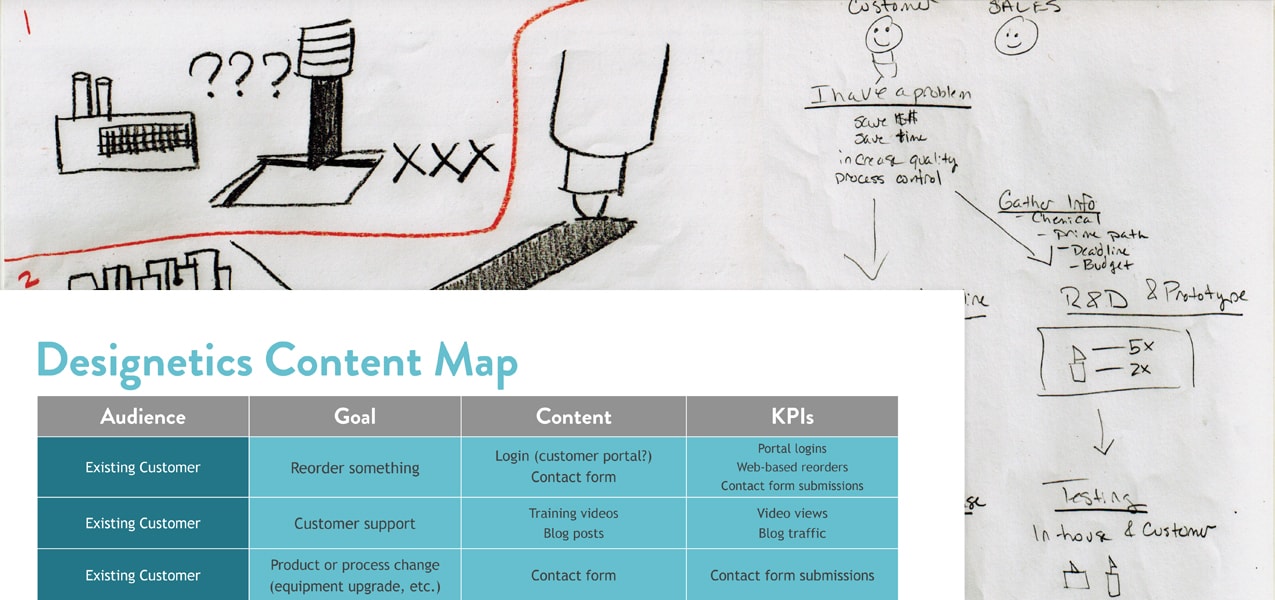 Content Strategy
Confidentiality agreements with clients prevent Designetics from sharing too much information online. To get around this, we devised a content strategy with targeted messaging that helps potential customers perceive Designetics as a problem-solving solutions provider rather than a parts order company without divulging too much client-specific information. This strategy drives ongoing content marketing efforts for the Designetics team.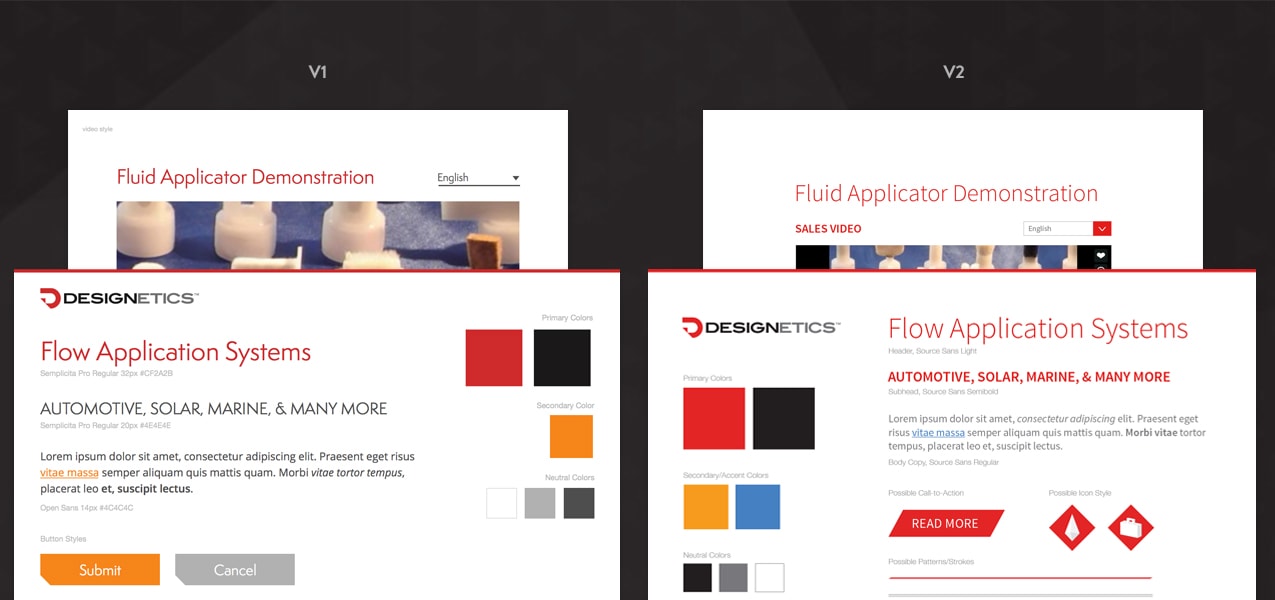 Style Tiles and the Design Process
Once we reached consensus on goals and messaging, we created style tiles based on Designetics' existing brand identity. Style tiles allow us to create a common visual language with our clients that is specific to the web. These drive decisions throughout the design process. For more on how we use styles tiles to efficiently solve client design challenges, read Better Design Solutions with Style Tiles, Content Patterns, and Components on our blog.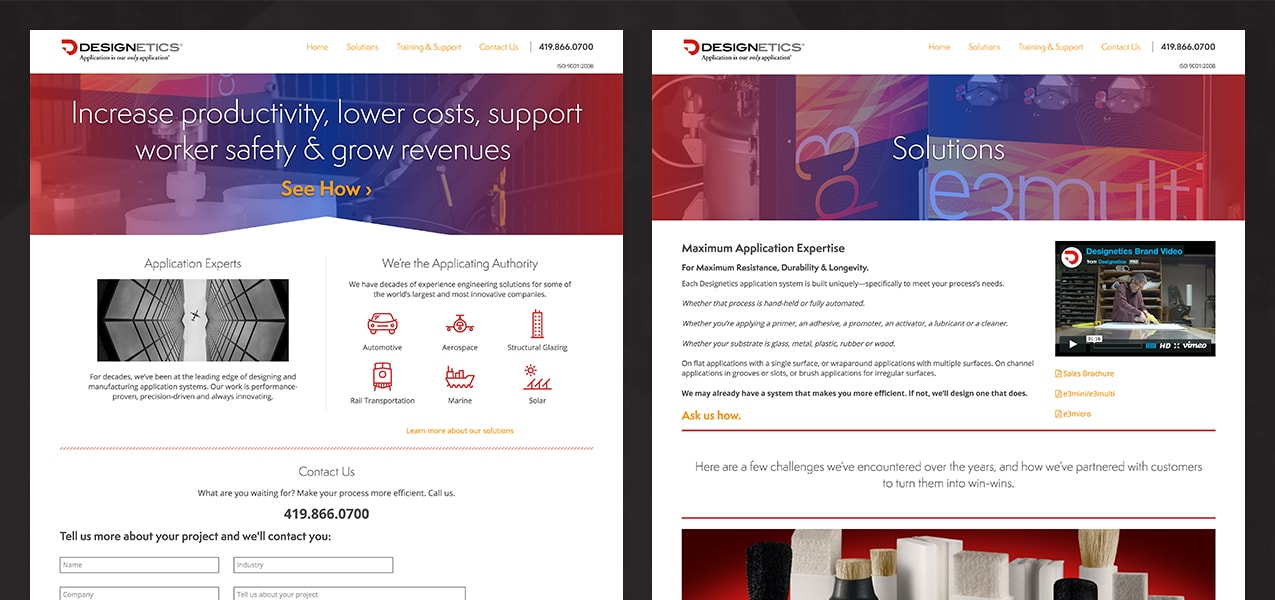 Constructing a Flexible Sales Tool
We merged approved styles with the list of user stories generated during strategy sessions to design a clear sales funnel for Designetics with an easy-to-understand path that answers prospect questions while generating qualified leads for the company. This component-based system allows the Designetics team to create new page types by mixing and matching page components for a more flexible and scalable design system rather than a site built on rigid, page-based templates.
Driving Results
Now Designetics has an easy-to-use sales tool that helps them manage and track leads and manage content on-the-fly while differentiating them from others in their industry. Using KPI's devised during discovery, Designetics can track performance on their goals over time, allowing for iterative and continuous improvement. This saves them time and money while supporting long-term company growth.