KeHE
We are proud to partner with Mightybytes, a fellow Certified B Corporation. As a partner that aligns with our values, they have helped us drive our mission forward through our recent website redesign—optimizing our website to enable us to better serve our supplier and retail partners. As a result, our organic conversion rates doubled.

— Ari Goldsmith, Vice President of Marketing, KeHE Distributors
Here's how Mightybytes helps a fellow Certified B Corp meet key business goals and better serve their customers' needs.
With more than 6,000 employee-owners and a 16-distribution center network, KeHE is one of the largest distributors of natural & organic, specialty, and fresh products in North America. It is also one of North America's largest Certified B Corps, committed to using its business as a force for good in the world.
Project Challenges
KeHE's primary website users are retailers and suppliers. The company's existing website had a few key challenges:
While the site provided helpful information about working with the company, disorganized content confused users.
Pages had no clear conversion goals to help users take action.
Plus, technology under the hood hadn't been updated in several years, presenting complications that required urgent attention.
These issues undermined the website's potential to support company revenue goals and better serve their customers.

Prioritizing User Needs
We kicked off this project like we do all new client relationships: with a product roadmapping engagement that defined our shared vision for success. During this workshop, we facilitated several exercises to identify KeHE's primary website goals and connect them to specific customer needs. This enabled us to define a hypothesis about which content might be most helpful to website visitors.
To ensure our hypothesis was on track, we surveyed suppliers and retailers regarding what content would be most useful to them. Analyzing this data helped us formulate a more effective content strategy to improve the new website. Along with redesigned information architecture, several user personas, and a prioritized feature list, this process helped us craft a product roadmap to drive decision-making throughout the project.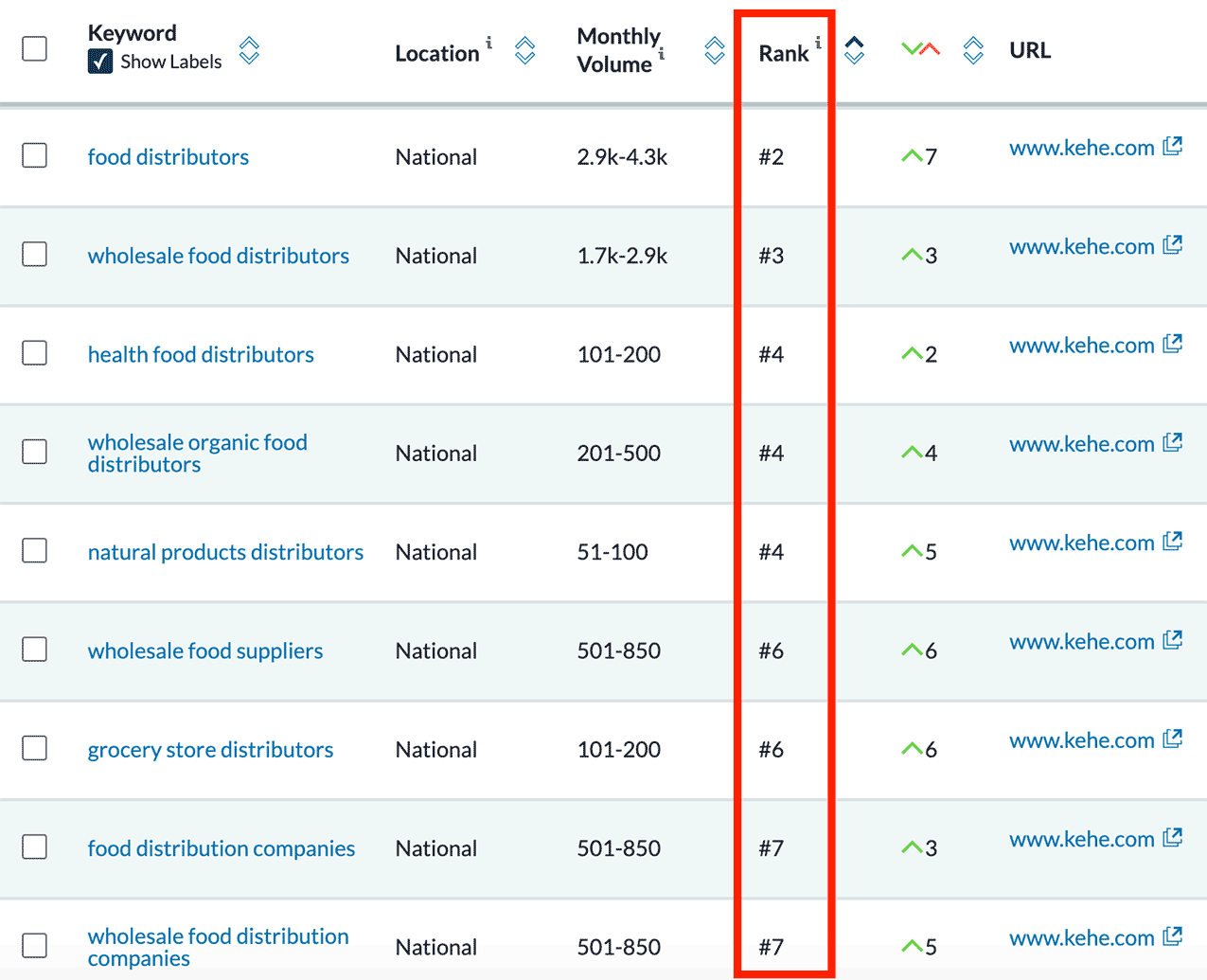 A New Approach to Content
Our goal with every project is to empower our clients to build capacity and more quickly and effectively meet business and marketing goals. To this end, we helped KeHE's team retool their approach to content through clearer strategies and several custom, time-saving tools.
Custom Gutenberg Blocks
First, a set of custom Gutenberg blocks and page templates enable the quick creation of blog posts and event-related content. This saves time, improves quality, and makes a big difference in promoting events and better engaging users. Working regularly with KeHE post-launch allows us to review content together and add custom blocks when appropriate.
Improving Search Performance
KeHE also wanted to improve the website's performance in search engines. To accomplish this, we overhauled their SEO and content marketing strategy, which included:
A plan to publish, promote, and track content through email, social, and with their partners
A comprehensive analysis of search terms in KeHE's industry with recommended keywords for their content team to target
Tools to track keyword performance across multiple pages over time
Team training on how to recognize SEO opportunities, create impactful content clusters, and add effective metadata to their pages
These deliverables set KeHE's team up for quick success while also enabling them to improve performance over time on long-term goals.
Built for Accessibility
The site was also developed to AA-level accessibility standards so KeHE could better serve customers with disabilities who use assistive technology.
Team Training
In addition to the SEO training mentioned above, Mightybytes also trained the KeHE team to use their new content management tools and maintain good content governance and accessibility practices over time.
Reducing Website Emissions
Finally, while Mightybytes hosting is already pretty green, as part of our Net Zero commitment to address Scope 3 emissions—those which are mostly out of our control—we also offset KeHE's estimated CO2e generated via website data transmission. These offsets support forest conservation efforts in northern Minnesota and in turn support KeHE's multi-year sustainability action plan to reduce emissions and waste throughout the company's value chain.

Getting Results
KeHE wanted a website to help them tell their story and better engage target users. They also wanted to improve their website's performance in search engines. With a clean, clear content structure and improved landing pages, the new site generated quick results shortly after launch. In a six-week post-launch snapshot we saw:
A 325% increase in targeted keywords ranking on the first page of search results
Organic conversion rates for suppliers nearly doubled while retailer conversions more than doubled
Beyond the Redesign: Continuous Improvement
While the website redesign provided an immediate improvement on several key goals, we continue to work with KeHE on how to improve upon these efforts over time. The website regularly ranks on page one of search results for about 32% of targeted search terms. Similarly, conversion rates for suppliers (10.5%) and retailers (35%) continued to increase the second year after launch as well. Our partnership with KeHE allows us to help continuously improve these numbers and we have focused on the following:
Monthly analysis of keyword ranking, including which keywords/phrases dropped most in rank.
Regularly review errors/warnings/notices. Mightybytes fixes issues when necessary and outlines items for KeHE to address.
Regularly review content clusters for opportunities to improve performance
Building Capacity and Improving Tracking
To better serve KeHE's specific needs, Mightybytes switched to an SEO tracking platform with more comprehensive tools, including expanded competitor analysis. This allows us to provide monthly reports that help KeHE benchmark its performance against that of its competitors. Over time, analysis was refined to also provide:
A summary of top competitor performance
Improved reporting to show how target keywords perform compared to competitors
Analysis of which content should be improved so target keywords continue to perform better than competitors
These efforts enabled everyone access to more useful data for continuing to improve results.
Long-Term Success
With stakeholder consensus in the form of a product roadmap and clear SEO goals, Mightybytes helps KeHE significantly improve numerous digital marketing metrics, including many related to search performance. Team training and ongoing tracking and analysis from Mightybytes help the KeHE team build capacity and continuously improve upon KPIs important to their business.
In turn, the company fosters better relationships with retailer and supplier customers. The increase in retailer and supplier engagement on KeHE's website has been a steady climb in the two years since launching the redesigned website with a monthly average bump of 6.8% and 4.7%, respectively. The most recent 12 months saw an increase of 5.5% for retailer engagement and 24.9% for supplier engagement.