What is working with Mightybytes like? Read on to learn how we create an engaging customer experience and long-term success for our clients.
Working with Mightybytes
Thinking about hiring Mightybytes for a website redesign, digital product, workshop, or some consulting? Here we answer commonly asked questions about our process, how we collaborate with clients, how much our services typically cost, how long projects take, and so on.
Leading with Values & Experience
As a socially responsible organization, it is important for us to work with partners who share our values. When we met the Mightybytes team, we were excited that they spoke the same language, foregoing a typical agency's technical jargon in favor of listening and frank, honest conversations about goals, strategy, and defining success. When we learned that, as a B Corp, they also put mission and purpose at the heart of their work, there was an immediate sense of kinship. Choosing to work with them was an easy decision.

— Sharon Miller, Director, Web Communications, DePaul University
While we opened our doors for business in 1998, Mightybytes has operated as a Certified B Corp since 2011, achieving the highest verified standards of social and environmental performance, transparency, and accountability.
We apply these standards to everything we do, including the design and development of responsible, accessible, and more sustainable digital products and services.
Read on to learn how we help our clients solve problems and drive long-term success.
Getting Started: Product Roadmapping
We start all new relationships out with at least one discovery workshop or a more detailed product roadmapping engagement. Grounded in business strategy, collaboration, and human-centered design practices, these virtual workshops quickly accomplish several important tasks that are critical to a successful and mutually-beneficial working relationship:
Goal Alignment: They align your business goals with specific needs your customers have in the service of a new website or digital product.
Defining Success: They help us collectively identify what success looks like and collaborate on the best ways to reach it, keeping your resources and organizational capacity in mind throughout.
Product Roadmap: They jumpstart the process of defining project details and prioritizing how, specifically, we'll help you achieve your goals.
With these virtual workshops, we can typically accomplish most tasks in several 2-3 hour sessions. There are no contracts for these workshops. You simply schedule a date, make a payment, invite your stakeholders, and log-in when the time comes. All we ask is that you come ready to collaborate and solve problems together.
The product roadmapping engagement includes:
Pre-workshop research and analysis to set the workshop and our engagement up for success
The workshop sessions where we come together to quickly solve problems in a collaborative setting
A product roadmap that helps you make educated decisions about how best to proceed
The full product roadmapping engagement creates a firm foundation upon which we can collectively define and build long-term success. Our clients find the process incredibly valuable.
Plus—given the time they save over endless documentation cycles common to a more traditional digital project—these workshops serve as a cost-effective way to quickly make progress toward your goals.

Case Study: Disability Philanthropy Forum
A virtual version of our discovery process helped this council of 16 different, well-known philanthropic foundations make fast project progress during the height of the COVID-19 pandemic.
Mightybytes' virtual version of their discovery workshop was a much-needed guided process that truly helped our team clarify and solidify the main goals for our website project.

— Emily Ladau, Digital Content & Community Manager, Disability Philanthropy Forum
Beyond Roadmapping: Next Steps
While you are under no obligation to continue working with Mightybytes after a product roadmapping engagement, most of our clients take one of several paths:
Websites & Digital Products: They hire us to design and develop a digital product or service based on the roadmap.
Digital Marketing Support: They hire us to support and improve upon their digital marketing goals over time.
Custom Solutions: They choose a custom combination of our services to drive long-term success.
Let's explore each of these options in a bit more detail.
1. Websites & Digital Products
Mightybytes' user experience (UX)-focused process for creating websites and digital products is structured and in-depth but also collaborative, agile, and flexible to account for continuous learning that happens on any project. At a high level, our iterative process includes:
Digital Strategy: further refining a plan for success and outlining how we will achieve it based on what was learned during the workshop
UX Design: designing great experiences, tested with real users, to ensure success
User Testing: validating (or refuting) assumptions we have about specific features with real users
Feature Builds: developing features that help your users quickly and efficiently accomplish key tasks
QA & Launch: debugging features to work across multiple platforms and devices, then releasing your product
Optimize & Improve: employing user and product performance data to drive improvements and inform digital marketing campaigns over time
Here's the thing about this approach: it works. Clients who invest in the process above are pretty much guaranteed results, as you'll see in the case studies referenced below.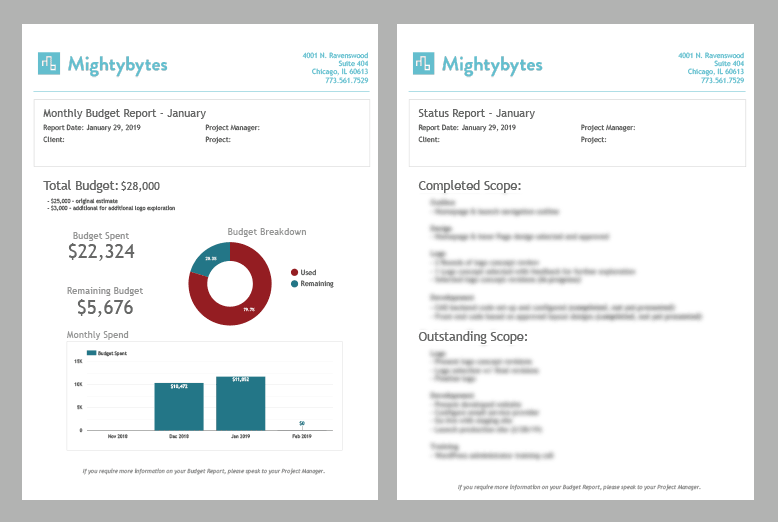 Pricing & Budgeting
It is critical to define a project budget range that is comfortable for your organization. Transparency and accountability are core values at Mightybytes, so we will ask this information of you right up front. If we can make a project work within your target budget range, we'll let you know straight away. If not, we might be able to offer alternative options or give you a referral to another agency or vendor.
That said, content and features drive pricing for digital products, so we'll have a much better understanding of costs after the first workshop is complete. Most of our clients invest between $50,000 and $80,000 (including the workshop engagement described above) to launch a digital product using our process. Additional requirements, like third-party software integrations, additional user testing, extensive content auditing, creation, or migration, or custom software development can impact costs. The range above, however, is comfortable for many of our projects.
We employ a fixed bid-managed scope approach to keeping website budgets on track. Coupled with an iterative prioritization process, this outcomes-driven methodology helps Mightybytes benchmark performance and reach measurable goals quickly while still maintaining an agreed upon budget range and target timeline.
Timing
Timelines vary from project to project, but we can execute most digital projects using the process outlined above within a 3-6 month time period. It might be possible to fast-track this timeline, though additional fees may apply. At launch, you'll have a digital product or service that tracks to your business goals while meeting your users' unique and specific needs.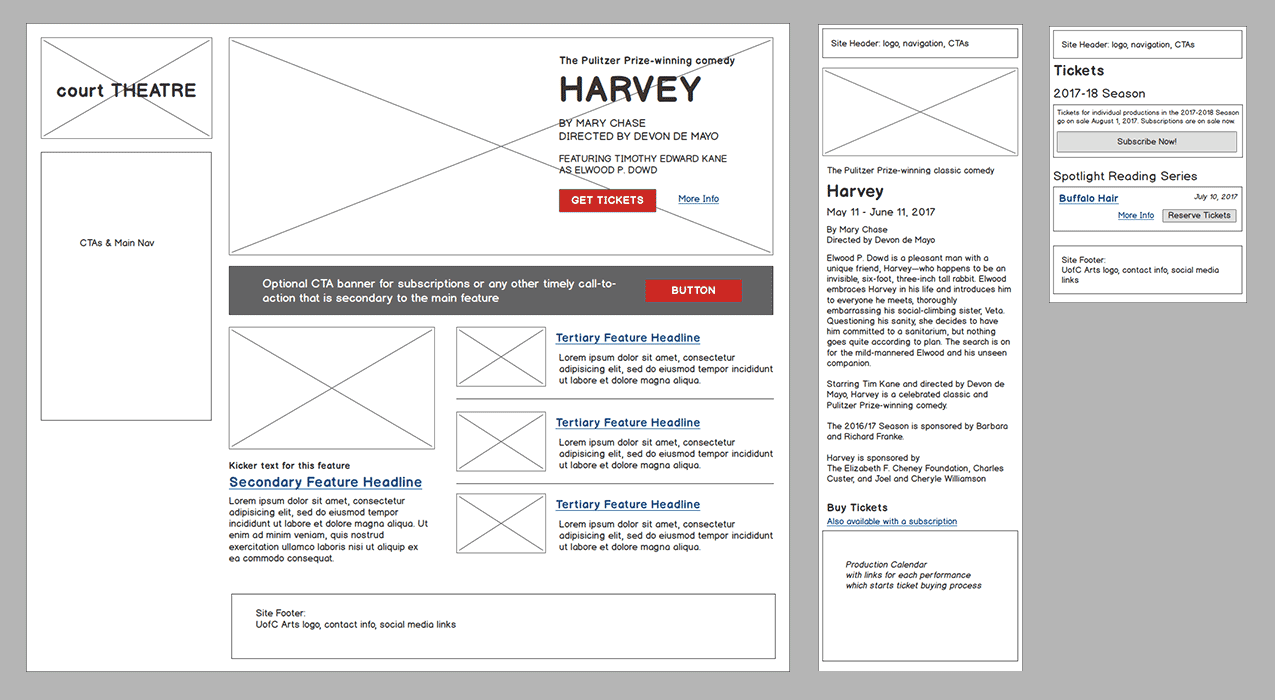 Case Study: Court Theatre
Mightybytes has been a key partner to Court Theatre in establishing and then updating our professional presence on the web. Their team really got to know our organization by conducting patron research, meeting with key constituents, and working with a complex ticketing system. The resulting site is easy to update, serves multiple constituents well, and has significantly increased online sales.

— Traci Brant, Director of Marketing, Court Theatre
As an example of how successful our approach to designing and developing digital products can be, our client Court Theatre increased online subscriptions by 443% and improved online ticket sales by 87% within a year of launching a new digital product.
2. Digital Marketing Support
After an initial workshop, clients who need ongoing website and digital marketing support (as opposed to a website redesign) find that one of the three categories below best suit their needs:
Fast: Around $2,500/month
Faster: Around $5,000/month
Fastest: Around $10,000/month
Velocity is the key difference in each option above. If you have a long list of tasks and want to move things forward quickly, a higher rate works better. We can move pricing up and down as necessary based on changing needs, but in general the three options above are our most popular.
Monthly reporting is included with each package above. This helps us collectively refocus and change priorities based on what we learn each month. All digital marketing support options give clients access to the range of services we offer with the exception of green hosting and basic website maintenance, which are separate.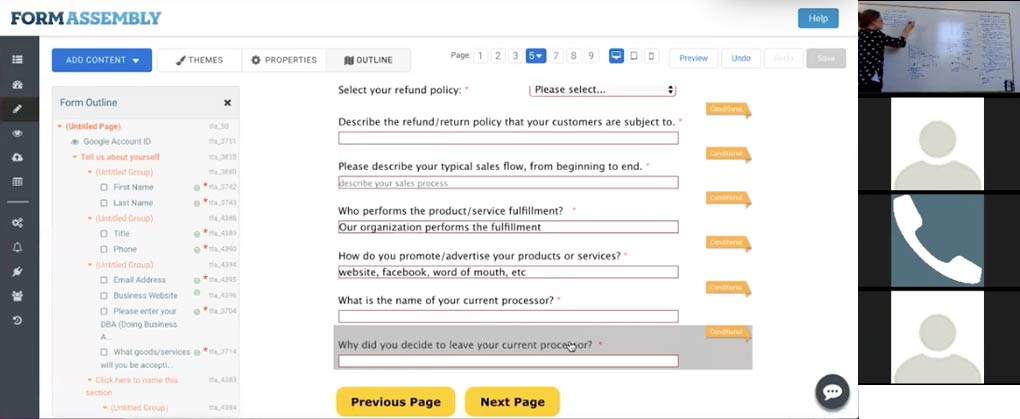 Case Study: Dharma Merchant Services
Mightybytes does a great job at finding the lowest-hanging fruit and really capitalizing on it, while also not losing focus of our organization's larger goals. This has allowed us to see significant conversion improvements with relatively minimal investment – truly the best of both worlds. Working with Mightybytes has allowed us to stay lean and focus on the important stuff – running our business!

— Nick Bencivenga, COO, Dharma Merchant Services
For an example of how successful this approach can be, Dharma Merchant Services increased qualified sales leads by 680% and website conversions by 135% during a single quarter.
3. Custom Solutions
Sometimes, the path forward after an initial workshop isn't as obvious.
In these situations, we craft a custom, low-risk solution grounded in agility and continuous learning: small, measurable steps that propel us forward toward our goals.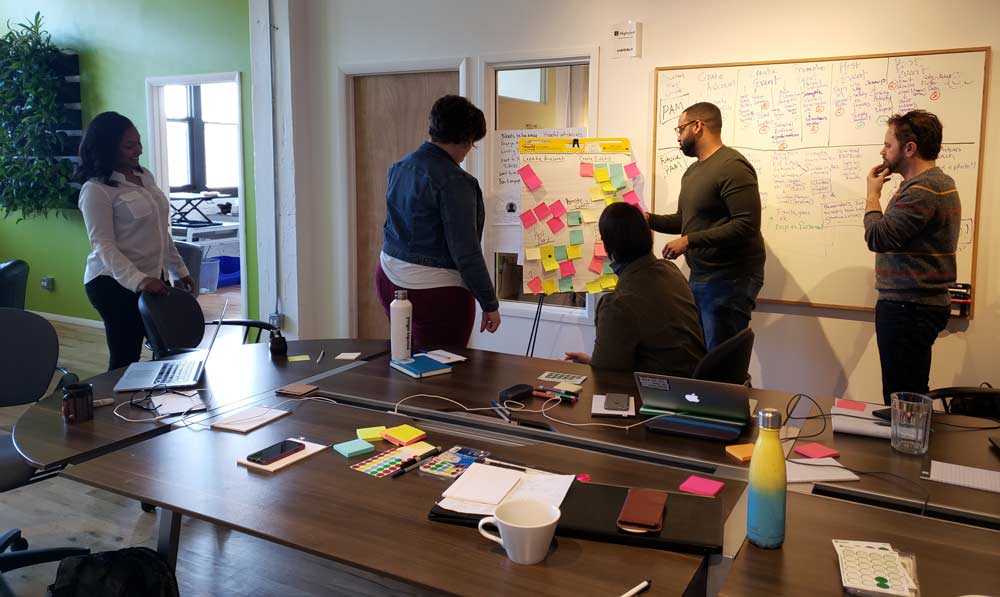 Case Study: Alliance for the Great Lakes
The Mightybytes team has become an important partner in our work to protect the Great Lakes. We first worked with them several years ago on a complete overhaul of our main website. Over time, they have become an important advisor on our digital strategy, optimizing website components to help us better meet our goals and getting us started with SEO to attract new supporters. As a result, our digital presence is engaging more people and making it easy for them to get involved to help the Great Lakes.

— Jennifer Caddick, Vice President, Communications & Engagement, Alliance for the Great Lakes
To better understand how we help our clients solve vexing problems, check out how we helped the Alliance for the Great Lakes redesign their Adopt-a-Beach program through a design sprint.
Making a Difference for our Clients
Mightybytes has been in business for decades, which means we've had plenty of time to work out any kinks in our process. It works well and we have dozens of client testimonials to prove that.
Our customers do a much better job explaining what it's like to work with Mightybytes than we ever could, so please feel free to read our reviews on Clutch.
Thanks again for reaching out to Mightybytes. We appreciate being considered as a resource and would love to put our expertise and experience to work for you.
With Gratitude,
The Mightybytes Team
Get our Process Guide
Download our process guide (pdf) to better understand how Mightybytes has helped hundreds of organizations find measurable, long-lasting success.