Seven Core CDR Principles
Here are seven core CDR principles that will help you incorporate more ethical and responsible digital practices within your organization.
First, if you want to learn about the CDR framework, start with What is Corporate Digital Responsibility? In that post, we cover how three categories of a responsible business framework apply to your organization's digital products and services:
Each of the three links above digs deeper into individual CDR categories. You might also want to review our posts on digital sustainability and sustainable web design as well.
With that being said, seven specific CDR principles are covered below. Plus, you can download an infographic of all the CDR principles at the end of this post.
Otherwise, read on to learn more about the seven core CDR principles.
Defining Elements of Corporate Digital Responsibility (CDR)
Corporate Digital Responsibility (CDR) is a set of practices and behaviors that help an organization use data and digital technologies in ways that are perceived as socially, economically, and environmentally responsible.

— The CDR Manifesto
Since COVID-19, digital products, services, and practices are more ubiquitous than ever. With increasing stories of rampant misinformation, breached privacy, and other (intended or unintended) consequences of pervasive technology, the need for more responsible digital practices is urgent. What's more, most of us are at constant risk without realizing it.
Conversely, emerging technologies offer incredible opportunities for organizations of any size to solve society's biggest and most complex challenges. In order to realize the promise of technology to create a more equitable society and a regenerative future, we need stronger guidelines and a clearer path forward. We think CDR is that path.
An International CDR Collaboration
In mid-2021, I worked with a group of researchers, academics, practitioners, and other authors in Europe to create an international definition of Corporate Digital Responsibility (CDR). Most importantly, our goal was to achieve broad consensus on CDR and its components.
The collaborators included:
For my part, I identified how responsible digital practices overlapped with existing B Corp values and relevancy for digital-native business models like our own at Mightybytes. Also, as the owner of an LGBT-certified Business Enterprise, I was on the lookout for ways to incorporate more Justice, Equity, Diversity, and Inclusion (JEDI) practices into the framework.
Diversifying Our Collaboration Pool
Certainly, as the sole North American contributor, I am cognizant that the group of amazing collaborators listed above is very Euro-centric. However, since launching the CDR definition, it has been translated into German, French, and Spanish with Chinese and other languages to follow, which is a great start.
That being said, its creation to date has been majority male and majority white. In other words, it is critical that we engage a wide-ranging and more diverse set of stakeholders to share ideas and improve these principles. By broadening the collaborators involved in its definition, we can ultimately offer a more useful framework for everyone.
Most importantly, the seven principles below are followed by a request for feedback. We hope to hear from you. Please tell us what we're missing.
Seven Core CDR Principles
The seven CDR principles we defined as part of our collaboration are as follows. Click any of the links below to go directly to that section.
These CDR principles are outlined in more detail below. Each principle includes questions to ask yourself and actions to consider taking. It is important to note that these principles should not be considered part of an organization's "charity" efforts or practices exclusive to an IT or marketing department, but rather a critical set of guidelines with which to improve the entire organization.
CDR Principle One: Purpose and Trust at the Heart of Everything
An organization's core purpose and a public commitment to develop and nurture trust with all stakeholders are at the heart of all corporate digital responsibility efforts. Everything emanates from purpose and trust. They are key to the success of any 21st century organization.
Publicly claiming your corporate purpose is a good start. However, public statements are just words. The organization must act on these principles as well.
Example Questions to Ask
Have we defined our organization's core mission, vision, and values?
How do we embody these principles in our everyday work?
Do we regularly communicate these principles to our stakeholders?
What can we do every day to improve purpose and trust with our stakeholders?
Specific Actions to Consider
Organizations can embody purpose and trust by taking the following actions:
Digital Responsibility Code: Publish a digital responsibility code or a Code of Ethics that clearly conveys the organization's commitment to act responsibly and the consequences of failing to follow the code.
Corporate Purpose Statement: Define and agree upon a statement of corporate purpose, then publish that statement in public locations like common areas, on your website, and so on.
Strong Digital Governance: Implement responsible organizational governance policies and accountability. Create an ethics board or advisory committee with purview over your digital policies and practices.
Responsible Digital Regulation: Finally, your organization should not only comply with existing regulations, like data privacy laws, but you should also actively advocate for, and raise the visibility of, appropriate legal and regulatory guidelines in numerous categories below.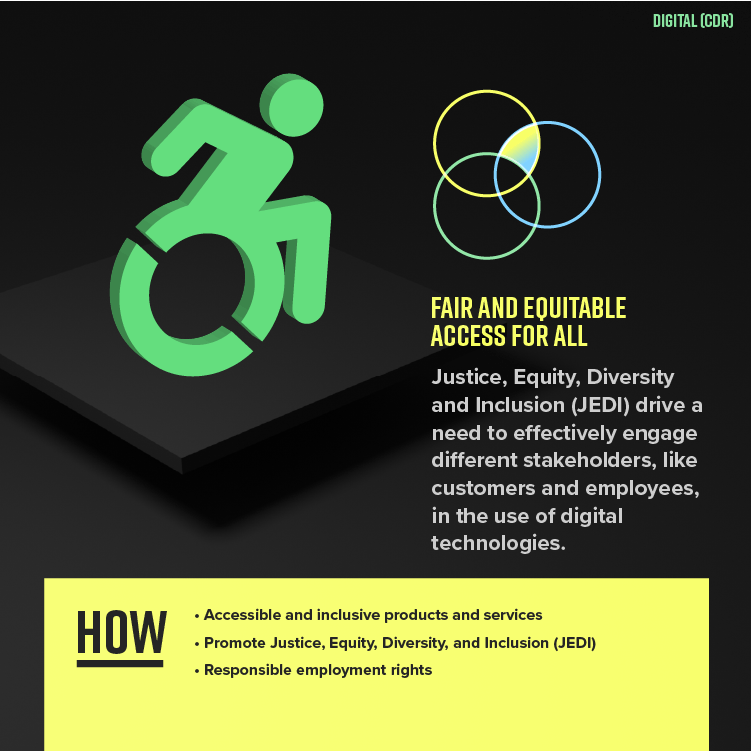 CDR Principle Two: Fair and Equitable Access for All
Second, Justice, Equity, Diversity, Inclusion (JEDI) must be at the heart of all organizational decision-making, including policies and practices related to digital products and services. When decisions are made that exclude or discriminate against people—based on race, religion, gender identity, disability, sexual orientation, or any other basis—suffering occurs. Opportunities are lost. Organizations fall short of reaching their full potential.
Example Questions to Ask
Have we mapped our organization's stakeholders? Who is not represented in digital decision-making at our organization? How might we include them?
How might we make our digital products and services more accessible for people with disabilities? What about the needs of people in low-bandwidth areas or those who use older devices?
Can we actively avoid discrimination in the organization's digital transformation efforts? Who will be responsible for that?
How might we outsource digital projects or other digital-specific work responsibly to ensure that gig economy workers are paid a living wage?
Are we using inclusive language in all our communications so as not to alienate anyone?
Specific Actions to Consider
Accessible and Inclusive Products and Services: Ensure that your digital products and services are inclusive by design and accessible to all of society, including people with disabilities. This also includes connectivity, tools, and know-how.
Enact and Promote JEDI Principles: Incorporate JEDI principles and practices into all digital decision-making within the organization. The more diverse stakeholders you bring into this process, the better your potential outcomes will be.
Ensure Responsible Employment Rights: Review your digital supply chain to ensure you're outsourcing responsibly, paying gig workers a living wage, and offering digital employees the right to collectively bargain.
Advocate for Responsible Legislation: Similarly, support and actively advocate for responsible legislation regarding digital employment rights.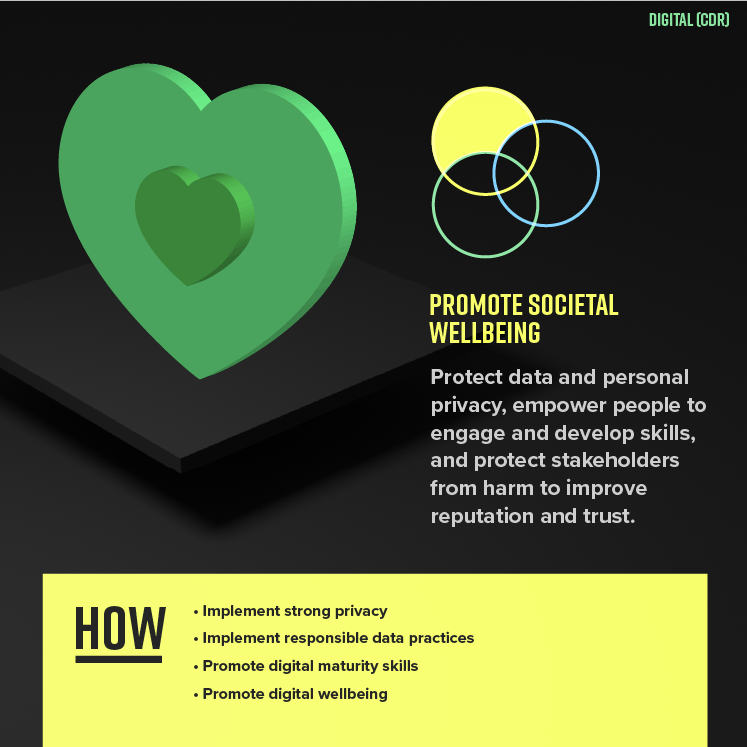 CDR Principle Three: Promote Societal Wellbeing
Next, this principle embodies Social Digital Responsibility, where organizations consider societal implications of digital decisions and promote the mental and physical health of stakeholders. Plus, an organization's digital channels are typically far-reaching, so this principle includes data privacy, security, hiring practices, access to factual information, digital maturity, digital wellbeing, and others.
Example Questions to Ask
How might our organization bridge the digital divide between those with and those without connectivity?
Do we offer access to clear, factual, easy to find and understand information across all digital channels?
Similarly, do all our digital products and services follow the W3C's Web Content Accessibility Guidelines to help people with disabilities and anyone who might use assistive technology?
Do we protect stakeholder data from exploitation, ensure data privacy, and respect data ownership?
How might we improve digital maturity and skills among our stakeholders?
Are we managing, protecting, and disposing of stakeholder data in a responsible manner?
How are we combating misinformation and 'fake news'?
Are we ensuring that AI algorithms and other emerging technologies we use aren't biased in some way?
How might we use digital products and services to promote a healthy physical and mental lifestyle and reduce potential harm caused by digital products and services?
Specific Actions to Consider
Digital Privacy and Security: Enable strong digital privacy and security practices for all stakeholders: employees, customers, community, and so on. Also respect stakeholders' 'right to be forgotten' by disposing of personal data when requested and safeguarding against data breaches.
Content and Communications: Audit existing content and communications to ensure everything is accessible, factual, and inclusive.
Training: Create programs to train both internal and external stakeholders on digital literacy and skills-building to promote advancement and personal growth.
Digital Wellbeing: Encourage in-person meetings and 'digital down-time' when appropriate while also designing products and services that promote these principles.
Support Socially Responsible Legislation: Again, advocate for stronger legislation to improve data privacy, reduce the spread of misinformation, and provide broader access to technology, skills, and factual information.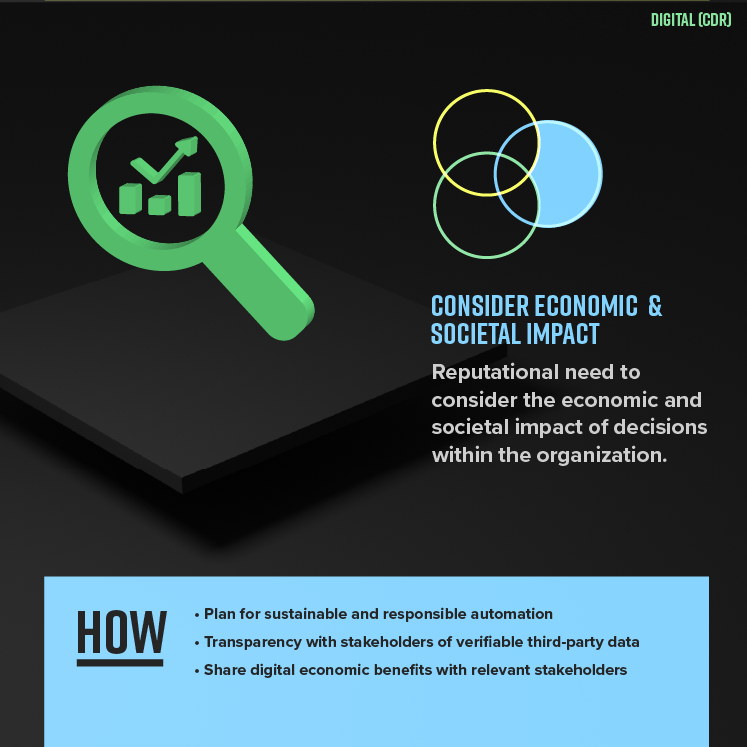 CDR Principle Four: Consider Economic and Societal Impact
This principle embodies the need for Economic Digital Responsibility. Organizations must consider the economic impact of their actions when making decisions related to digital products and services. For example, this requires increased transparency, skills-building and retraining, paying a living wage, and otherwise sharing the economic benefits of digital work.
Example Questions to Ask
Are we paying employees or contractors doing digital work a living wage, providing work-life balance, and offering good benefits?
Similarly, are we engaging in blind hiring practices for digital positions?
Do we responsibly outsource digital work to organizations that offer economic benefits to their own teams?
Are we retraining team members when positions are automated?
Are we completely transparent in how we source, collect, use, and dispose of third-party data? Similarly, are we respecting data ownership rights?
Finally, do we promote open source, open data, and the idea of a 'digital commons'?
Specific Actions to Consider
Hiring Practices: Incorporate blind hiring practices to improve JEDI practices mentioned above.
HR & Culture: Make sure you're paying digital employees a living wage and outsourcing responsibly. Incorporate digital skills-building into your entire organization.
Responsible Automation: Retrain employees whose workload changes due to automation from emerging technologies.
Data Transparency: Openly share how you collect, verify, use, and dispose of third-party data. Respect software and data ownership as well as people's 'right to be forgotten'.
Share Economic Benefits: Profit sharing on digital work improves organizational equity while promoting open source and open data enables innovation. 'Right to repair', for example, increases the shelf life of digital products while the digital commons improves access to technology for everyone.
Advocate for Strong Economic Legislation: Engage with legislators to hold organizations accountable to stakeholders when sharing the economic benefits of their digital products and services.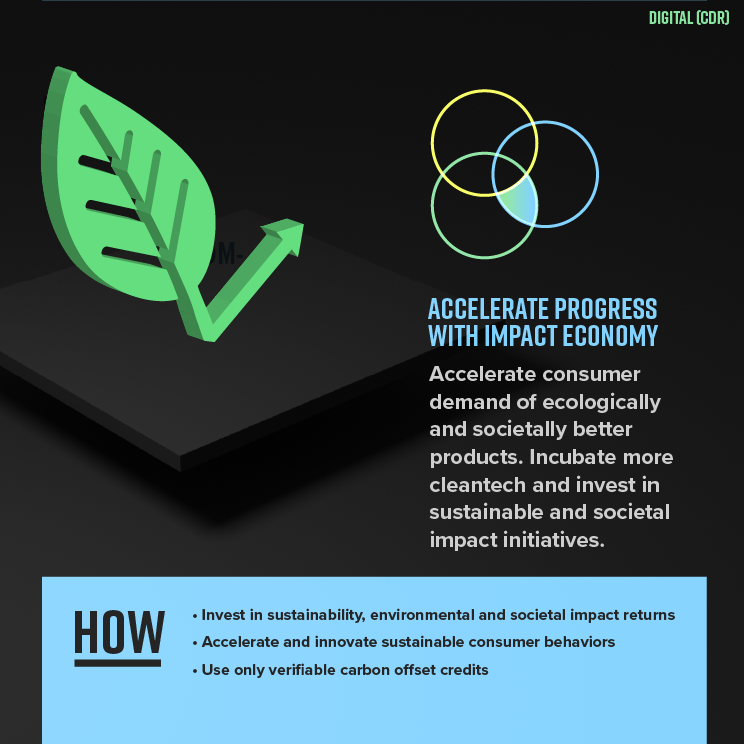 CDR Principle Five: Accelerate Impact Economy Progress
Certainly, what you do to the planet, you do to the people. We're in a climate emergency. Plus, global species extinction and increasing inequality are widespread around the world. These existential problems require that we fundamentally redesign how we work, consider how we create shared value, and rethink our economic systems. Technology can accelerate this transition to better, more circular products and services that also reduce harm and improve equality. To do this, organizations must reconsider business as usual. While that's no easy feat, it's entirely within any organization's grasp.
Example Questions to Ask
First, have we cleaned up and diversified our entire supply chain? How might digital accelerate this process?
Are we regularly measuring, reporting, and improving upon our organization's social and environmental impact?
How might strategic partnerships help us make progress more quickly?
Have we reduced our environmental impact as much as possible—including Scope 1, 2, and 3 emissions—before resorting to carbon offsets?
If we're using carbon offsets, have we ensured that they are verifiable?
Are we using digital products and services to promote ethical, responsible, and more sustainable practices?
Similarly, are we centering positive social and environmental impact at the heart of our organization's business model?
How might we reduce risk and create a more resilient organization that can quickly adapt to ongoing disruptions?
Are we regularly improving accessibility and inclusion in our digital products and services?
Specific Actions to Consider
Stakeholder Mapping: Map your entire stakeholder ecosystem to identify ways to decarbonize and diversify your supply chain.
Impact Measurement and Reporting: Use an impact measurement tool like the B Impact Assessment or the SDG Action Manager to align your business model with stakeholder needs and global goals.
Accessible Products: Ensure all your digital products and services adhere to the W3's Web Content Accessibility Guidelines.
Beyond Net Zero: Commit to Net Zero, actively work to aggressively reduce existing emissions, and offset what you can't reduce to get to zero emissions. Continue improving your efforts to become 'planet positive'.
Accelerate with Technology: In addition to those mentioned above, identify areas where technology can help you accelerate your organization's transition to better 'impact economy' or 'circular economy' practices.
Improving Customer Behavior: Finally, use digital products and services to promote more sustainable customer behaviors—like low emissions shipping, for example.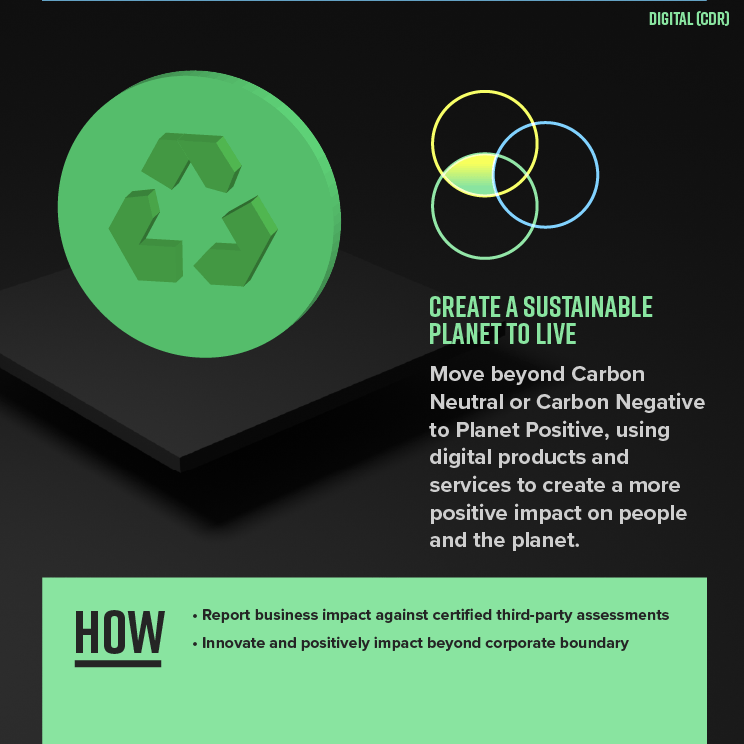 CDR Principle Six: Create a Sustainable Planet to Live
Next, reducing emissions and environmental harm caused by organizational activities is a good start. However, it is not enough to create a sustainable planet upon which we can all live. How might we regenerate systems and adopt circular economy principles to take socio-environmental efforts to the next level?
Example Questions to Ask
How might digital products or services help us reduce scope 1, 2, and 3 emissions? What about other environmental impacts?
Can we adopt circular economy principles within our organization, reducing waste and greatly expanding the life cycle of products and services?
Will innovation practices help us create better digital products and services that regenerate systems rather than simply causing less harm? If so, how?
Can we align these efforts with existing standards, such as the U.N. Sustainable Development Goals (SDGs), B Corp, or other ESG reporting frameworks?
Similarly, how can we apply these principles across our entire supply chain as opposed to just our internal operations?
Specific Actions to Consider
Innovation: Embrace innovation frameworks that help your organization more effectively problem solve and create products and services that renew and regenerate systems rather than extract and exploit resources.
Circular Products and Services: Incorporate circular economy principles into product and service design processes. Identify areas where data and emerging technologies can accelerate these principles.
Impact Measurement: Use an impact measurement tool like the B Impact Assessment or the SDG Action Manager to reduce environmental impact and identify areas for improvement.
Expand Boundaries: Finally, identify ways to apply these principles beyond current organizational boundaries. Your supply chain, employee and community stakeholders, and waste, water, and energy management systems are good places to start.
CDR Principle Seven: Reduce Tech Impact on Climate and Environment
Finally, this principle aligns with Environmental Digital Responsibility. In other words, organizations must reduce the environmental impact of digital products and services and the data they use. In other words, create a "planet positive" IT strategy and a sustainable data strategy that not only focuses on emissions, but also resource use and electronic waste (e-waste) as well.
Example Questions to Ask
First, does your organization have a responsible e-waste recycling program in place?
Next, do you support 'right-to-repair' legislation or practice similar advocacy efforts to stamp out planned obsolescence in your country?
Do you practice responsible power consumption practices with your digital products and services? To clarify, this includes not only the products or services you build and maintain, but third-party systems as well.
Also, have you transitioned to third-party providers, such as web hosting companies, that use 100% renewable energy? Do they allow you to track and measure energy use?
Specific Actions to Consider
Broaden Awareness: Help stakeholders better understand the environmental implications of their technology decisions through workshops and ongoing education efforts.
IT Strategy: Implement an environmentally-friendly organizational IT strategy that stakeholders can easily understand and follow.
Renewable Energy and Efficiency: Power all operations, including digital-specific systems, with renewable energy. Use sustainable web design practices to make products and services more user-friendly and efficient.
Report Energy Use: Measure and report on energy use with a focus on continuously reducing emissions and minimizing offset purchases to only those that are necessary to achieve Net Zero.
Advocate for Legislative Change: Help legislators pass laws that promote "right to repair" on technology products and ban 'planned obsolescence' that increases the amount of e-waste that goes to landfills.
Designing More Ethical, Responsible, and Sustainable Organizations
To sum up, anyone can use these CDR principles to design digital products, services, programs, or even entire organizations that are better for people and the planet. As noted above, this framework represents a lot of research but it is nowhere near complete.
To support this work, you can do several things:
Digital Carbon Ratings, now in Ecograder.
Understand how your website stacks up against industry carbon averages with this new feature.
Try Ecograder