Business Goals vs. User Experience

In the countless decisions it takes to bring a website to life, your business goals will often face off against your users' expectations. How can you find the happy medium between achieving your business goals and creating a pleasant experience for website visitors?
Imagine there's a doughnut shop on your drive to work. The shop has pretty good doughnuts, so you stop in often. Then one day you see a dancing, costumed guy with a spinning sign waving people into the parking lot. "Mildly annoying," you think, "but I bet that's a good way to grab more customers."
The next day the same guy is there, but now he's blasting bagpipes, stopping traffic, and pounding on your window. How long would it take for you to stop visiting the doughnut shop, or take a new route altogether?
Time and again I see people doing similar obnoxious things on their website in an attempt to get more revenue, without realizing they're discouraging users and driving them away. In the countless decisions it takes to bring a website to life, your business goals will often face off against your users' expectations, and sometimes it's not pretty. How can you find the happy medium between achieving your business goals and creating a pleasant experience for website visitors?
In this post, we'll take a look at a few bells and whistles business owners like to include on their website in the interest of increasing conversions, shopping cart totals, solidifying branding, etc., but that often frustrate users and lead to distrust. Then we'll examine alternatives to including these features that offer a balance between business goals and user expectations.
Let's start with a simple one.
Should you auto-play a video when your website loads?
Business goal: Playing the video automatically means more people will see it.
User experience goal: I don't want to be interrupted by sound unless I'm prepared for something to play. I'd like to control when the video starts.
The solution: While it's tempting to assume everyone who visits your website wants an in-depth explanation of your process and would benefit by watching, say, an explainer video, not everyone who visits your website has the goal of understanding more about your company. Repeat visitors might be trying to log in. Members of the media might be looking for contact information. Even people who are looking for information about your company might need a minute before coming to the conclusion that that information is contained in your explainer video. So don't autoplay videos when your website loads. Let your visitors determine for themselves when they want to play video content.
Should I automatically subscribe users to my email list?
Business goal: Automatically subscribing people to an email newsletter means our marketing list will grow faster and I can foster more repeat sales.
User experience goal: I want to opt-in to newsletter content so I can control what information I get from a company.
The solution: Email marketing best practices follow the guidelines that unless someone explicitly signs up to receive your emails communications (by opting in via a form, or checking a box on signup), you shouldn't add that person to an email list. However, there are ways to encourage more opt-ins, by leaving a subscribe box checked in its default state when a user signs up for a new service, for example, or including email signup prompts in more places on your website. You can even use an email address capture pop-up window on certain pages or gate valuable content (a white paper, for example).
Can I automatically add items to a shopping cart to increase checkout totals?
Business goal: Create shopping cart that sells more products by suggesting or including confusing add-ons.
User experience goal: I want to be able to easily add or remove items items from my cart and understand how each item affects my order total.
The solution: Sneaking extra charges into a shopping cart without explanation is never okay. The customer's order total should be a clear reflection of what they've agreed to put in their cart, at the price reflected when they've added that item to their cart, and nothing more (save taxes and shipping). Purposely tricking users is a process known as "Dark UI" (for "user interface") and is universally frowned on. (Here are a few examples of shopping cart trickery from the website Dark Patterns, which reports on Dark UI practices from around the web.)
The website Think Geek has come up with an alternative approach to the automatic shopping cart add-on that works for users and businesses: a one-tick upsell at the "Add to Cart" stage, as with this Doctor Who cookie cutter cookie jar check box.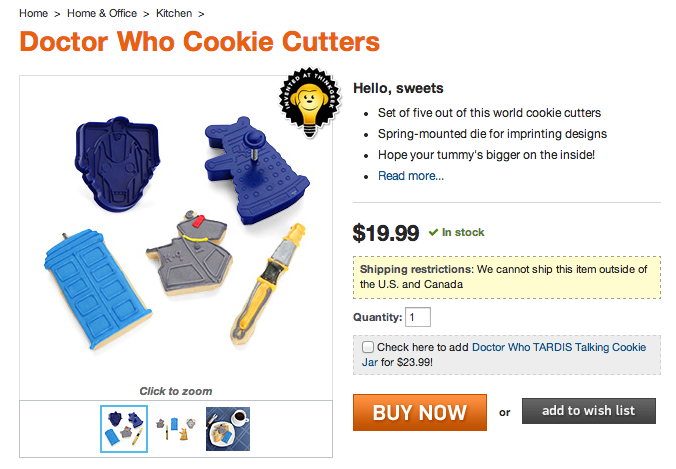 Instead of automatically including items in an order, offering a related item at the buy now stage helps you increase order totals while retaining customer confidence.
Is it okay to limit support tickets by requiring visitors to read my FAQs first?
Business goal: Limiting customer service requests by requiring users to filter through FAQs before viewing a customer service phone number or being able to submit a ticket.
User experience goal: When I experience an issue I want to contact support as quickly as possible so I can get my problem solved.
The solution: With a limited support staff, you do need to curtail the number of support tickets submitted for issues that are already addressed in your FAQs. But you don't want to stonewall frustrated customers from accessing personalized support by making them sift through your entire FAQ library. Pointing them to the right answer in your FAQ section solves both problems: they get help faster and you cut down on support tickets. To do this, you can implement a system that quickly suggests a few common support answers based on category, either using drop-downs or suggestive search.
Here's an example from Etsy's customer support pages, which offers two personalized drop-down questions before suggesting canned answers and providing the option to email support:
(Here's an interesting Stack Exchange thread on this issue, and how to implement a flow like this on your website.)
I want to initiate live chat with website visitors to help increase conversions.
Business goal: Installing a live chat pop-up module will increase sales.
User experience goal: I only want to talk to a live person via chat if I initiate it.
The solution: As much as we don't like to admit it, live chat pop-ups help drive conversions, especially during the checkout process, and it turns out that customers have a positive attitude about the experience of a company-initiated live chat even though they may not have known to ask for one. http://blog.kissmetrics.com/live-chat/ Think of it this way: during the checkout process, users might think contacting customer support would cause them to lose items in their cart. What they want help with is what's on their screen right now.
Customers looking at a pricing page might have questions about pricing but not think to contact a support person with those questions. A chat pop-up solves this issue and the intrusion isn't totally disruptive.
Chat tools like Olark allow you to set controls on when and where your live chat modules appear to customers, so you should consider carefully where to apply them on your website and then monitor chat transcripts to make sure they're satisfying customer needs.
An ideal path to balancing business goals and UX
Setting realistic, measurable business goals are vital to, well, staying in business. Without business goals, UX is worthless, because a well-designed website doesn't do much if the company goes under. Without actionable business goals, many companies tend to blindly copy the competition or UX trends, winding up with a beautiful dud that does them no good.
So to start with: define your business goals. Then bring those goals and thoughts to your UX team to get their recommendations and feedback on the best ways to achieve them on your website.
Because while having rock-solid business goals are important, cutting corners on your user experience can be catastrophic.