5 Communication Processes to Improve Digital Projects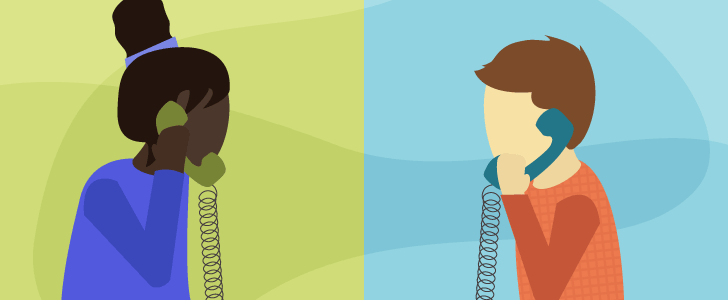 In this post, we cover five communication processes we use on every project for better client collaborations.
Mightybytes has been around since 1998, and in that time we've learned a thing or two about managing digital projects. Creating websites, apps, and other digital products can get complicated, there are a lot of people and technical complexities involved, but clear communication makes things much easier and reduces the chance for last-minute surprises. A cornerstone of our success has been establishing communication processes that keep our team on track while building trust and transparency with our clients. And being able to establish an effective communication process has allowed us to in turn to become more sustainable in our own practice.
1. Communication Processes During Planning
Whether you are creating a new website or kicking off a digital marketing retainer, the first step to any digital project involves discovery and planning. During this time, project managers rely on communication with their internal team of designers and developers, as well as the client and their stakeholders, to create a successful plan of action. At this stage it's important that everyone who will be involved in the project is involved in the planning. We've found that collaborating with clients in workshops helps to facilitate discussions and faster decision-making. Everything from deadlines, priorities, goals, and the final scope should be discussed, documented, and signed off. By getting this input and approval from all the project participants, we ensure that everyone understands the project plan and that their needs have been considered.
Documenting the project plan is an important part of the communication process. This documentation serves as a useful reference throughout each stage of the process and helps to keep future conversations on track. How we document a project really depends on what the project requirements are and how the client likes to receive communication. It may be a simple spreadsheet or a complex 20-page statement of work. This flexibility in how a plan is delivered helps reduce unnecessary time and cost while also catering to the needs of the team that will be using this document.
2. Regular Communication
Building a relationship with a client requires open communication and honesty. Our project managers work with their clients in the way that is best for the project and that client's needs. That means we find out who needs to be included in client communications and what methods of communication will work best for them. Common approaches have included face-to-face meetings, phone calls, email, and commenting in 3rd party software that the client uses (eg: Basecamp or Zeplin). Once those basics are established, our project communication process typically includes:
Scheduled status updates: Depending on the length of the project and our client's availability, these could be weekly, bi-weekly or monthly. These updates include a summary of how the project is progressing and our next steps.
Budget reports: We take project budgets very seriously and want our clients to know how and when their money is being used. Our project managers issue regular budget reports that include how much budget has been spent, when it was spent, and the activities it has been spent on. What is in the reports and how frequently these reports are sent is decided by the client and project manager.
Unscheduled communication: If something comes up in-between scheduled updates, our project managers don't hold off on updating the client. Often an email or phone call can quickly resolve an issue and these have become an important part of our process. It's not unusual to be in touch with clients on a daily basis, keeping them updated or getting their input on something that we're working on. This willingness to have unscheduled discussions gives us the flexibility to pivot quickly and keep projects on schedule.
Regular communication isn't just important for client relationships, it's also important for our internal teams too. Project managers, designers, and developers need to communicate on a regular basis in order to keep a project on track. That's why we hold stand-up meetings every morning and afternoon to discuss the day's activities and if anything is blocking team members from moving forward with their tasks.
3. Speak the Same Language
Digital projects can be intimidating for clients who don't have a technical background, so we start off by learning how well-versed our clients are with technical language. If they aren't, then we don't use it. We also make an effort to explain functionality and processes in detail, both internally and with our clients, so everyone is on the same page and no assumptions need to be made.
We're not the only ones with an internal language, often our clients will have their own internal terminology or acronyms that we need to learn. These discussions are included in our discovery phase. Once we are able to understand our client's internal language, our conversations with them can be more focused and precise, leading to better results for everyone involved.
4. Presenting Designs, Prototypes, and Builds
Digital projects often involve presenting wireframes, prototypes, designs, or builds to clients. That process involves a lot of work in order to communicate effectively. Ideally we like to present the work to clients either face-to-face or over a video call instead of blindly sending them the files without walking through them first. If that isn't possible, we like to record ourselves doing a walk-through which we also send along with the files.
We also make sure that all the features and functionality outlined in wireframes and designs are annotated with behavior and content guidelines. These notes are important for our clients and developers to reference since they help explain how components will function and how content should be written. Our designers also include multi-device layouts, hover states, validation text, and other details so our clients can understand and approve what isn't necessarily seen in the mock-up. Our developers also use this information during the build which reduces assumptions on their part.
We encourage our clients to provide us with feedback at all these stages, and communication is at the heart of the feedback process. Our team works closely with clients to get their thoughts on what we've presented and to understand what updates they'd like us to make. At the end of this process, we ask for client sign off, so everyone is clear on what has been approved and how we are moving forward.
5. Plan for Pivots
Digital projects often change as they progress due to shifting client priorities, unexpected technical issues, or a myriad of other possibilities. And while strong communication throughout a project can reduce the chance of this, it can't always prevent it. That's why our communication process also accommodates these changes.
As part of our planning process, we include milestones where we reconfirm priorities and allow for adjustments as needed. There are also points in the process where we stop and make decisions or finalize details that haven't been defined yet. This, along with our regular communication with clients, gives us the flexibility we need to keep the project going. Whenever a change occurs that might impact budget, timeline, or scope, we let the client know from the outset so they can make an informed decision.
Better Digital Projects
Focusing on communication early and often has helped us streamline projects and create great customer experiences. These approaches have helped us avoid awkward and unexpected conversations about budget and deadlines, and have reduced disappointment both internally and with our clients. While other agencies may assume communication will fall into place, we actively make efforts to improve our communication standards and increase transparency, and have seen the benefits in doing so.