Sustainable Web Design: Optimizing Video for the Web

Video is the most potent message format on the web, but its popularity means that all the uploading, hosting and playing has contributed to a lot of carbon emissions. We examine the ways you can make your videos more sustainable by optimizing them for the web.
Hosting and watching online videos isn't as green as you might think. Videos, with their large file sizes and massive popularity, require energy for hosting and playback, much of which is not renewable. So while video is one of the most effective ways to get the message across about your business or organization, it's important to remember the cost of video when it comes to your website's sustainability and your business' overall environmental impact.
In this post, I'll examine the various types of video file formats, how and where they can be used, and how, if you're using video on your website, you can do so in the most eco-friendly way possible.
Video File Types
It's important to understand the different file types and where they can be embedded and uploaded for proper playback. Matching your file type to the optimal platform reduces playback issues, therefore using less energy.
.mp4 is a good quality video with a small file size and is the recommended format for YouTube and Vimeo.
.mov is a high quality video with a large file size. This file type doesn't play on windows without the help of VLC.
.wmv is a good quality video with a large file size. It is also hard to play this format on Mac machines unless you have cross-platform multimedia player like VLC.
.flv is a small file size, but need extra steps to bring up the quality. This format doesn't play natively on most Mac and Windows machines. Also, it only works on browsers that support Flash.
These aren't, of course, all the available video formats, but they are the most widely used. Less standard video formats that may produce smaller files, but they may also reduce sustainability because of user experience issues (i.e. lack of support for plugins, etc.).
Video Optimization
Just like images, videos should be optimized for the web. Many video uploads and especially self-hosted videos fail to stream quickly and often pause during playback. Fortunately there are plenty of programs that will reformat videos, rearranging file settings for faster playback, which helps them stream more smoothly across a multitude of devices.
My favorite tool is a free software program called Handbrake, an open source video transcoder. I use it for optimizing video, converting video files and ripping DVDs.
Handbrake is extremely easy to use. To optimize a video for the web using Handbrake:
Select your video by clicking "source"
Set the destination of where the video gets saved in the "file" box
In the "Quality" field set it to "Constant quality" of about 20 (good) to 25 (decent). This feature automatically sets a good video quality
Check the small "Web optimized" box
Now click the "Start" button and start encoding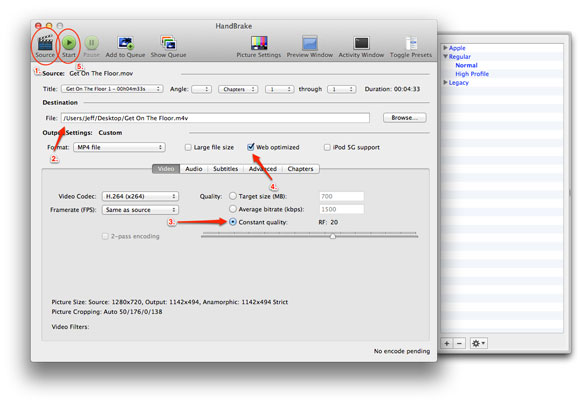 Where to Host Your Video
Once you have optimized your video for the web, consider where you're going to host your video. Most people choose one of three options: hosting the video on their own site, or uploading the video to YouTube or Vimeo. (There are, of course, a host of other video hosting platforms, but for the purposes of this post we'll stick to the top two.)
Hosting a video on your own site is the least sustainable option because the video adds mass to your site, slowing down the load time which, in turn, makes the servers work harder.
Both YouTube and Vimeo offer "share" options that allow you to embed a video on your site without actually hosting it there. There are also WordPress plugins that create short code that embeds the video on your site with the proper dimensions; you can also change the dimensions of the video embed under the YouTube and Vimeo share options: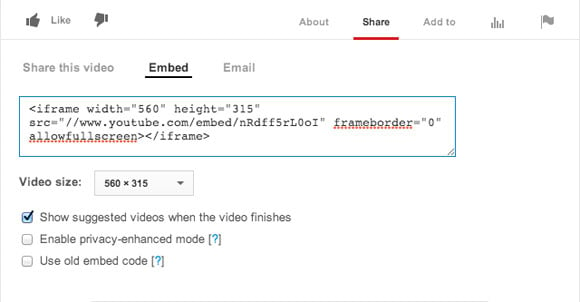 The question as to whether to host your video on Vimeo or YouTube depends on the goal of your video or campaign. Each has its pros and cons as it relates to findability and playback. Google, which owns YouTube, is making an effort to power their company on 100% renewable energy, and also invests in carbon offsets to further reduce their impact. Vimeo currently has no sustainability policy in place. This means hosting your video on YouTube, at least for the time being, is likely more energy-efficient.
Video Length
While optimizing your video and choosing the right hosting platform helps immensely in making your web videos more sustainable, one of the most important things you can do to reduce the environmental impact of your video content is to keep lengths to a minimum. Even when optimized, video files are very large. The easiest way to reduce their size is to edit the content,
Keeping videos short not only makes them more sustainable, it makes them more shareable. In 2012, the average video length for the top 10 most shared global video ads was 4 minutes and 11 seconds. If you want people to share your content, remember: don't say in 10 minutes what you can say in two!
A Final Note About Video
It helps to occasionally cull videos from your online archive that are no longer relevant or that have few views. Stick to those videos that perform well so your video content doesn't take up server space — which still takes energy! Your sustainability and marketing efforts are both served when you're smart about what content you share online, keeping only with your most relevant and highest performing videos.
Interested in the overall environmental impact of your website? Check how sustainable your website using Mightybytes' free tool, Ecograder.