Make the World a Better Place, Get Discounted Services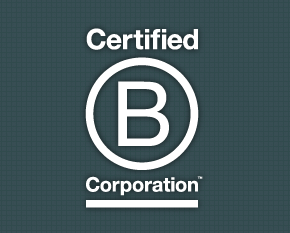 B Corporations and nonprofits get a discount on our services.
We want you to help us change the world.
Show us that you care about the planet by becoming a B Corporation and we'll give your company the discount we normally extend only to non-profits.
This discount can be applied to all of our services for projects over $20,000.00. We are happy to extend this discount to certified B Corps and Public Benefit Corporations in the United States. 
What is a B Corp?
We envision a future where society enjoys a shared and durable prosperity. We believe business has a key role to play in achieving this. A certified B Corp is a business that has gone through the assessment and certification process by the non profit B Lab to meet rigorous standards of social responsibility and environmental stewardship. Similarly, a Benefit Corporation is a new class of company that is required by law to create a material positive impact on society and the environment and to meet higher standards of accountability and transparency. While both Benefit Corporations and certified B Corps are socially responsible, only Benefit Corporations are legal entities (like S Corps, C Corps, LLC's, etc.).
Certified B Corps like Mightybytes commit to a triple bottom line that prioritizes people and the environment alongside profits. The B Corp community also works together to support each other and to advocate for a progressive definition of what it means to be a successful and responsible business.
On January 2nd, 2013, a new Benefit Corporation Act will go into effect in Illinois, which will make it possible for companies to elect to take the next step of becoming a legal Benefit Corp. Mightybytes is excited to be one of the first companies in Illinois to make this legal commitment to changing the world. You can learn more about the 11 states that currently have Benefit Corporation laws on B Lab's website.
To learn more about the differences between B Corps and other types of corporate structures, check out our B Corp 101 presentation on Slideshare.
What Do I have to Do to Become a B Corp?
It's easy. B Lab outlines the process to become a certified or legal B Corp here:
To Become Certified: Complete the B Impact Assessment, an online survey that asks you questions about your company's environmental and social impact, your employee policies, as well as your accountability and transparency. To get certified you'll have to score at least 80 out of 200 points.
Make it Legal: Learn whether your state currently has a Benefit Corporation law in effect, consult your lawyer, and determine the best path forward for your state of incorporation.
If you have any questions along the way contact us. We're happy to share our experiences with you.
Join Us

So what are you waiting for? Get started today. Join the global movement of people using business as a force for good by becoming a B Corp. We'll give you a discount if you do.