Create more useful products with Mightybytes customer journey and experience mapping services.
Customer Journey & Experience Mapping Services
Charting your ideal customer's path through a product or service—and then testing your assumptions with actual customers—provides valuable insights that will quickly move you toward reaching target business outcomes and success.
Mightybytes experience mapping services move beyond the digital realm to encompass all touchpoints a customer has with your brand. By identifying channels and touchpoints, then exploring each interaction in detail, a picture of where your organization is flourishing and where there is room for improvement starts to emerge. These insights can be used to improve customer service, eliminate frustrating experiences for your users, or inspire new products, digital or otherwise.

User Experience Mapping Services
How many interactions will it take for your users to easily:
Fill out an application
Register for an event
Make a donation
Design a photo album
Create a document library
Build a profile
Mapping user task flows helps you figure these things out.
Typically coupled with user research, testing, and prototyping, user experience mapping builds consensus around target outcomes. During this process, we refine what should be built before wasting time and resources creating features that don't get used or making changes to existing features.
Depending on the complexity of your product, user experience maps can be created during a whiteboard sketching workshop or as a high-fidelity design artifact. More often, they exist in some combination of the above: a sketch is created, tested with real users, and the map increases in fidelity and usability as continuous learning occurs.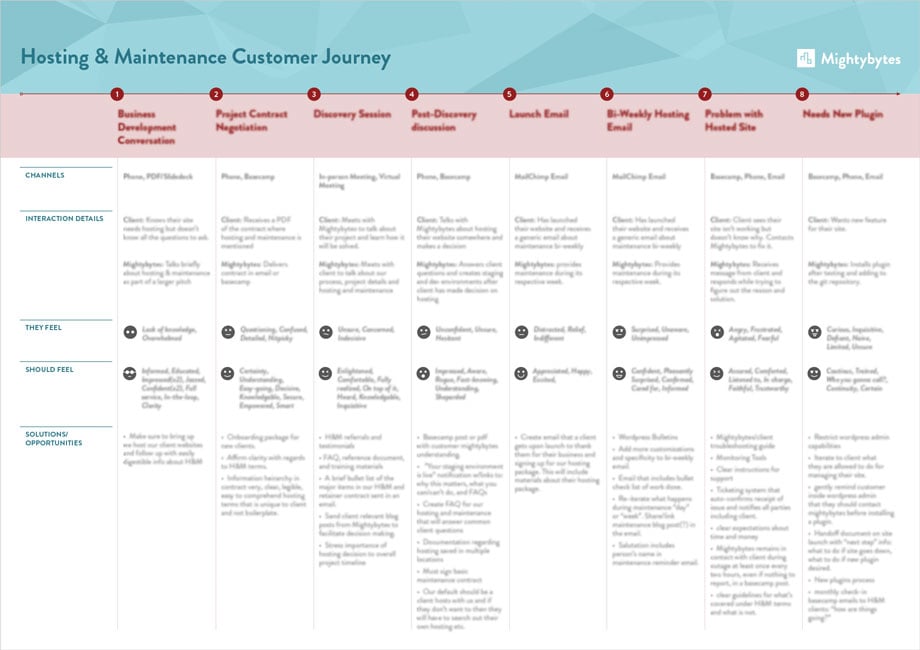 Customer Journey Mapping Services
How do you know if your customers are truly happy with your brand? With customer journey mapping, you can identify opportunities to improve the products and services your customers use.
Charting a customer's interactions with your brand from first contact to retention and referrals will help you learn which interactions delight, confuse, or frustrate customers.
Customer journey mapping helps you generate new product and service ideas while setting you on the right course to build better customer relationships.
Customer journey mapping services are typically broken into five exercises:
Preliminary research: We work with you to better understand your organization's relationships with customers.
Touchpoints & channels: We identify specific interactions customers have with your brand and the channels through which each happens.
Empathy mapping: These exercises help everyone identify how customers currently feel and should feel during specific interactions.
Solutions brainstorming: We uncover opportunities to improve products, services, and programs based on insights learned during empathy mapping.
Affinity diagrams: We group potential solutions together to identify quick wins and longer term efforts that will significantly impact customer satisfaction.
Throughout this process, we identify opportunities for you to create closer, more meaningful interactions with your customers. We then deliver a customer journey map, which becomes a blueprint for longer term, ongoing improvement.
Think Mightybytes customer journey and experience mapping services can help you build a better product or service? Drop us a line and we'll get back to you.
If you're interested in learning more about customer journey mapping but don't want to reach out, check out our post What is a Customer Journey Map? and download the free template.