Content Marketing Tools: Seven Resources for Creation, Curation, and Measurement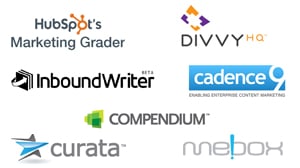 Tracking content marketing and social media performance remains an ongoing challenge for businesses small and large, but new tools can help make content creation, curation, and measurement easier.
Tim was recently at the 2nd Annual Content Marketing Retreat in Seattle and came back to the office talking about some new tools covered during the two day conference. Content marketing offers a wealth of opportunities for small and large businesses alike to compete in the world of search, but it can be fraught with ongoing challenges that range from resource management to software implementation, from keyword analysis to social media measurement and more. Writing blog posts is great, but how do you figure out how best to optimize your content, share it across networks, and measure its effectiveness?
If you are trying to implement a comprehensive content marketing program the following tools may be helpful.
InboundWriter
InboundWriter allows content creators to pin point specific words and phrases that pique interest for your target audience. Based on real-time research into the popularity of recommended keywords, InboundWriter provides keyword and search phrase guidance to improve content and increase visibility. In addition to the web app, a recently released plug-in for WordPress offers the app's functionality within the WordPress admin interface.
Curata
Curata is a subscription-based service that helps marketers maximize their content curation efforts. Curata's web-based tools help you easily find, organize and share online content. Curata has integrated Read It Later features into their product as well. ReaditLater allows users to save articles of interest and collect valuable content for reference online or off.
Cadence9
Set to launch in March, Cadence9 provides a hosted content marketing platform that enables organizations to maintain and expand their online presence. The solution intelligently publishes content to blogging platforms, social networks and rich media sites while tracking user engagement to provide actionable options. Additional features allow marketers to plan and schedule posts through an editorial calendar and team-oriented workflows. Cadence9 is used by marketing and communication departments as well as active content creators and publishers to eliminate complexity, unify access and engagements across all their online destinations, improve control, and help gain insights and ROI with in-depth reporting and monitoring.
Me!Box
Me!Box is a video platform available for websites, banner ads, social networks, and mobile devices. The product is designed to optimize your video-based content, increase viewer engagement, and push calls-to-action displayed for users. Using interactive customizable sidebar banners which display alongside the main video player, viewers watch the video while additional relevant content is shown to them, helping audiences more deeply engage with your content. All activity is tracked and measured to deliver a more insightful understanding about your audience and their interests.
Compendium
Compendium, a new business blogging automation platform from the man who brought us Exact Target, can help you create, capture, moderate, promote, and scale content marketing efforts. This comprehensive multi-module hosted solution helps control the blogging process so bloggers and brands can focus on controlling their message.
DivvyHQ
DivvyHQ helps marketers plan, create, and manage content plans without spreadsheets. Their product features a cloud-based, editorial calendar where customers plan, write, assign, manage, and collaborate on content. DivvyHQ is an especially useful tool for agencies who hand off content plans to clients.
Marketing Grader
Not showcased at the Content Marketing Retreat but mentioned repeatedly by attendees, HubSpot's popular Website Grader was recently given a complete overhaul and new name. The Marketing Grader ranks your site's marketing abilities under three criteria: Top of the Funnel (ToFu), Middle of the Funnel (MiFu), and the Analytics portion of your website. Top of the funnel makes sure that you are bringing enough visitors to your site, and it checks that your content creation, optimization and website promotional skills are well-suited for what your site is trying to accomplish. Middle of the funnel grades you in how good your site converts traffic. The Analytics section helps give a better understanding of what marketing activities are working or aren't working. Do you measure your successes and failures?
With so many content marketing resources at your disposal, making a decision between all the various options can be a bit daunting. The above list consists of just a few content marketing tools we have found handy and in some cases innovative. If you have found any additional 'must have' resources we should add to this list, please let us know!