The Care and Feeding of URL: What to Feed Composting Worms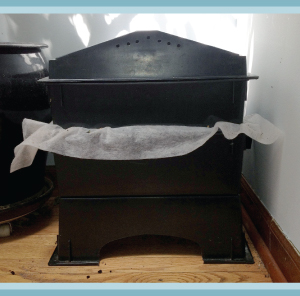 Developer Bryan teaches new members of Team Mightybytes what to feed to our composting worms and how to harvest organic fertilizer.
Last week the Chicago Tribune featured Mightybytes—and our 1,000 composting worms—in an article about Illinois B Corporations who pursue environmental and social good in addition to profits. As a relatively recent addition to the Mightybytes team, I wasn't sure at first how I felt about sharing office space with creepy crawly worms. But even I have to admit how cool it is that our wriggling office mates are able to turn our coffee grounds, banana peels and leftover vegetables into nutrient-rich compost.
I asked Bryan to introduce me to our worms, who collectively share the name URL (pronounced "Earl"), and to teach me how to feed them.
Developer Bryan and URL
What to Feed Vermicomposting Worms
We feed URL every 3-4 days, but we check on him every day. Bryan shared URL's favorite dishes:
URL loves coffee just about as much as we do. Coffee grounds are rich in nitrogren, which boosts plant growth, much like manure or non-organic chemical fertilizers.
URL finds avocado and mango pits to be delectable. At any given time a couple of avocado pits are sprouting into trees in Mightybytes' bin!
URL also enjoys picnic food. He loves eating corn cobs, watermelon rinds, and leftover vegetables.
Bananas give Team Mightybytes the energy to get through the day. It's a good thing that banana peels are also URL's favorite dessert.
What Composting Worms Dislike
Then Bryan told me what URL hates to eat:
Spicy food: Sorry, URL doesn't share our love of spicy Sriracha sauce, and he doesn't want to eat our delicious leftover Thai curry.
Citrus fruit: We love snacking on oranges, and we love putting slices of tangerines in our summer wheat beer, but URL doesn't share the love. No tomatoes either.
Garlic: Much like vampires, URL likes to stay as far away from garlic and onion as he can.
Milk, meat and oily stuff: We leave this out of the bin, because it makes the bin smell. Nobody likes a smelly worm bin.
At Mightybytes, we keep our organic waste in a stylish countertop compost bin. We also keep a stash of URL food in the freezer in case we don't have a lot of organic waste one week.
Bryan keeps an extra stash of URL food in the freezer
How to Harvest Organic Compost Material
URL lives in a plastic tray that is covered with a lid. When we want to harvest URL's plant food to feed the hops plant growing outside our office, or to fertilize our home gardens, here's what we do:
We put a clean tray on top of the tray that URL is currently living in. We put some shredded newspaper and cardboard and a bit of food to the tray to make it nice and cozy for URL.
We stop putting food in the tray that URL is currently living in. We don't feed him for about a week.
URL gets really hungry! So he climbs up through the mesh bottom of the clean tray, to try to find food.
Once all of the worms have climbed up into the clean tray, we take the bottom tray out and haul the plant food home to our gardens.
Caring and feeding for URL is only one of Mightybytes' sustainability efforts. If you'd like to set up your own vermiculture system at your home or office, check out the Andersonville based business Urban Worm Girl. Owner Stephanie Davies set up our worm composter last year.
What's your favorite organic garden or sustainability tip? Let us know by leaving a comment below.