Our Top Take-Aways From DrupalCon Chicago 2011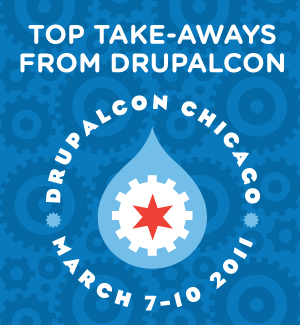 Last week, most of our crew from Mightybytes ventured down to the Sheraton Hotel and Towers to satiate our Drupal appetites. Here's what we learned.
The three day event brought in thousands of Drupal users, developers, designers, evaluators and businesspeople from around the world. There were information sessions, talks, code sprints, events, excellent keynotes every day by industry leaders, and even a fashion show. Read on to discover what we took away from this great event.
Tim – Principal
The existence of a Design and UX track was extremely encouraging to me. It was also great to see numerous efforts underway for providing content administrators with intuitive tools on the Drupal admin side. That's been one of my biggest frustrations with Drupal overall. The session on using jQuery Mobile with Drupal to create mobile-friendly websites was encouraging as well (though it's not quite yet ready for prime time).
I attended a number of the Business and Strategy track sessions and was relieved to find other firms struggling with many of the same process management tasks that we do. Project management, bug tracking, billing, CRM, and other business tasks continue to be a challenge for web services firms both large and small. Businesses are using a plethora of different tools, ranging from Red Mine to Open Atrium and even Microsoft Excel to manage their operations. Many of the solutions I saw showcased in different sessions felt a bit cobbled together, but if the tools and process are in sync, I give these businesses high props for making it all work.
Check out the JQuery Mobile with Drupal Session
Bryan – Web Developer
The first session I enjoyed was a discussion of the new Render API in Drupal 7 (D7). In Drupals past, page elements were themed, then passed as strings of HTML between Drupal functions. In D7, Drupal holds all the page information in an array until it's ready to output content. This makes it possible to have very granular control over page elements from within your modules before content is sent to render to output. This would save me were it implemented in D6 right now, as I have a page with several forms that get aggregated into one form. Using D6's Forms API and hook_form_alter, I can change the weights of the fields inside each group, but I can't interleave the fields from different forms into one another. With D7's Render API, this becomes possible.
The second session was a demo by Ryan Szrama, who currently works for Commerce Guys. In the category of commerce, he was explaining how to setup shop on D7. His development of UberCart (the de facto commerce module for D6) led to a more abstract implementation of commerce on D7, and it also shows promise for nearly-native, flexible commerce on D7.
Check out the Render API in Drupal 7 Session
Check out the Drupal Commerce Session
Joy – Art Director
I particularly enjoyed the keynote on day three by Jared Spool. He talked about intuitive vs unintuitive design. This session really opened up my eyes about design, but more specifically, who you're designing for, and their knowledge level in terms of what you want them to do. Consider these target users:
People who know nothing about your product
People who have a current knowledge of your product
People who have a target knowledge of your product
People who know everything about your product
The key, according to Mr. Spool, is to design for a "knowledge gap," which is the space between the "current knowledge" and "target knowledge." However, Jared mentioned that great design is neither simple nor complex, but something that is invisible. Intuitive design focuses on the experience of the user, rather than what you see.
Check out Jared Spool's Keynote
Tai – Web Developer / UX Designer
My favorite session was the emotional design seminar. Emotional design is a relatively new thing (on the web at least) and still somewhat uncharted territory at this point. I think it's going to become more of a focus for web designers in the years ahead. Right now everyone is focused on usability, which is great, but emotional design is one step beyond that — moving from just making interfaces usable to making them enjoyable as well. In particular it's good knowledge to have when creating UX for a project with a conversion process — to encourage certain user behaviors such as donating money to a nonprofit.
Check out the Interface Therapy Session
James – Project Manager
I was really inspired by Drupal creator Dries Buytaert's keynote. Dries surmised that if he were to start Drupal from scratch today, he would optimize for mobile devices over desktops.
I was also impressed with the Steve Fisher's Designing for Mobile session, which pointed out that distilling content down to its most important elements for mobile is actually a great guide for content structure in general. He illustrated this point through several eye-opening examples, my favorite being the comparison of the mobile and desktop versions of the Southwest Airlines site.
Check out Dries Buytaert's Keynote
Check out the Designing for Mobile Session
Stephanie – Web Developer
I attended the "Don't design websites. Design web SYSTEMS!" session, and the two presenters, Todd Ross and Adam Snetman, were saying that a web site is no longer as simple as building pages. In fact, they are becoming more and more dynamic, which means when a client comes to you to make a new site you need to ditch the old method of billing by the page and move on to explaining all of the little elements of Drupal that need to be built out. And in explaining these elements, there needs to be a translation of CMS-unspecific design into "Drupalspeak." For example:
"I want a login box" – translates to – "Creating user roles" in Drupal
"I want five different landing pages" – translates to – "Five panel layouts" in Drupal
I also learned that all too often, projects begin the design phase prior to choosing a CMS. In these cases, it's important for the stakeholders to understand that their choice of CMS may alter their design.
Check out the "Don't design websites. Design web SYSTEMS!" Session