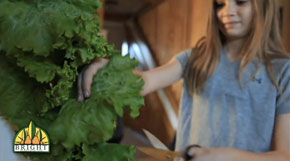 Our fifth Kickstarter pick is a vertical farming tower that will make it easier for people to grow fresh produce in their homes.
Seasons Greetings from the Mightybytes crew! This December we're supporting these nine Kickstarter projects. Each project we've selected is either local in focus (based in Chicago or Illinois), or supports our mission to help people and the planet. 

Grow Up! Vertical Farming on Kickstarter
With six days left to fund this project, the fifth Kickstarter project that we've selected is Grow Up! Vertical Farming for Everyone on Kickstarter. This project supports the development of a portable vertical farming tower that will help families and individuals grow fresh produce in small spaces. The other goal of the project is to reduce the distance that produce has to travel to get to your dinner table. Learn more about this project on Kickstarter.
Our Kickstarter initiative is part of Mightybytes' annual holiday charitable giving, made in the name of our friends and clients. In addition to backing nine Kickstarter projects, we will also be making a donation to the Alliance for the Great Lakes, an organization that supports ecological conservation and education.