Getting our Playspace On: Creative Collaboration Workshop with Pamela Meyer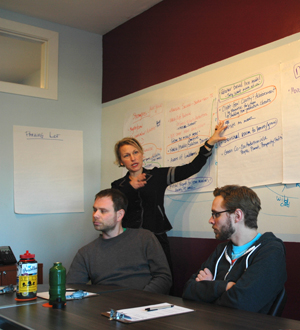 Yesterday we did our first workshop with Pamela Meyer, creativity consultant and author of From Workplace to Playspace: Innovating, Learning and Changing Through Dynamic Engagement and HR/Business consultant extraordinaire, Carol Semrad.
Pamela and Carol use improv techniques, mind mapping, and their own unique methodologies to help companies tap into their creative strengths, collaborate more effectively, and grow in ways that make sense for both businesses and the people they hire. We spent the majority of our time doing a custom variation of the tried and true SWOT analysis, but with a Pamela spin. Pamela's take is that the W (weaknesses) and T (threats) in SWOT analysis leave too much room for focusing on negativity, which can undermine potential and get us bogged down trying to fix problems rather than working toward realizing what we are capable of.
Our workshops with Pamela and Carol focus on identifying the following elements in our business:
Strengths:

What the company does well, where we're at our best.

Opportunities:

Identifying situations, markets, that speak to our strengths.

Aspirations:

What we hope to achieve both individually and as a group.

Results:

How we can derive tangible benefits that drive growth from the above.
Our time yesterday focused on the first two bullets above. There were many tangible take-aways, but here were some of the things we ascertained during the exercise:
Our Strengths
A lot of these I think we already knew, but it was nice to get them reinforced collectively:
We are a nimble, flexible, creative solutions provider.
We have a strong commitment to customer service and a high percentage of very satisfied clients.
We have a mutual regard for each other's talents and the caliber of our work.
Our commitment to work-life balance ultimately makes us better at our jobs.
Our value system and commitment to community engagement is an attractor.
Our continuing efforts to improve our process add business value for our clients.
Opportunities
We identified a number of different opportunities based on the idea that Mightybytes is good at helping businesses and organizations take advantage of trends and technology through use of engaging content, education, and commitment to community. Areas where we are well-poised for growth:
The Green industry
Mobile and web apps
Webinars and other content-driven deliverables
Community engagement
There were others of course, but these were the high-level take-aways. Throughout the entire process, our beer-brewing endeavors also repeatedly reared its, ahem, head, proving that people who brew together collaborate better together. At least that was my take-away. We left off just after identifying opportunities for this session, but our next workshop is Friday, March 11th. I am looking forward to seeing how this process will evolve and what it will ultimately mean for the company.
Ever done anything similar in your organization or business? Pros? Cons? How did it work out? This is a new endeavor for us, so I'd love to hear your thoughts.