By the Books: Thanksgiving Culinary Adventures
Clean Food, Extreme Beer, Awesome Holiday.
As book lovers and storytellers as well as foodies and beer geeks, what better opportunity to put our favorite pastimes to the test than Thanksgiving?
Tim's been in the north country this week working on Mightybytes site content and cooking up dishes like Wild Rice with Lemon, Fennel and Dried Plums and Red Lentil Soup with Turnip and Parsley from Terry Walters' new cookbook Clean Start while James and Steve were busy bottling the second of three holiday batches of Mightybrew sourced from Dogfish Head brewmaster Sam Calagione's book Extreme Brewing.
Terry Walters' book Clean Start, the follow-up to her highly successful first book Clean Food is filled with healthy seasonal vegan and gluten-free recipes that are perfect for the vegetarian Thanksgiving feast that Tim is whipping up in northern Michigan. We got to know Terry after Clean Food, was published when we collaborated with her on upgrading her website. Clean Start should be a must on any holiday wish list. Put it on yours!
Check out a few iPhone pics of recipes Tim has tested from the book in preparation for the holiday feast.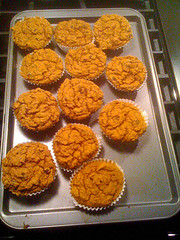 Terry's Pumpkin Spice Muffins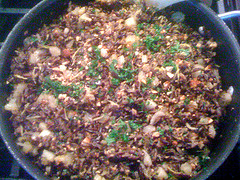 Terry's Wild Rice with Lemon, Fennel and Dried Plums
More food pics>>
Then there is the beer…
We have been crafting our home-brewed ales and lagers—Mightybrew—for a while now and love the spirit of creativity and collaboration that brewing beer brings to our work environment (interpret that as you will). It doesn't hurt that our clients and friends love the results of our efforts either. We racked (pardon the pun) up an American Graphic Design Award for the labels on our first batch and ever since then it's been onward and upward.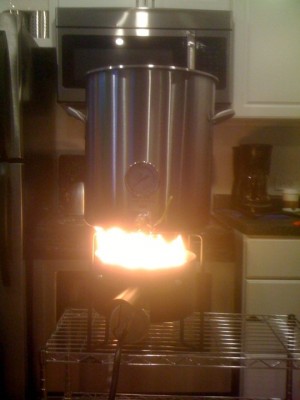 The Mightybrew Brew Cart fires up.
This year, with the addition of our new office space, we got some new brewing equipment as well and have started brewing recipes from Sam Calagione's book Extreme Brewing. The craft beer maestro is the founder of
Dogfish Head Brewery and hosts Discovery Channel's Brew Masters. First on tap (sorry, can't help the bad beer puns today) from the book is an Imperial Pale Ale, a Tripel, and a Brown Ale. Look for them in a gift basket near you this holiday season!
Happy Thanksgiving everyone.